Stocks on Wall Street sold off on Friday, with the major averages ending in the red due to renewed concerns about an upsurge in infections of the Delta coronavirus variant.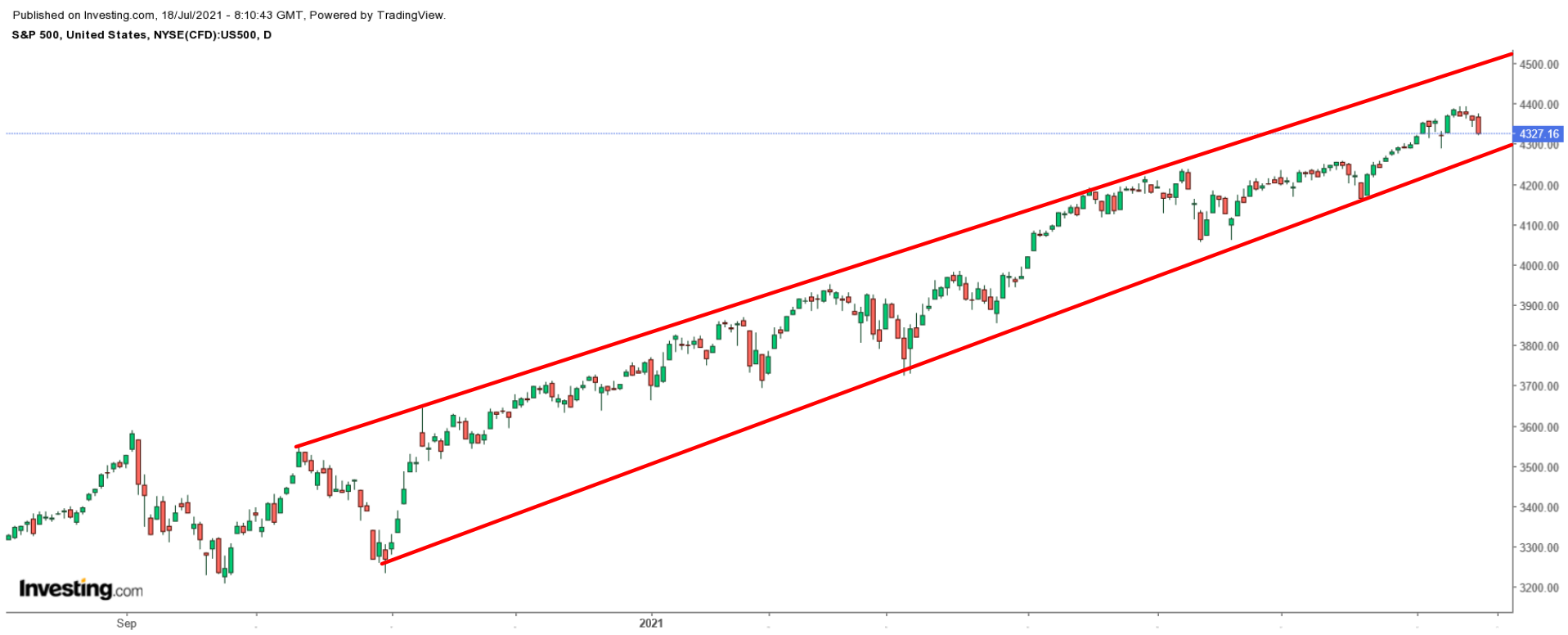 U.S. stocks could face more in the week ahead as Q2 earnings season shifts into high gear, with reports expected from some of the big-name U.S. technology stocks, including Netflix (NASDAQ:), IBM (NYSE:), Intel (NASDAQ:), Twitter (NYSE:), and Snap (NYSE:).
Also reporting this week are other high-profile companies, such as Johnson & Johnson (NYSE:), Coca-Cola (NYSE:),  AT&T (NYSE:), Verizon (NYSE:),  American Express (NYSE:), as well as United Airlines (NASDAQ:), American Airlines (NASDAQ:), Southwest Airlines (NYSE:), Domino's Pizza (NYSE:), and Chipotle (NYSE:).
Amidst this sea of earnings—and the increasing numbers of Delta variant infections, we've highlighted one stock likely to be in demand in the coming days and another which could see fresh losses. 
Remember though, our timeframe is just for the week ahead.
Stock To Buy: DocuSign 
Fears about a surge in coronavirus cases tied to the highly contagious Delta variant have returned to the forefront, as the U.S. grapples with a renewed burst of infections more than 18 months into the pandemic.
According to the latest data, all 50 states are now experiencing an increase in new cases, with public health officials warning of an extraordinary surge yet to come.
As the prevalence of infection grows, some authorities have begun to impose renewed pandemic-era restrictions.
That could result in more positive action for cloud-based software-as-a-service company DocuSign (NASDAQ:), which is widely considered the leader in the e-signature market.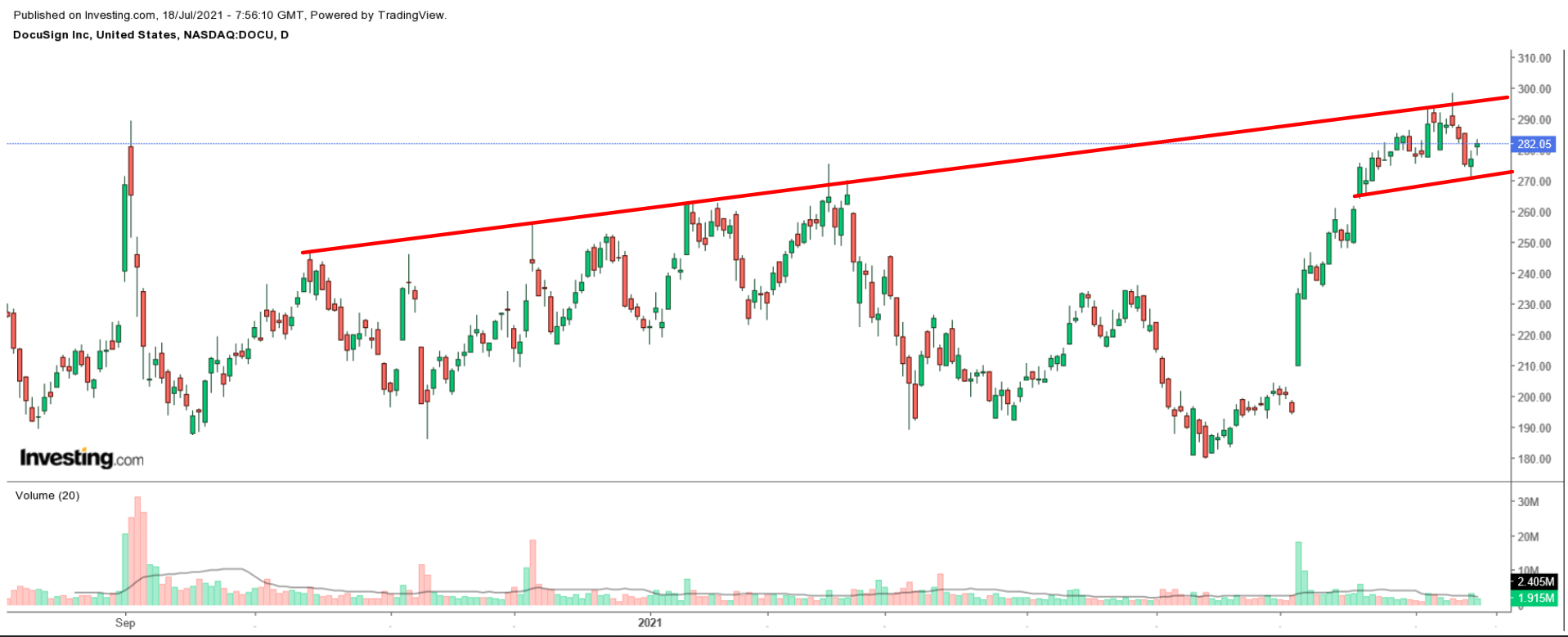 DOCU stock—which rose to a new record high of $298.35 on July 12—ended at $282.05 on Friday, earning the San Francisco, California-based firm a valuation of roughly $55 billion.
DocuSign has over the past year as the COVID-19 pandemic and the shift to the work-from-home environment created soaring demand for its e-signature platform.
Year-to-date, shares have gained 26.7%, easily outpacing the 's 15.2% increase over the same timeframe.
With fears brewing over another potential wave of the coronavirus—and subsequent lockdowns to slow its rapid spread—it makes sense for investors to pile back into the leading provider of electronic signature technology due to growing demand for remote-work tools.
Stock To Dump: Carnival Corporation
Shares of Carnival Corporation (NYSE:)—the world's largest cruise line operator—are expected to suffer another miserable week amid growing fears over the spread of the highly transmissible COVID Delta variant in the U.S.
The current 7-day moving average of daily new cases soared nearly 70% from the previous week to about 26,000, the most since mid-May, according to the latest numbers from the Centers for Disease Control and Prevention.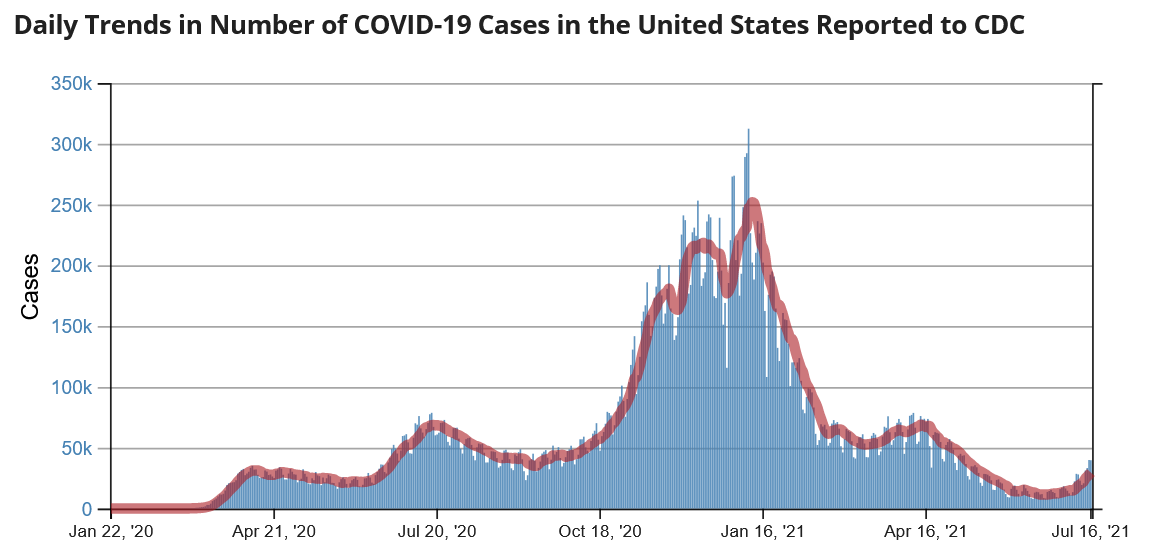 Hospitalizations and deaths are also on the rise again, climbing around 36% and 26% respectively, reversing a months-long decline that started in mid-January.
The worrying surge in infections and deaths could prompt cities and states across the country to reimpose mask guidelines and other social distancing measures, potentially disrupting the peak summer vacation season.
In a concerning development for Carnival, Florida has emerged as a national hot spot, accounting for 1 in 5 cases in the past week.
The cruise operator recently announced that it will begin requiring passengers and vacationers in Florida to purchase special COVID-19 travel insurance if they want to board its ships.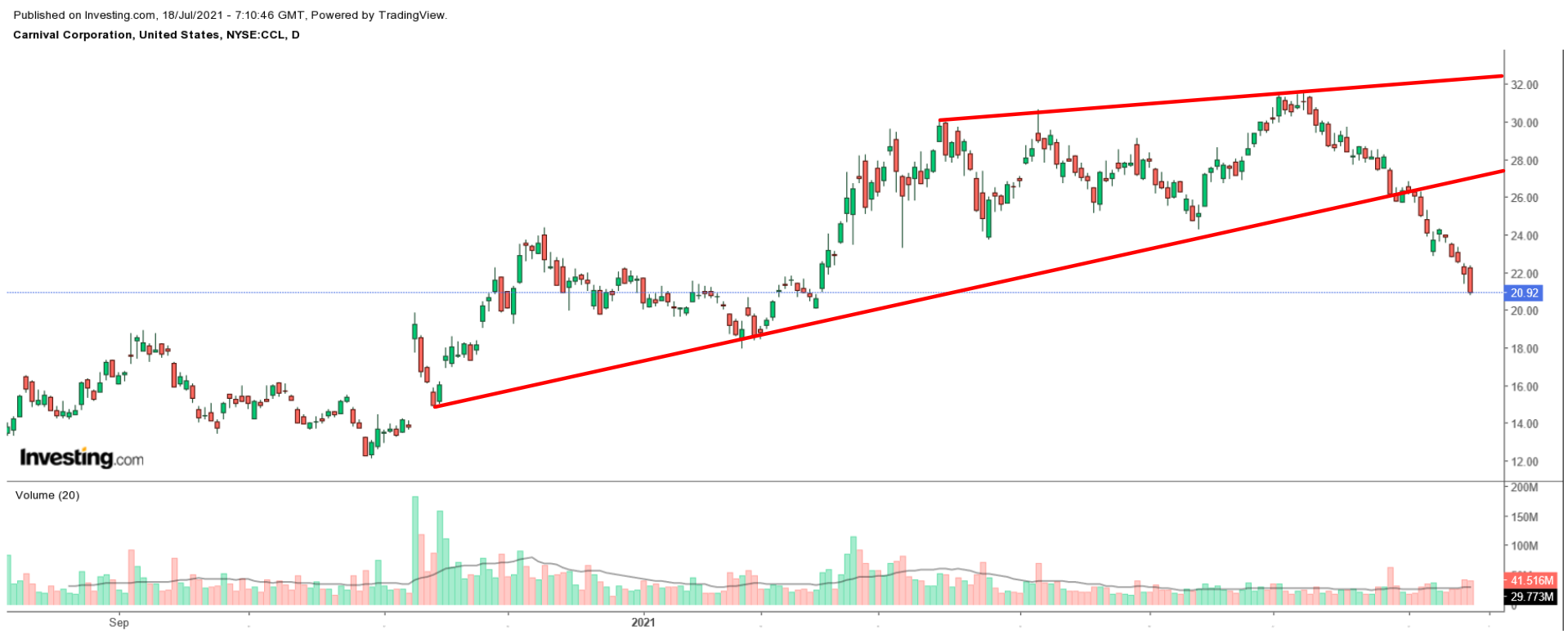 Taking that into account, Carnival—which has seen its shares steadily drop to new lows and may find itself in the position of needing to —could experience further headwinds in the coming days as investors react to more negative COVID-related headlines.
CCL stock closed Friday's session at a five-month low of $20.92, roughly 33% below its recent post-pandemic high of $31.52 reached on June 8.
At current levels, the Doral, Florida-based cruise giant has a market cap of $24 billion.