Stocks on Wall Street ended higher on Friday, with the benchmark and small-cap indices both rising to new all-time highs as investors cheered positive developments on the COVID-19 front.
The tech-heavy however notched its third weekly loss in four weeks, as traders sold off technology stocks and rotated into cyclical names that would benefit from an economic recovery.
The week ahead is expected to be filled with more market-moving headlines as coronavirus cases spike across the United States. 
Here we'll highlight one stock which has successfully navigated the market whipsaws and another likely to see continued losses in the coming days as each reports its latest earnings results.
Stock To Buy: Foot Locker
Foot Locker (NYSE:) has been a standout performer in the retail sector in recent months, benefitting from the booming athleisure trend and growing consumer preference for comfort in the current stay-at-home environment.
Shares of the Manhattan-based athletic apparel and footwear chain have more than doubled off the lows reached during the peak of the coronavirus-selloff in March—jumping 113%—as sales hold up better than expected.
The retail shoe giant saw its stock rally to $41.74 at the start of last week, the highest level since before the COVID-19 outbreak began. Foot Locker ended at $37.24 on Friday, giving it a valuation of $3.9 billion.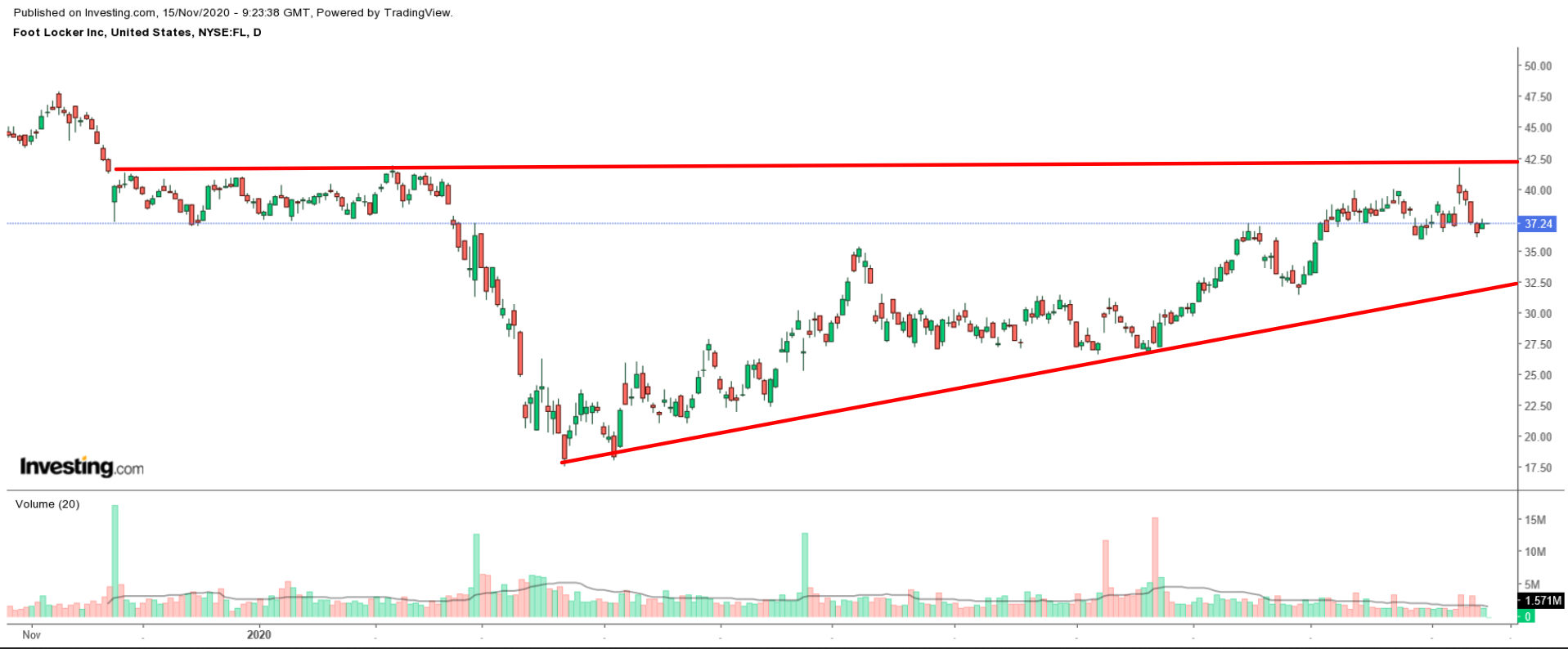 After reporting and revenue in the second quarter, the footwear retailer is projected to post third quarter results on Friday, Nov. 20 before the U.S. market opens.
Consensus calls for earnings of $0.53 per share, compared to earnings per share of $1.13 in the year-ago period. Revenue is projected to clock in at $1.89 billion, which would be a slight decrease from sales of $1.93 billion in the same period a year earlier.
Investors will be keen to see if the sneaker seller's same-store sales can keep up their torrid pace of growth after jumping almost 19% in Q2, bouncing back from a shocking drop of nearly 43% in the preceding quarter.
In addition, market players are hoping Foot Locker will provide guidance for its key fourth quarter, which covers the holiday shopping season, after it failed to offer a forecast for results in the previous quarter, citing ongoing uncertainty around the pandemic.
Taking this into consideration, we expect Foot Locker to once again post a solid quarter, making it one of the best bets in the athletic sportswear and footwear space.
Stock To Dump: Macy's
In sharp contrast, Macy's (NYSE:) shares have been stuck in a spiraling downward trend for the most part of 2020 as the department store chain struggles to find new ways to win over shoppers.
Like many other major U.S. retail names, the Manhattan-based omnichannel retail organization has been suffering as mall traffic plummets and customers turn to stores better-known for their online shopping services.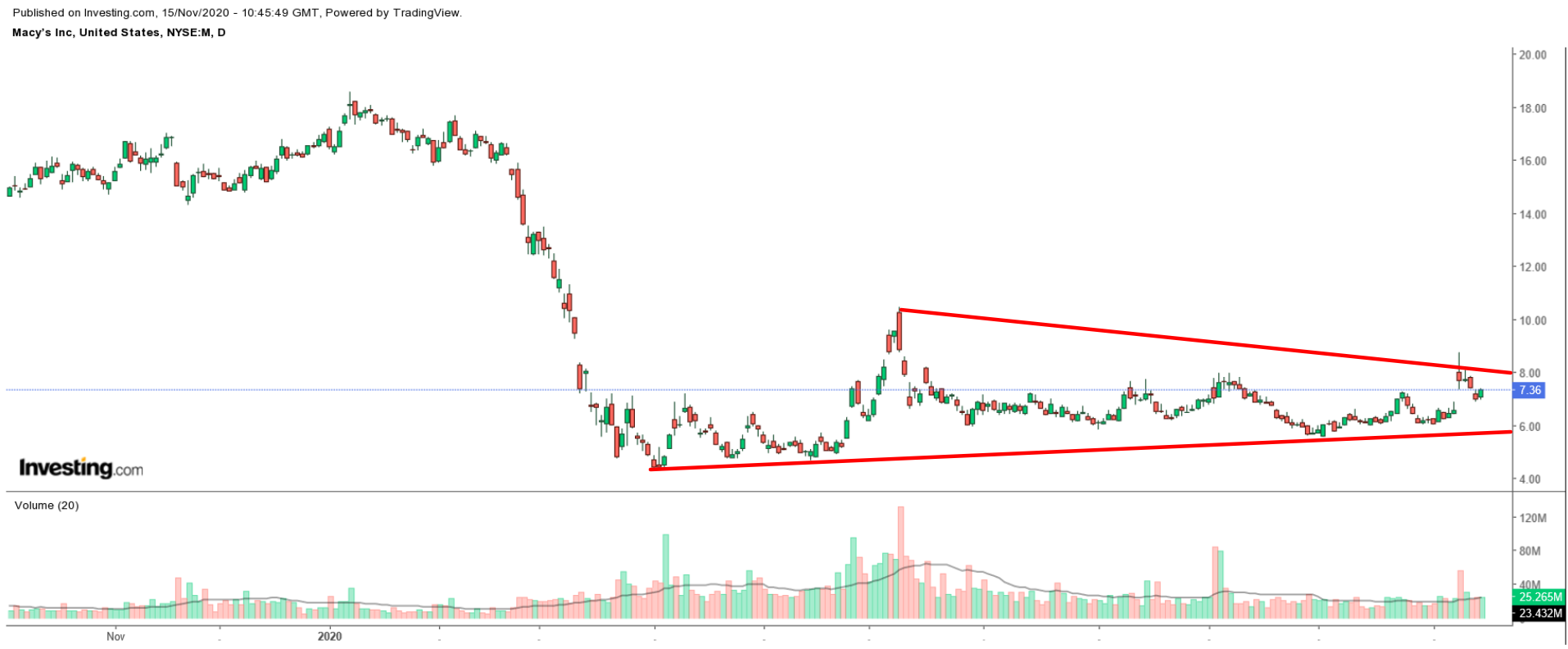 The stock, which fell to an all-time low of $4.38 on Apr. 2 and is down more than 56% year-to-date, closed at $7.36 on Friday, giving it a market cap of roughly $2.3 billion.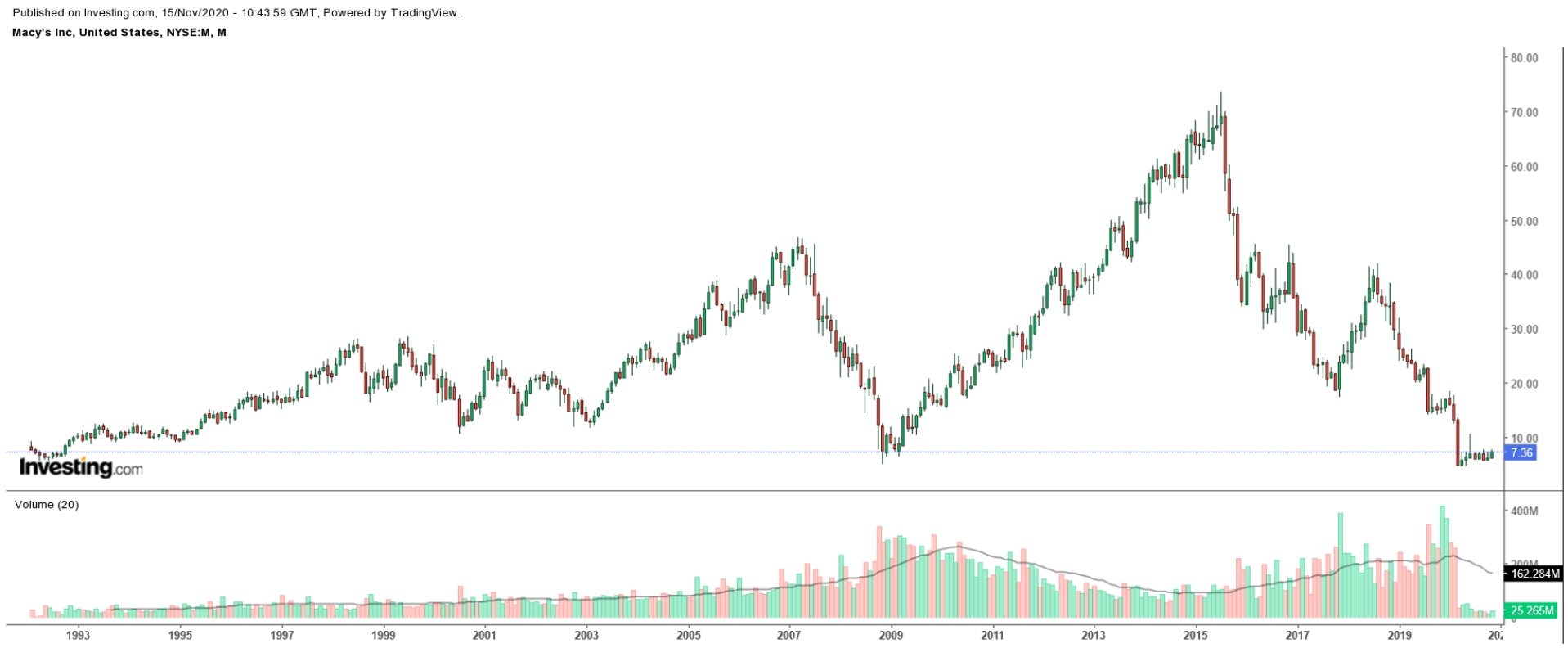 Macy's—which reported a in earnings and revenue for its last quarter—next reports financial results ahead of the open on Thursday, Nov. 19.
Consensus calls for a loss of $0.84 per share for the second quarter, widening from a loss per share of $0.81 in the previous quarter and compared to earnings per share of $0.07 in the year-ago period.
Revenue meanwhile is forecast to tumble nearly 25% from the same period a year earlier to $3.88 billion, reflecting the department store retailer's continuing difficulty attracting shoppers during the coronavirus outbreak.
Beyond the top- and bottom-line figures, investors will keep an eye on Macy's update regarding its in-store and online sales figures. Sales online and at Macy's stores open for at least 12 months were down 35.1% in Q1. 
Keeping this in mind, M shares look set to remain under additional pressure in the coming days, potentially revisiting record lows, as investors brace for another round of disappointing financial results.