Despite worries that the U.S. economic recovery might be losing steam, stocks on Wall Street rose on Friday, with the , , and all rallying to record closing highs.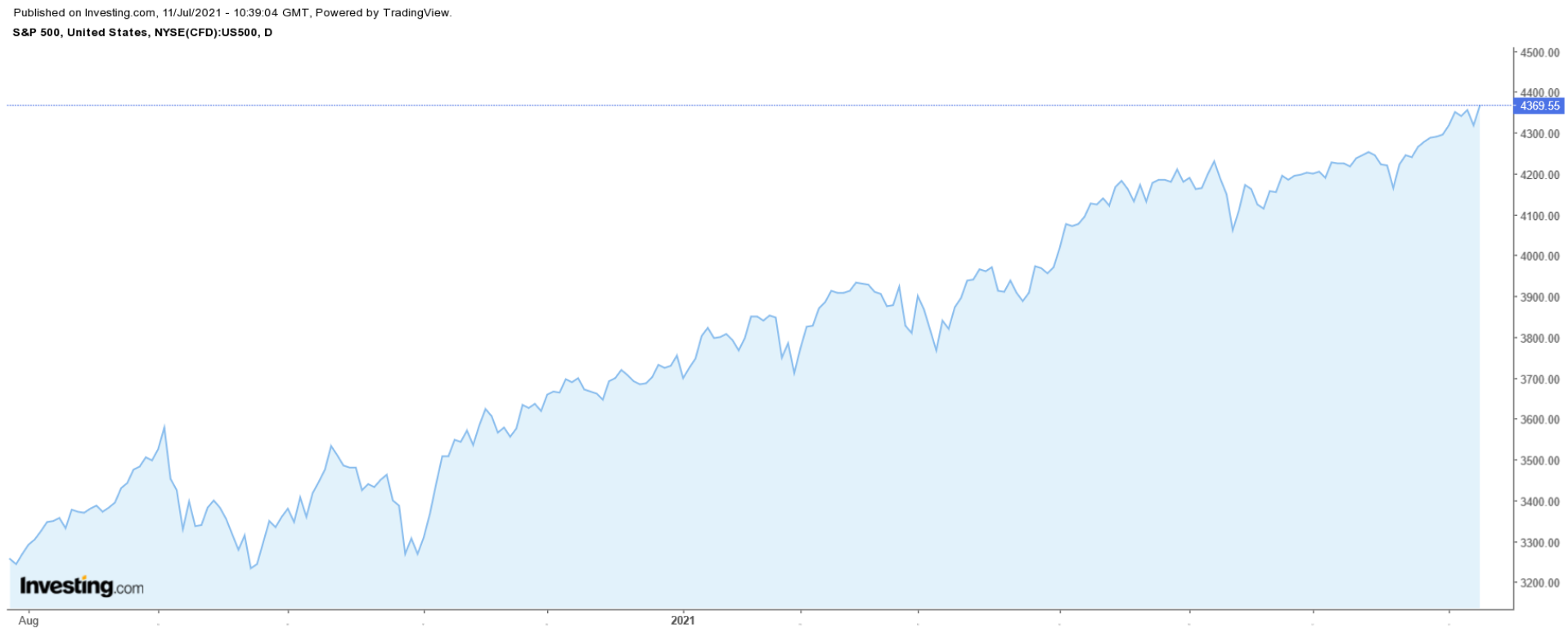 The week ahead is expected to be another busy one on Wall Street, given the start of the second-quarter earnings season, testimony from Federal Reserve Chair Jerome Powell, as well as key economic data, including the latest consumer price report and figures.
Irrespective of which way the market may move, we've highlighted one stock likely to be in demand in the coming days and another which could see fresh losses. 
Remember though, our timeframe is just for the week ahead.
Stock To Buy: Morgan Stanley
Morgan Stanley (NYSE:) will be in focus this week, as investors await the latest financial results from one of the nation's largest investment banks. The bank has either beaten or matched Wall Street estimates for four consecutive quarters.
The Wall Street powerhouse, which smashed expectations for earnings and revenue in the last , is scheduled to report financial results before the U.S. market open on Thursday, July 15.
Consensus estimates call for the investment banking giant to post earnings per share (EPS) of $1.66 for its second quarter, declining roughly 19% from EPS of $2.04 in the year-ago period.
Revenue, however, is expected to increase around 4% year-over-year to $13.98 billion, as booming IPO and mergers-and-acquisitions activity are expected to soften the blow from a slowdown in fixed-income and equity trading.
MS stock—which is up 31.8% year-to-date and 81.4% in the last 12 months—ended at $90.33 on Friday, earning the New York City, New York-based financial services firm a valuation of $168 billion.
Morgan Stanley announced last month that it plans to significantly boost its payouts to shareholders after the Federal Reserve gave it a clean bill of health following annual bank "stress tests" last month.
The company said it would double its dividend to $0.70 per share starting in the third quarter of 2021. It also said that it would buy back up to $12 billion of its stock in the next 12 months.
Morgan Stanley CEO James Gorman said in the announcement that the investment bank could return so much capital because of the "significant excess" it has accumulated over the past several years.
Stock To Dump: Citigroup 
Citigroup (NYSE:) shares could break down to new lows in the coming days as investors position themselves for a disappointing earnings report from the fourth-largest banking institution in the United States.
Citi's financial results—due on Wednesday, July 14 ahead of the opening bell—are likely to take a hit from a slowdown in its consumer banking business.
Analysts call for second-quarter earnings of $1.99 per share, soaring 298% from EPS of $0.50 in the challenging year-ago period. However, revenue is forecast to slump 12% from the same quarter last year to $17.36 billion.
Beyond the top-and-bottom line figures, comments from CEO Jane Fraser should offer further guidance on how she expects the bank to perform throughout the rest of the year.
Based on moves in the options market, traders are pricing in a possible implied move of 4% in either direction in Citigroup shares following the results.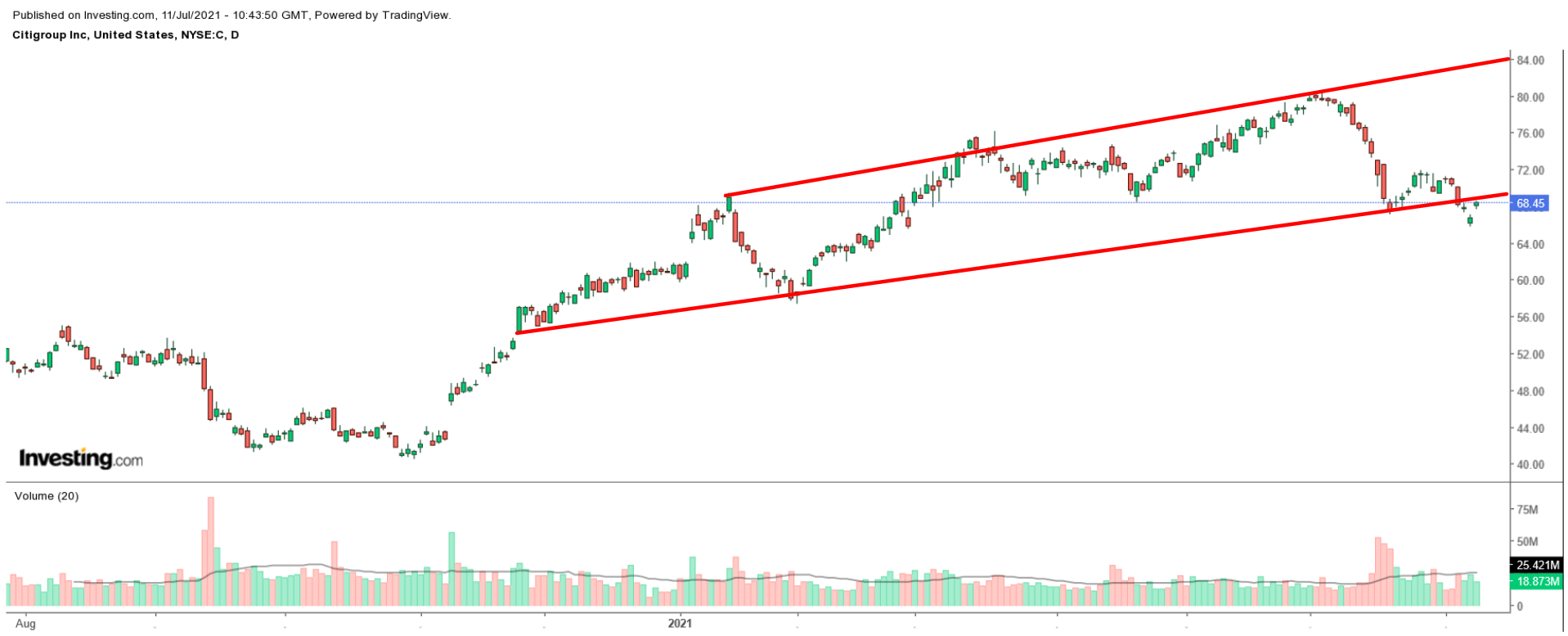 C stock—which sank to a four-and-a-half-month low of $65.76 on Thursday—ended Friday's session at $68.45, earning the New York City, New York-based megabank a market cap of $142.8 billion.
Citigroup shares have underperformed those of the other big banks this year, gaining just 11% in 2021. In comparison, the financial sector's main ETF—Financial Select Sector SPDR® Fund (NYSE:)—has rallied around 24.5% year-to-date. The S&P 500, for its part, is up 16.3% over the same timeframe.
The company disappointed investors last month when it failed to increase its following the Fed stress tests, making it the only one of the six major banks not to do so. It did not announce a new share buyback plan either.
Unlike the other firms, Citi—which left its dividend payout at $0.51—said its stress capital buffer requirement will actually increase this year, reducing its ability to boost its capital payouts when compared to peers.