Stocks on Wall Street ended mostly flat on Friday, but the , , and still scored their best weekly performance since April as traders reacted to U.S. presidential election developments, indicating Democrat Joe Biden would become the next president with a split Congress.
Biden was declared on Saturday after victory in Pennsylvania put him over the 270 Electoral College votes necessary to win. After winning in Nevada, Biden finished the day with 290 Electoral College votes. Nevertheless, President Donald Trump has so far refused to concede and pressed ahead with legal fights against the outcome.
As such, the week ahead could be filled with further market-moving political headlines.
Given this backdrop, we'll cover one stock on track to head higher and one likely to see further losses as they report their earnings results:
Stock To Buy: Plug Power
Plug Power (NASDAQ:) has been a standout performer in the booming renewable energy sector, benefiting from increased demand for its hydrogen fuel cell systems, which replace conventional batteries in electricity-powered equipment and vehicles, such as electric forklifts used in warehouses.
PLUG currently counts Amazon (NASDAQ:), Walmart (NYSE:), and Home Depot (NYSE:) as some of its most notable customers.
Investor interest and sentiment in Plug Power has also improved in recent months as the polls have swung in favor of the green-energy friendly Biden-Harris ticket in the presidential race.
After languishing in single-digit territory for nearly an entire decade, shares of the Latham, New York-based alternative energy company have soared almost 500% year-to-date, easily outperforming the S&P 500's nearly 9% increase over the same timeframe.
The stock ended at $18.86 on Friday, its best level since September 2008. It has a market cap of roughly $7.6 billion.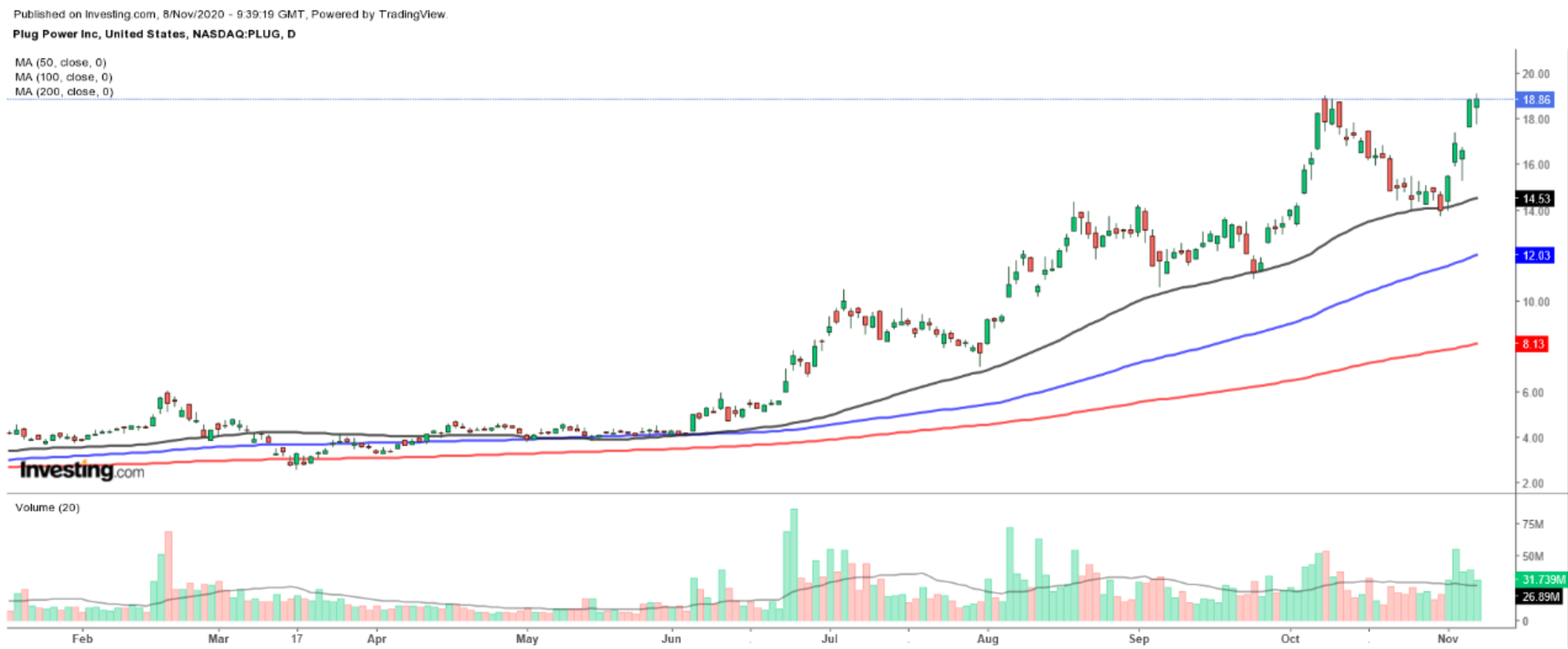 Plug Power, whose second-quarter results—released in early August—, is scheduled to next report financial results on Monday, Nov. 9 ahead of the U.S. market open.
Consensus calls for a loss of $0.07 per share, narrowing from a loss per share of $0.09 in the year-ago period. Revenue is forecast to surge 75% compared to the same period a year earlier to $106.53 million, reflecting rising demand for its fuel-cell solutions.
Perhaps of greater interest, investors will focus on Plug's update on its progress toward its goal of reaching $1.2 billion in annual sales, and $200 million in annual operating profit, by 2024.
Stock To Dump: Occidental Petroleum
Occidental Petroleum's (NYSE:) stock has been on the backfoot for most of 2020 as low energy prices and the negative impact of the coronavirus-induced economic slowdown combined to hammer its key businesses.
Shares of the Houston, Texas-based company—one of the largest oil-and-gas producers in the Permian basin—have underperformed the broader market by a wide margin this year, tumbling a whopping 75% year-to-date.
The stock, which sank to its lowest level since 2000 late last month, closed at $10.01 on Friday. At current levels, the struggling oil-and-gas producer has a market cap of $9.3 billion.
Occidental, which reported second-quarter earnings and revenue in early August, next releases financial results after the U.S. market closes on Monday, Nov. 9.
Consensus calls for a loss of $0.73 per share in the third quarter, plunging from earnings per share of $0.11 in the year-ago period. Revenue is forecast to drop 26% from the same quarter a year earlier to $4.2 billion, as low oil prices and reduced global energy demand are once again expected to take their toll.
In addition to the top- and bottom-line numbers, investors will keep an eye on Oxy's update regarding its outlook for oil and gas output throughout the rest of the year and beyond.
In its last earnings report, Occidental said its Q4 oil and gas production will fall 5% from the year-ago period to 1.16 million barrels per day. Even more alarming, it warned that shale output in the key Permian basin, which spans across western Texas and southeast New Mexico, is expected to decline 37% this year.
Investors will also be keen to hear if the company plans to take further steps to reduce its soaring debt. Occidental Petroleum, which borrowed heavily to finance the controversial $38 billion acquisition of rival Anadarko Petroleum (NYSE:) in 2019, has already reduced its dividend, announced job cuts, moderated spending plans and sold assets in an effort to shore up its finances.
From a technical standpoint, Occidental shares remain well below both their 50-day, 100-day, and 200-day moving averages, which usually signals more losses ahead.
Despite its steep year-to-date decline, OXY shares look set to come under intensifying pressure in the week ahead as investors react to another quarter of dismal financial results.