Currently, investors are facing heightened levels of risk. Even as the COVID-19 pandemic continues to spread, a closely-contested US Presidential election is making it even tougher to decide which stocks to buy for the long haul, and which to sell now.
But these worries are mostly for those who invest in equities for a quick profit. For buy-and-hold investors, with the goal of earning steadily increasing returns, this market volatility doesn't mean much.
Such people carefully pick holdings for their durable competitive advantage and the ability to sustain economic and political shocks. The idea behind this strategy is to ensure that regular dividend payments will keep coming even if markets face turmoil, such as what occurred last March and is now taking place as the US presidential battle remains undecided.
The challenge: carefully selecting appropriate stocks. Luckily the guidelines are relatively simple—if a company has a dominant position in the industry, significant free cash flow and a history of solid dividend growth, chances are it will turn out to be a good long-term position.
We have two dividend-paying candidates worth considering:
1. Walmart 
With its massive scale, solid balance sheet and growing sales, mega retailer Walmart (NYSE:) can provide steadily growing income in both good and bad times.
The company has hiked its payout every year since it began paying dividends in March 1974, placing it in the elite club of 53 stocks dubbed "dividend aristocrats." That's the designation given to companies that have a record of boosting dividends regularly for 25 years or more.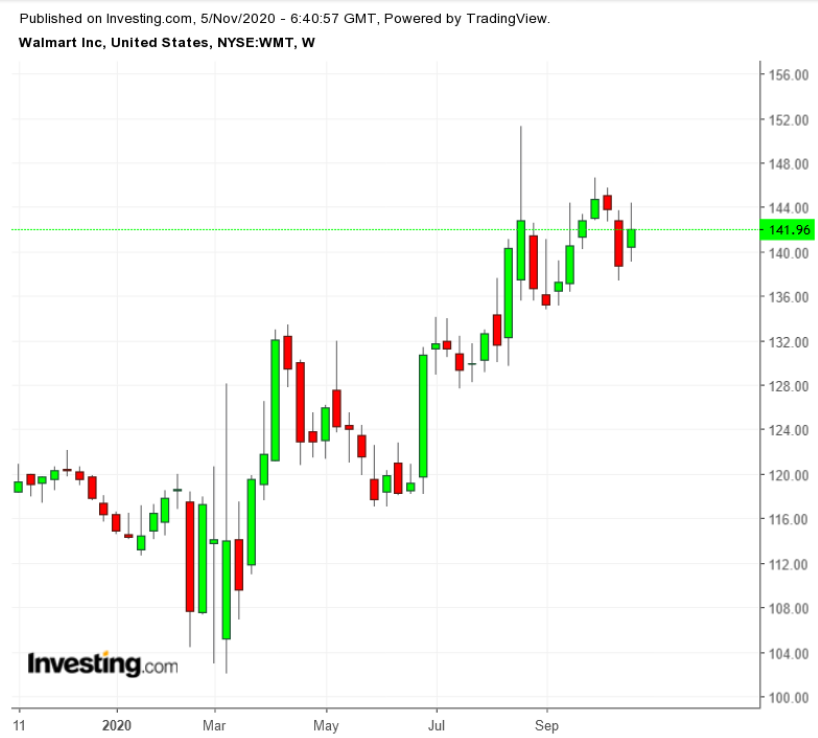 During the pandemic, Walmart has proven that it's one of the safest dividend stocks to own. The Bentonville, Arkansas-based retailer continues to benefit from the many ways the pandemic has reshaped consumer needs and spending patterns.
In the , Walmart reported that US comparable sales rose 9.3% from a year earlier, far surpassing analysts' estimates. The growth was powered by its e-commerce division, where sales jumped 97% from a year earlier, with both pickup and delivery options notching all-time high sales volumes.
These numbers show that Walmart is succeeding in countering the threat posed by the onslaught of e-commerce competitors. It could also provide long-term stability to investors in terms of dividend sustainability.
The stock now has an annual dividend yield of 1.56%; the company pays a quarterly dividend of $0.54 a share. Since Mar. 1, Walmart shares have posted a total gain, including distributions, of 31%. The stock closed at $141.96 on Wednesday.
2. Microsoft 
If a leading technology stock is a good fit for your long-term dividend portfolio, then Microsoft (NASDAQ:) is the best bet. Since 2004, when the software and infrastructure giant first began offering a dividend, its payout has swelled six-fold. Microsoft's current annual dividend yield is 1.11% with a quarterly payout of $0.56 per share.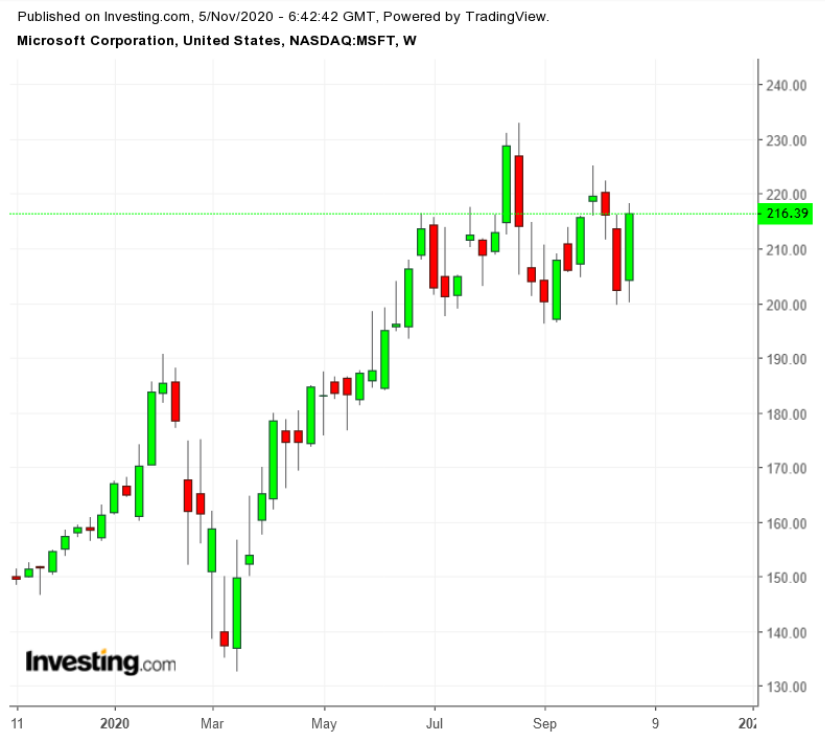 The good news for new investors in MSFT stock is that the company is in a great position to sustain that kind of growth, supported by increasing free cash flows and a low payout ratio of 32.9.  Shares closed at $216.39 on Wednesday.
In the , the Seattle-based company showed it continues to benefit from the pandemic as consumers shift to cloud-based connectivity and online subscriptions to its Office software, which comes with teleconferencing programs and work-from-home tools.
Microsoft's earnings momentum will continue as it expands its market share in the cloud computing segment while maintaining its leading position with legacy software products such as Windows and Office.
This durable advantage will surely help the company achieve sustained, double-digit growth in revenue, earnings per share and free cash flow, making it a reliable tech stock to own over the long run.