2020 has become the year when digital trends have entered our lives faster than ever before. For instance, due to the pandemic, robust digital infrastructure and remote work arrangements have become vital.
Victoria State Government, Australia defines digital technologies as:
"Electronic tools, systems, devices and resources that generate, store or process data."
The range of digital technologies may include apps on our smartphones, social media, fintech applications, e-commerce, the internet of things (IoT), 3D printing, self-driving cars and drones.
Today we will introduce two exchange-traded funds (ETFs) that may be appropriate for long-term investors who want to benefit from increased digitalization.
1.Global X Cloud Computing ETF
Current Price: $25.36
52-Week Range: $12.36 – $26.60
Expense Ratio: 0.68%
The Global X Cloud Computing (NASDAQ:) provides access to firms that could benefit from increased cloud computing adoption. Such companies may offer Software-as-a-Service (SaaS), Platform-as-a-Service (PaaS), Infrastructure-as-a-Service (IaaS). Some are data center real estate investment trusts (REITs). Yet others provide managed server storage space or cloud and edge computing infrastructure and hardware.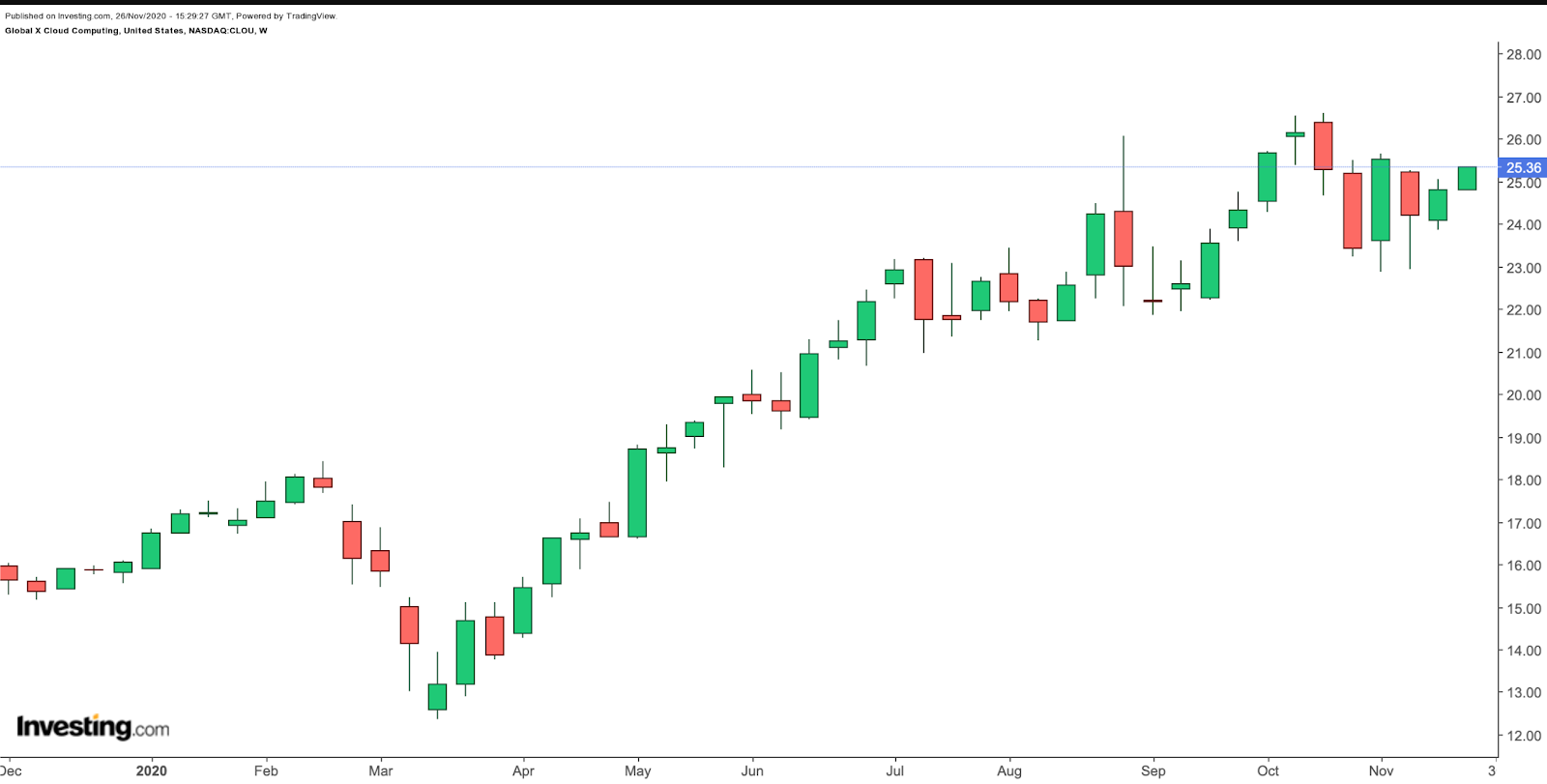 Metrics from Research And Markets highlight:
"The Global Cloud Applications market is expected to reach $472.92 billion by 2026 growing at a CAGR of 17.8% from 2018 to 2026… Factors such as increased use of advanced technology, low maintenance cost, and business expansions are driving the market growth."
CLOU, which has 36 holdings, tracks the Indxx Global Cloud Computing Index. The fund started trading in late 2019.
The top ten businesses comprise around 42% of net assets of $1.3 billion. New Zealand-based Xero (ASX:), which offers cloud-based accounting software, San Francisco, California-based Fastly (NYSE:) and Anaplan (NYSE:), provider of connected planning platforms, lead the names in the fund.
In terms of geography, 86% of the businesses are US-based, followed by New Zealand (4.4%), Canada (4.3%), China (3.5%) and the UK (1.8%). On a sectoral basis, information technology tops the list with 82.8%. Next are industrials and real estate (each 4.7%).
Since the start of the year, the fund has gone up 61% and hit a record high in October. Investors who believe in the future of cloud technologies as a solid long-term growth story could consider buying the dips. Any potential decline toward $24 or below would offer a better margin of safety.
2. ROBO Global Artificial Intelligence ETF
Current Price: $36.28
52-Week Range: $24.16 – $37.29
Expense Ratio: 0.68%
The Robo Global® Artificial Intelligence ETF (NYSE:) gives access to global businesses developing the technology and infrastructure that enable artificial intelligence (AI).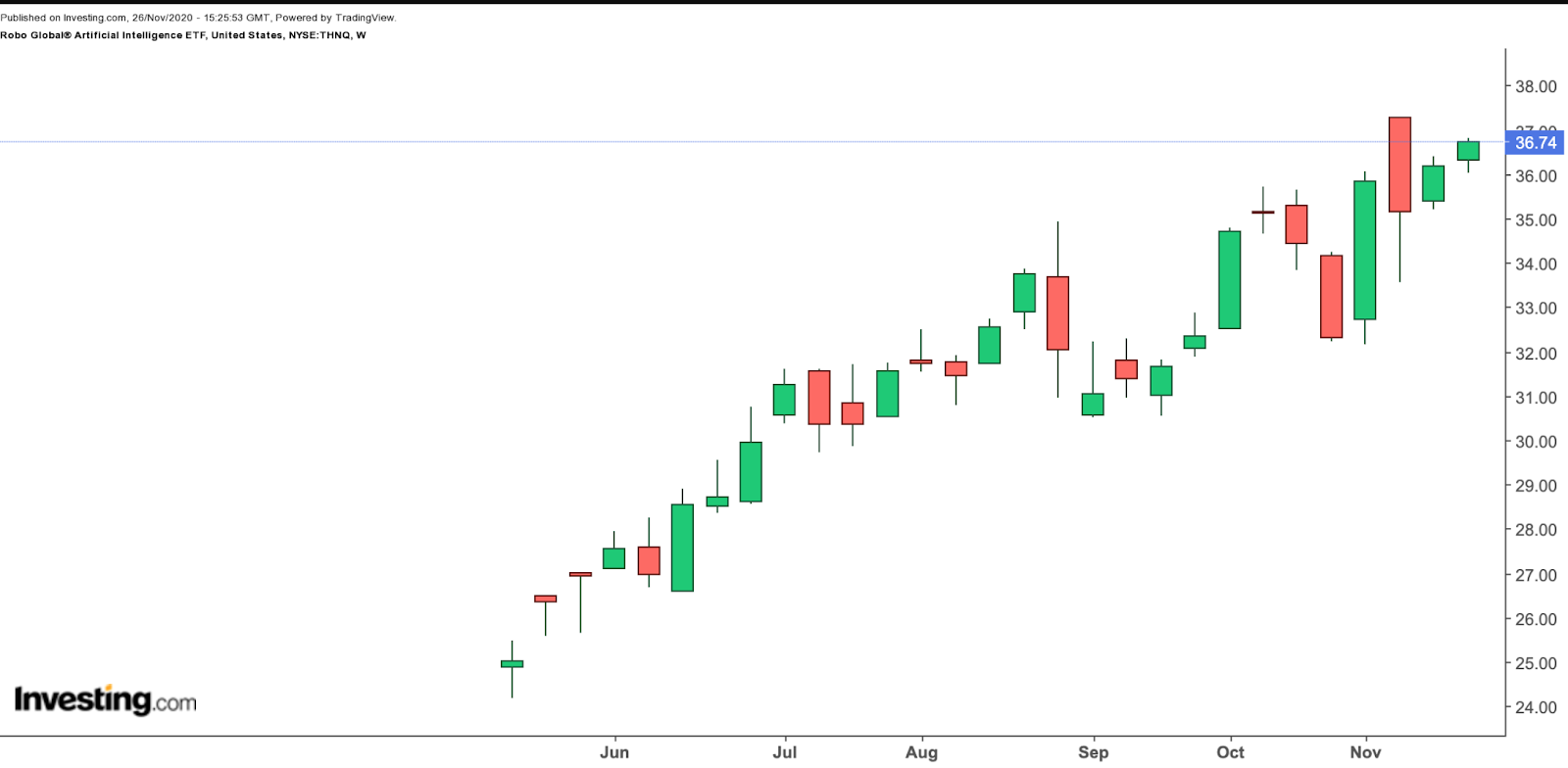 Accenture defines AI as:
"A constellation of many different technologies working together to enable machines to sense, comprehend, act, and learn with human-like levels of intelligence."
Companies in the ETF include computing, data and cloud services as well as firms applying AI in different business processes, such as healthcare or e-commerce.
THNQ, which has 72 holdings from 16 countries, tracks the ROBO Global® Artificial Intelligence Index. The fund started trading in May 2020 and net assets are shy of $12 million.
International Data Corporation (IDC) suggests:
"Worldwide revenues for the artificial intelligence (AI) market, including software, hardware, and services, are expected to total $156.5 billion in 2020, an increase of 12.3% over 2019… Software is the largest AI technology group delivering roughly 80% of all AI revenue. Most of the software revenue comes from AI Applications ($120.4 billion in 2020) with AI Software Platforms ($4.3 billion) delivering the remainder."
About 20% of the holdings of the ETF are in the top ten businesses. Cloudflare (NYSE:), which provides digital infrastructure and security, genomic diagnostics group, Veracyte (NASDAQ:) and provider of conversational AI, Nuance Communications (NASDAQ:) head the list of businesses in the fund. They are all based in San Francisco, California.
In terms of sectoral breakdown, business process (18%), semiconductors (11%), big data/analytics (12%), e-commerce (11%), and cloud providers (10%) have the highest weighting.
Since its inception in May, the fund is up about 50%. As automated systems become smarter, we are likely to hear about developments in the AI space. We'd encourage investors to keep an eye on the names in THNQ.