Investing in international equities offers exposure to the growth of global industry titans and boosts portfolio diversification. One key concern: how moves in foreign exchange rates could impact investment returns.
High volatility in forex markets can be costly for those who want to invest in equities in other countries. For instance, for US-based investors, a strong would impose risk on foreign-based equity returns if the foreign currency's value was low against the USD.
Today we'll introduce two exchange-traded funds (ETFs) that are non-US equity currency-hedged funds. These funds typically use non-standardized, over-the-counter (OTC) derivatives such as forwards to hedge against depreciating foreign currencies.
1. WisdomTree Japan Hedged Equity Fund
Current Price: $52.39
52-Week Range: $34.50 – $56.19
Year-to-date (YTD) change: Up 0.04%
Dividend Yield: 2.44%
Expense Ratio: 0.48%
WisdomTree Japan Hedged Equity Fund (NYSE:) provides exposure to a range of dividend-paying Japanese equities while hedging exposure to fluctuations between the US dollar and the , one of the most widely traded currencies globally.
Investors in the fund would expect higher returns than an equivalent non-currency hedged investment when the yen is weakening relative to the US dollar. Put another way, the fund hedges against depreciation in the yen.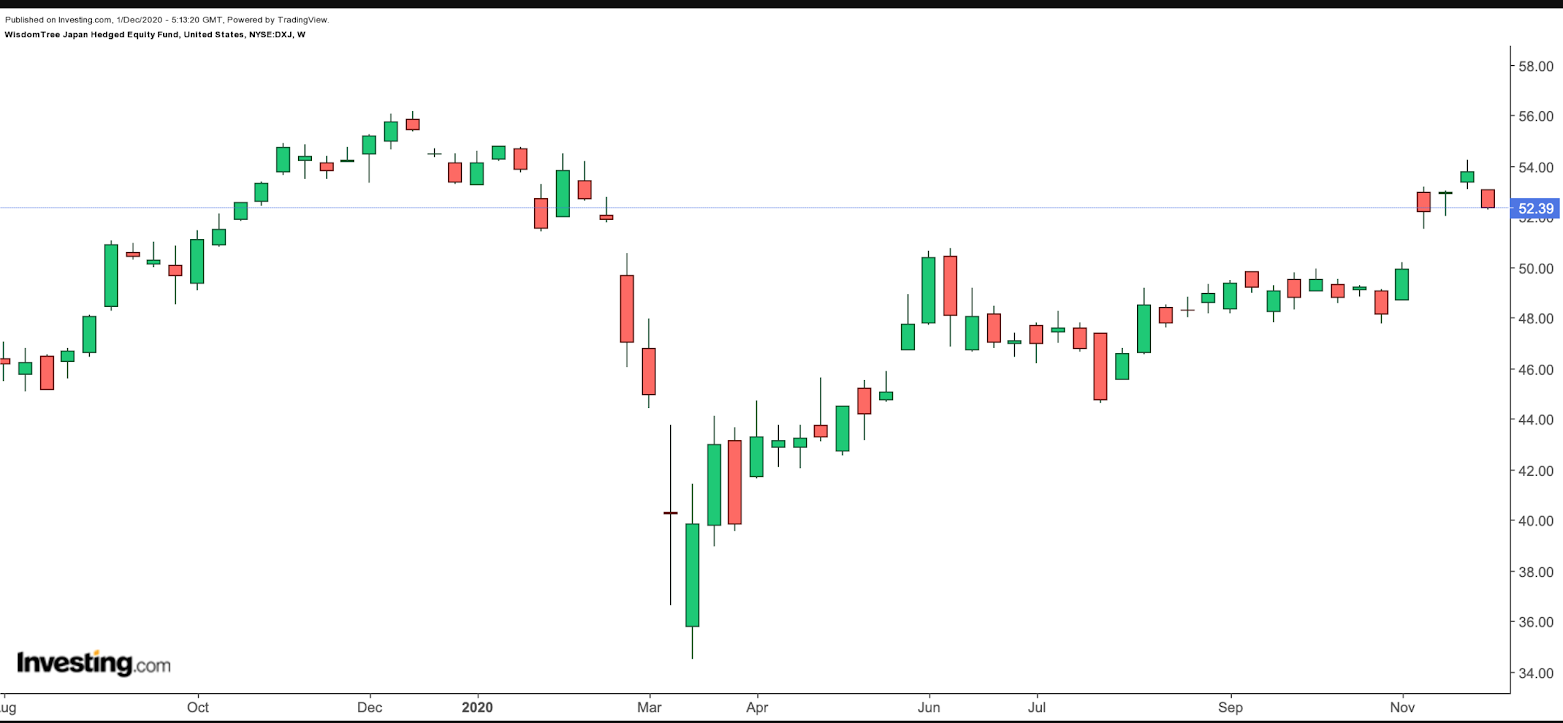 DXJ, which has 442 holdings, tracks the WisdomTree Japan Hedged Equity Index. The fund started trading in June 2006 and has over $1.6 billion under management.
As far as sectors are concerned, funds are distributed among industrials (18.73%), followed by consumer discretionary (17.17%) and information technology (15.17%) among others.
Over 30% of the funds are in the top ten stocks. Toyota (T:), (NYSE:), Mitsubishi (T:), (NYSE:), Japan Tobacco (T:), (OTC:) and Takeda (T:), (NYSE:) lead the names in the fund.
Since the start of the year, the ETF is up less than 1%. Long-term shareholders are also entitled to dividends. Earlier in November, risk appetite propelled the to its highest level since 1991. YTD, the index is up over 10%. Investors who believe the bullish move in Japanese equities will continue could consider buying the dips in DXJ.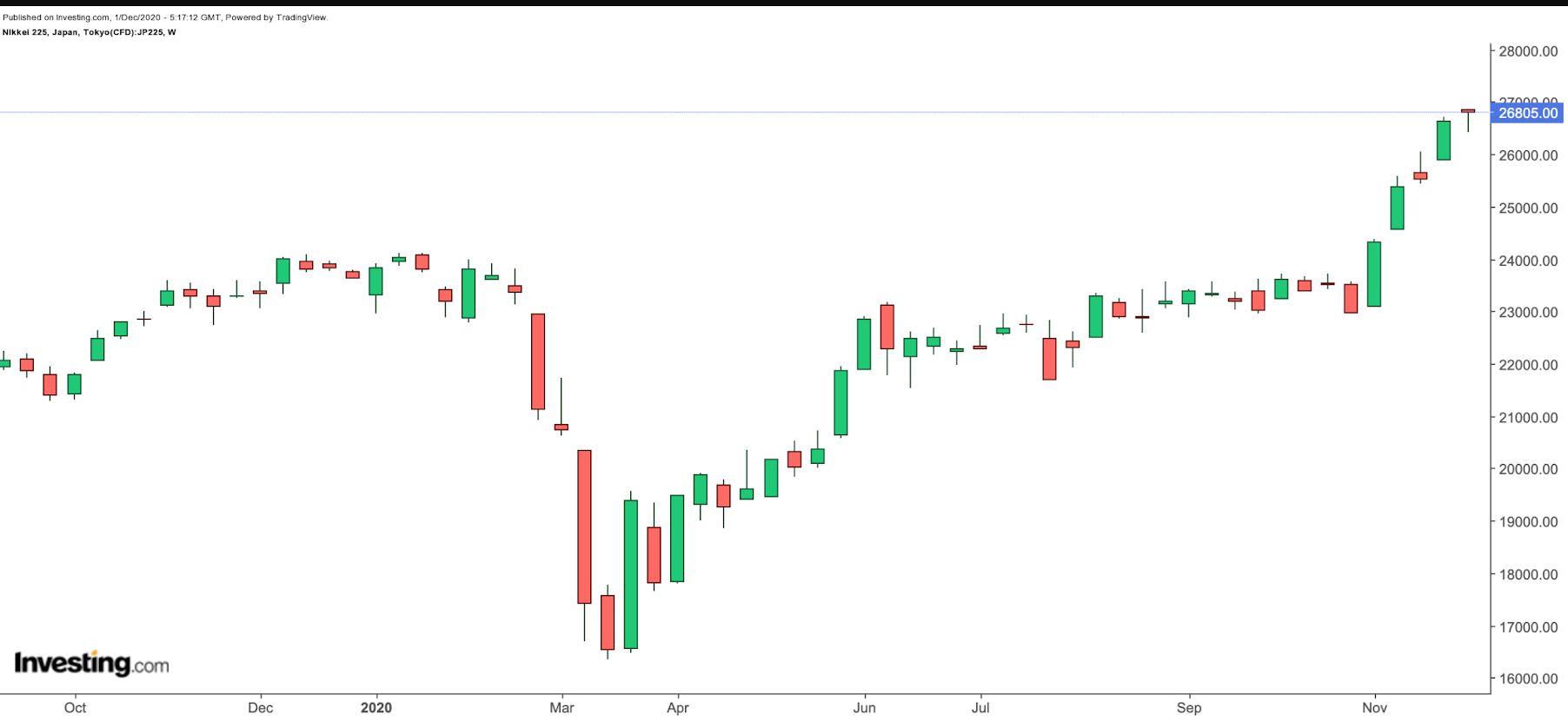 Japan is scheduled to host the Olympics in the summer of 2021. We expect the event to provide a potential boost to Japanese equities.
On a side note, we previously how those market participants who are bullish on the Japanese yen could also consider buying the Invesco CurrencyShares® Japanese Yen Trust (NYSE:). Investors who do not want exposure to Japanese equities but are interested in taking a directional bet on the yen may also consider researching this currency ETF further.
2. Xtrackers MSCI All World ex U.S. Hedged Equity ETF
Current Price: $29.70
52-Week Range: $20.16-30.25
YTD change: 4.55%
Dividend Yield: 2.1%
Expense Ratio: 0.41%
Xtrackers MSCI All World ex U.S. Hedged Equity ETF (NYSE:) gives access to companies in several countries, excluding the US, while hedging against movements in the underlying currencies. In other words, the fund shorts non-US dollar currencies and hedges against falls in these foreign currencies.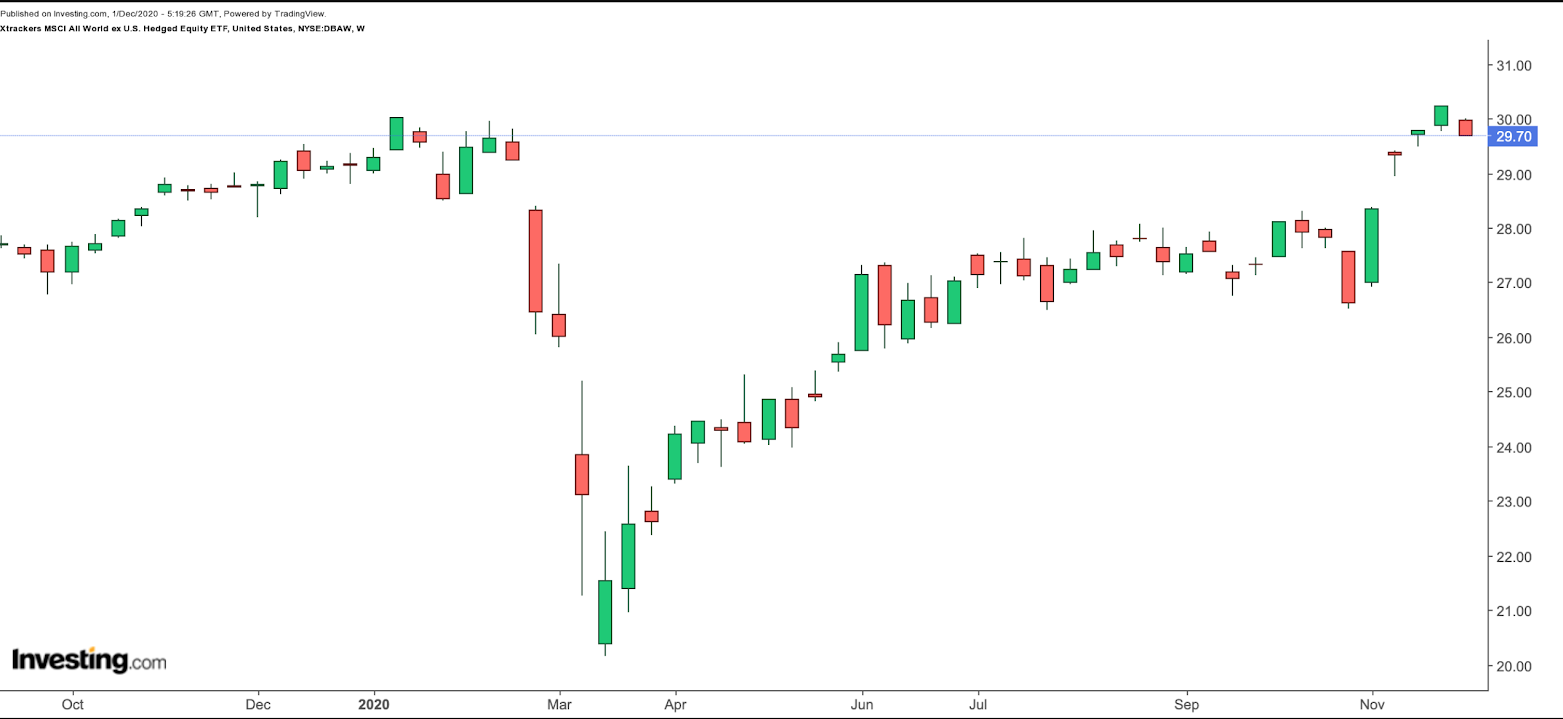 DBAW, which has 1926 holdings, tracks the MSCI ACWI ex USA US Dollar Hedged Index. This index hedges the currency exposures of its parent index, the MSCI ACWI ex USA Index, which is made up of large- and mid-cap stocks across 22 developed markets countries and 26 emerging markets countries.
The ETF started trading in early 2014 and currently has around $105 million under management. In terms of sectoral breakdown, financials have the highest weight (18.22), followed by consumer discretionary (13.97%), industrials (11.79%), and information technology (11.62%) among others.
The top ten businesses make up around 7% of the fund. Alibaba Group (HK:), (NYSE:), Taiwan Semiconductor (TWO:), (NYSE:), Tencent (HK:, (OTC:) and Nestle (SIX:), (OTC:)) are the leading names in the ETF.
YTD, the fund is up over 3% and hit a record high of $30.25 on Nov. 27, 2020. Those investors who would like to have exposure to equities outside the US without taking on currency risk may find the fund attractive.
Finally, a similar fund to consider would be the iShares Currency Hedged MSCI ACWI ex US ETF (NYSE:), which hit an all-time high Nov. 30.