The heart of second quarter earnings season is officially underway. JPMorgan JPM and other financial powers kicked off what is poised to be an impressive second quarter earnings season that marks real growth from the pre-covid period in FY19.
The market has surged to records in the early days of Q3, with the Nasdaq up 12% since mid-May. Wall Street has showcased its eagerness to buy technology stocks at discounts during the last year, as the nearby chart shows.
Some technology stocks could be poised for a healthy pullback sometime soon, as Apple AAPL, Adobe (NASDAQ:) ADBE, and many others hover above overbought RSI levels of 70. And whenever there is a recalibration, investors should be ready to jump on strong stocks at discounted prices just like the big Wall Street players. And Q3 earnings season might be used as a chance to take profits.
That said, there are some strong tech names with impressive growth outlooks still trading at discounts. Let's dive into two of these technology stocks that investors might want to consider as long-term buy and hold candidates…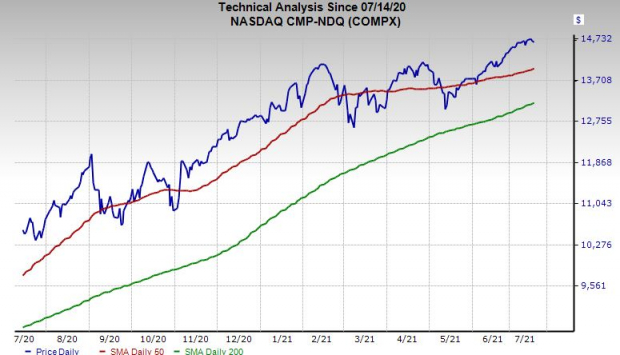 Zacks Investment Research
Image Source: Zacks Investment Research
Zendesk (NYSE:), Inc. ZEN
Zendesk is a cloud-focused software firm that helps businesses with their customer service needs in the digital age. The firm boasts that it connects over 100,000 brands with "hundreds of millions of customers over telephony, chat, email, messaging, social channels, communities, review sites and help centers."
ZEN has grown its top-line at an impressive clip since it went public in 2014. This includes 26% sales growth in FY20 that saw it climb above $1 billion for the first time.
ZEN topped our Q1 FY21 estimates and it continued to add larger clients, with its total annual recurring revenue from clients with ARR of $500,000 or higher up 50%. Zacks estimates call for its FY21 revenue to climb 27% to $1.3 billion, with FY22 set to jump another 25% to $1.6 billion.
Meanwhile, its adjusted EPS figures are projected to surge 24% this year and 47% in 2022. Zendesk has crushed our bottom-line projections in three out of the last four quarters, including a 42% beat in Q1.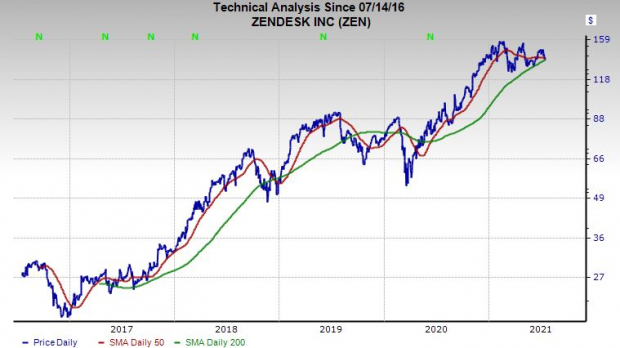 Zacks Investment Research
Image Source: Zacks Investment Research
ZEN shares have soared 375% in the last five years to blow away its industry's 160% average, which includes a 55% climb in the past 12 months. But the stock has fallen 4% in 2021.
Zendesk, which grabs a Zacks Rank #3 (Hold) right now, closed regular hours Wednesday roughly 15% below its February records at $137.62 a share. On the technical front, ZEN is approaching its 200-day moving average, and even if it breaks below the threshold the nearby chart shows the stock has rarely stayed there for long.
The stock sits below neutral RSI levels (50) at 42, while the Nasdaq-100 Index-tracking Invesco QQQ QQQ is currently well above overbought levels (70) at 76. Zendesk also trades at a 23% discount to its own year-long highs at 11.1X forward sales, which represents value compared to its median as well. These factors could give ZEN plenty of room to climb and might make for an attractive entry point for long-term investors—though some might want to wait for it to report Q2 earnings on July 29.
Wall Street remains high on Zendesk, with 12 of the 14 brokerage recommendations Zacks has at "Strong Buys," with none below a "Hold." The stock also sports an "A" grade for Growth in our Style Scores system, and clearly customer service needs aren't going out of style. In fact, they are becoming more complicated as they span a range of channels, and companies big and small continue to invest in their digital futures.
Roku (NASDAQ:) ROKU
Netflix (NASDAQ:) NFLX helped kickstart an entertainment revolution and the streaming market still has room to grow as more people cut the cord and global titans invest billions in their TV platforms and content, including Amazon AMZN, Apple, and Disney DIS. Roku has helped fuel this expansion from behind the scenes and it's prepared to thrive no matter who wins the streaming wars.
Roku's small devices that plug into TVs and allow users to watch streaming TV content helped it become a mainstay in the industry. Roku's tech is also built into smart TVs and it was the No. 1 smart TV OS sold in the U.S. in 2020, with nearly 40% market share. The company also sells wireless sound systems. But digital advertising and marketing is now its core business.
Roku makes money by selling ad space across its marketplace and taking a share of streaming service subscription revenue and ad inventory. Roku allows marketers to buy targeted ads, promote their streaming movies or platforms, and more. Digital could account for 65% of the roughly $240 billion-a-year industry in the U.S. by 2023, up from just one-third of ad spending only a few years ago, as people leave legacy media in droves in favor of subscription services such as Netflix and Spotify SPOT.
Roku bought Nielsen's Advanced Video Advertising business and "entered into a long-term strategic partnership" to boost its advertising credentials. The firm also has its own channel that allows users to watch free, ad-supported streaming movies and TV shows.
Roku beat our Q1 estimates, with its ad-heavy platform revenue up 101% to account for 80% of total sales. The company also added 2.4 million active accounts to close at 53.6 million. Plus, its monetized video ad impressions more than doubled YoY.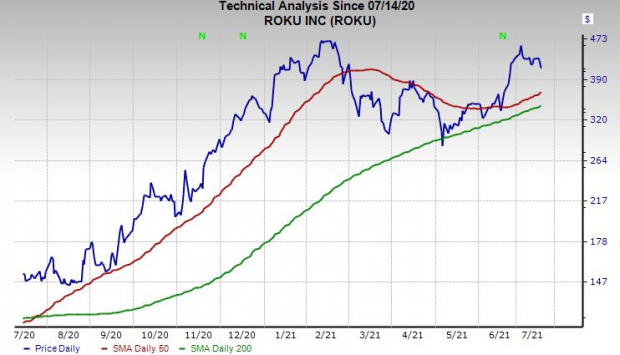 Zacks Investment Research
Image Source: Zacks Investment Research
Roku's EPS estimates surged following its Q1 release. And Zacks estimates call for Roku's FY21 revenue to surge 54% from $1.8 billion to $2.7 billion, with it set to add another $1 billion, or 39% in FY22. Plus, it's projected to swing from an adjusted loss of -$0.14 a share to +$0.45 and then soar 116% to $0.97 a share next year.
Roku shares have soared 755% in the last three years and 167% in the past 12 months. The stock took a hit along with many other high-flyers in 2021, but it has already mounted a big comeback since early May.
Luckily for those who might have missed the run, the stock closed regular hours Wednesday roughly 15% below its records at $413 a share. ROKU also trades at a 30% discount to its year-long highs at 17.1X forward sales. And a recent pullback has it trading near neutral RSI territory (50) at 53, even as the is at overbought levels.
Like ZEN, Wall Street is largely bullish on Roku, with 16 of the 20 brokerage recommendations Zacks has coming in at "Strong Buys." The stock sports a Zacks Rank #3 (Hold) at the moment, accompanied by "A" grades for Momentum and Growth in our Style Scores system. And those with long-term horizons might want to add Roku as a way to invest in both the future of entertainment and advertising.
Infrastructure Stock Boom to Sweep America
A massive push to rebuild the crumbling U.S. infrastructure will soon be underway. It's bipartisan, urgent, and inevitable. Trillions will be spent. Fortunes will be made.
The only question is "Will you get into the right stocks early when their growth potential is greatest?"
Zacks has released a Special Report to help you do just that, and today it's free. Discover 7 special companies that look to gain the most from construction and repair to roads, bridges, and buildings, plus cargo hauling and energy transformation on an almost unimaginable scale.
Download FREE: How to Profit from Trillions on Spending for Infrastructure >>
Want the latest recommendations from Zacks Investment Research? Today, you can download 7 Best Stocks for the Next 30 Days. Click to get this free report
Amazon.com, Inc. (NASDAQ:): Free Stock Analysis Report
JPMorgan Chase & Co. (NYSE:): Free Stock Analysis Report
Apple Inc. (NASDAQ:): Free Stock Analysis Report
Netflix, Inc. (NFLX): Free Stock Analysis Report
The Walt Disney Company (NYSE:): Free Stock Analysis Report
Adobe Inc. (ADBE): Free Stock Analysis Report
Invesco QQQ (QQQ): ETF Research Reports
Zendesk, Inc. (ZEN): Free Stock Analysis Report
Roku, Inc. (ROKU): Free Stock Analysis Report
Spotify Technology SA (NYSE:): Free Stock Analysis Report
To read this article on Zacks.com click here.