The hotly contested U.S. elections have produced some unexpected winners and losers in the stock market. The biggest gainers in the post election rally are technology and healthcare stocks as the divided mandate reduces the chances of major regulatory and tax changes which could hurt their growth.
Below we have shortlisted three stocks whose post election gains give some insight on money managers latest thinking and why other stocks from these sectors might benefit if this rally gathers further momentum.
1. Uber
The world's largest ride-hailing service Uber (NYSE:) and other gig economy companies won a crucial ballot measure in California that will exempt them from reclassifying their drivers as employees.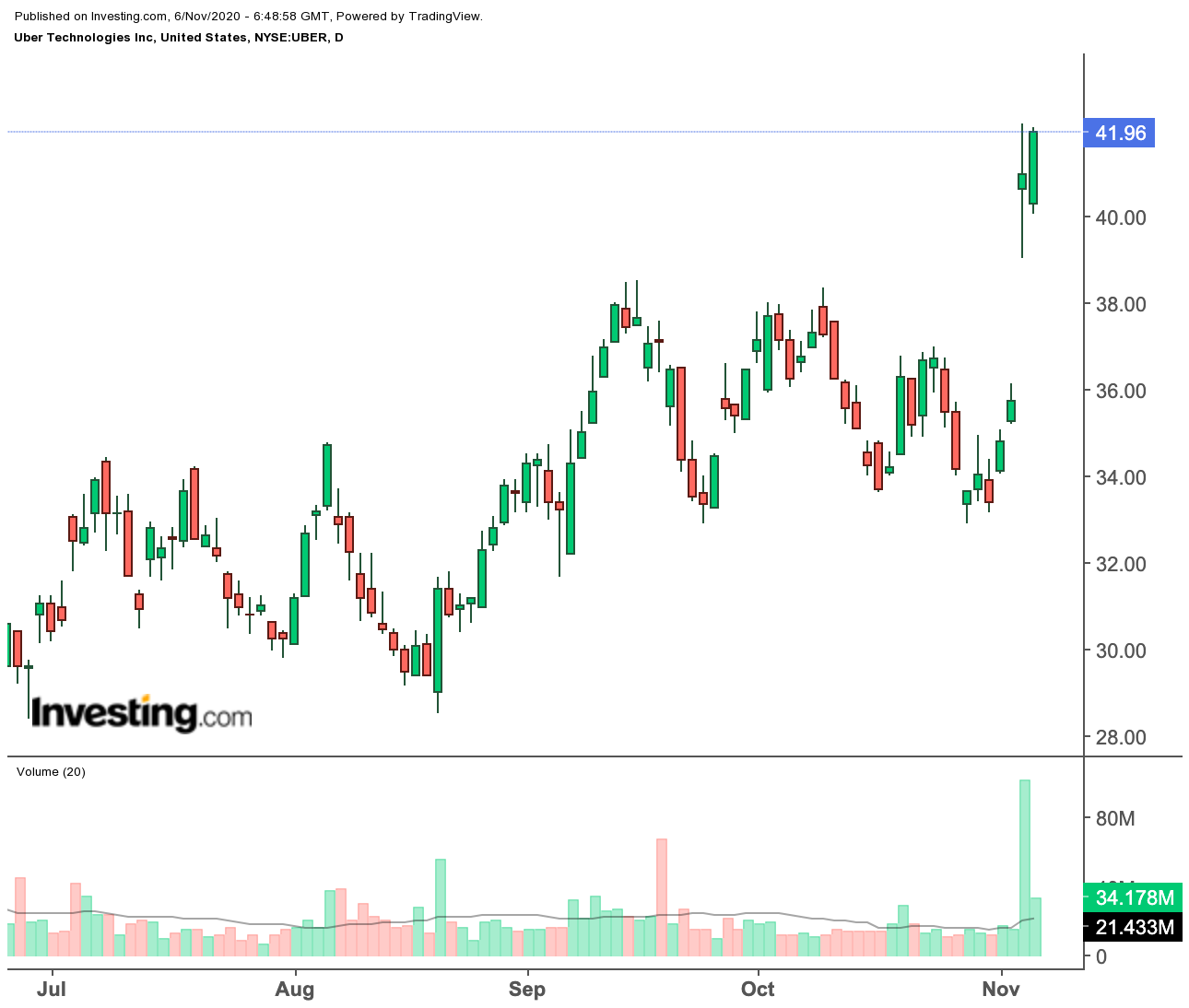 In lieu of full employee benefits, voters in the state favored a move which requires the companies to put in place a slimmer package that includes a guaranteed pay rate for when drivers have an assigned passenger, and some alternative health, disability, and non-discrimination guarantees.
The outcome allows the ride-hailing and delivery companies—including Lyft (NASDAQ:), Postmates Inc. and Instacart Inc—to avoid complying with a California law that would have reshaped the way they operate in the most populous U.S. state.
Uber shares soared 14% on Wednesday as investors welcomed the victory which will help these gig economy operators in saving costs and keeping their business models intact. After the surge, Uber stock now trades where it was just before the pandemic. It closed on Wednesday at $40.99, up about 30% this year.
2. United Health
Health insurers and drugmakers also gained ground as it became clear that Democrats won't be able to sweep the election in a "'blue wave.' 
A divided government means the drug pricing and reimbursement reforms won't stand a chance to go through. Predicting this outcome, investors sent UnitedHealth Group (NYSE:) stock surging 10% on Wednesday as the world's biggest health insurer closed at $354.56, adding to its 30% gains this year.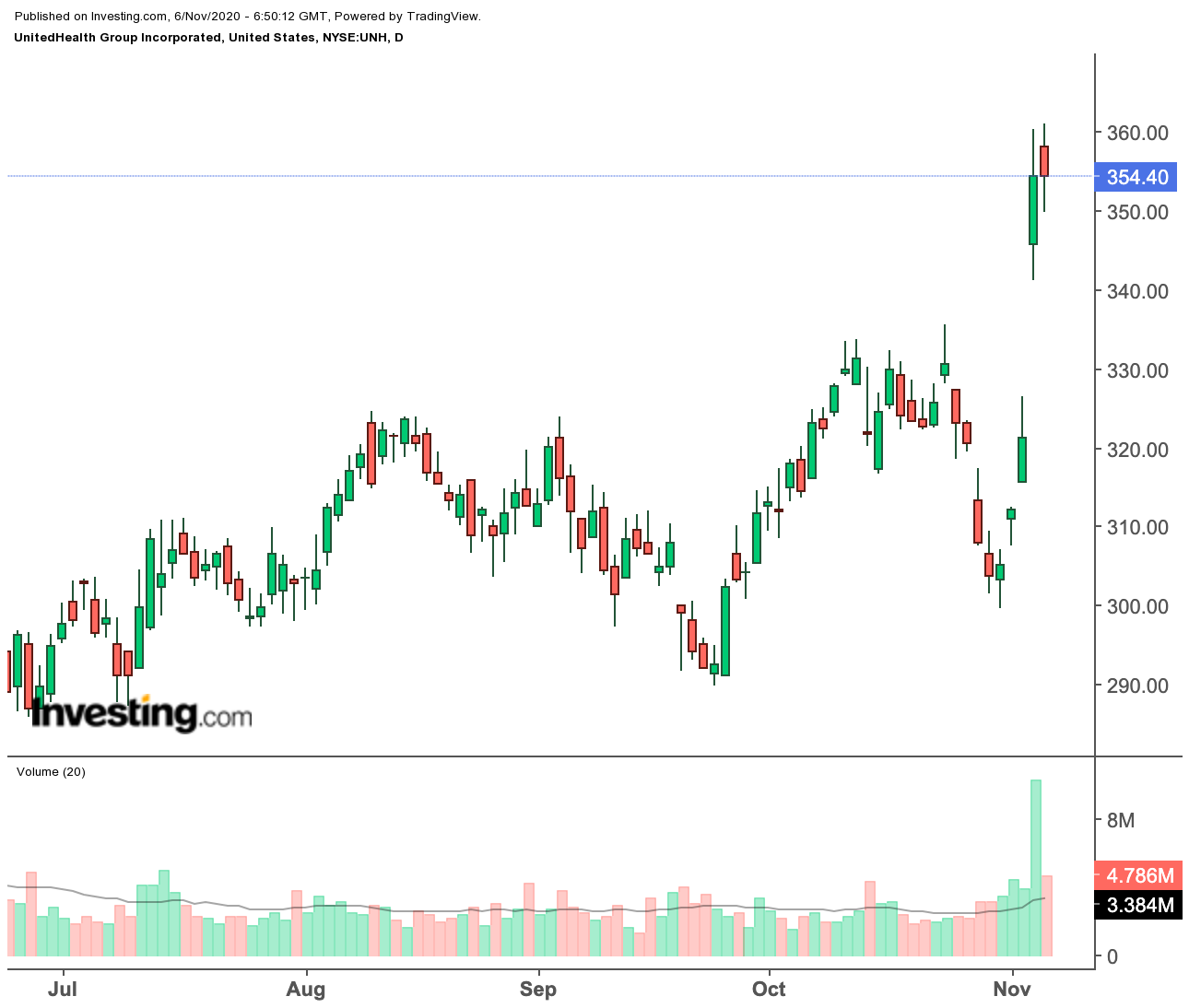 Goldman analyst Asad Haider in a note, cited by Bloomberg, said the divided government is positive for health insurers as the managed-care sector faces less risk of a "large progressive public option" or a corporate tax increase. 
Before the election, the health-care sector was trading at its largest ever price-to-earnings discount to the broader market. "The group starts to become more investible again," he said.
3. Facebook
Shares of Facebook (NASDAQ:) have also got a major boost on hopes that the results of U.S. elections would reduce the risk of regulation on the social media industry.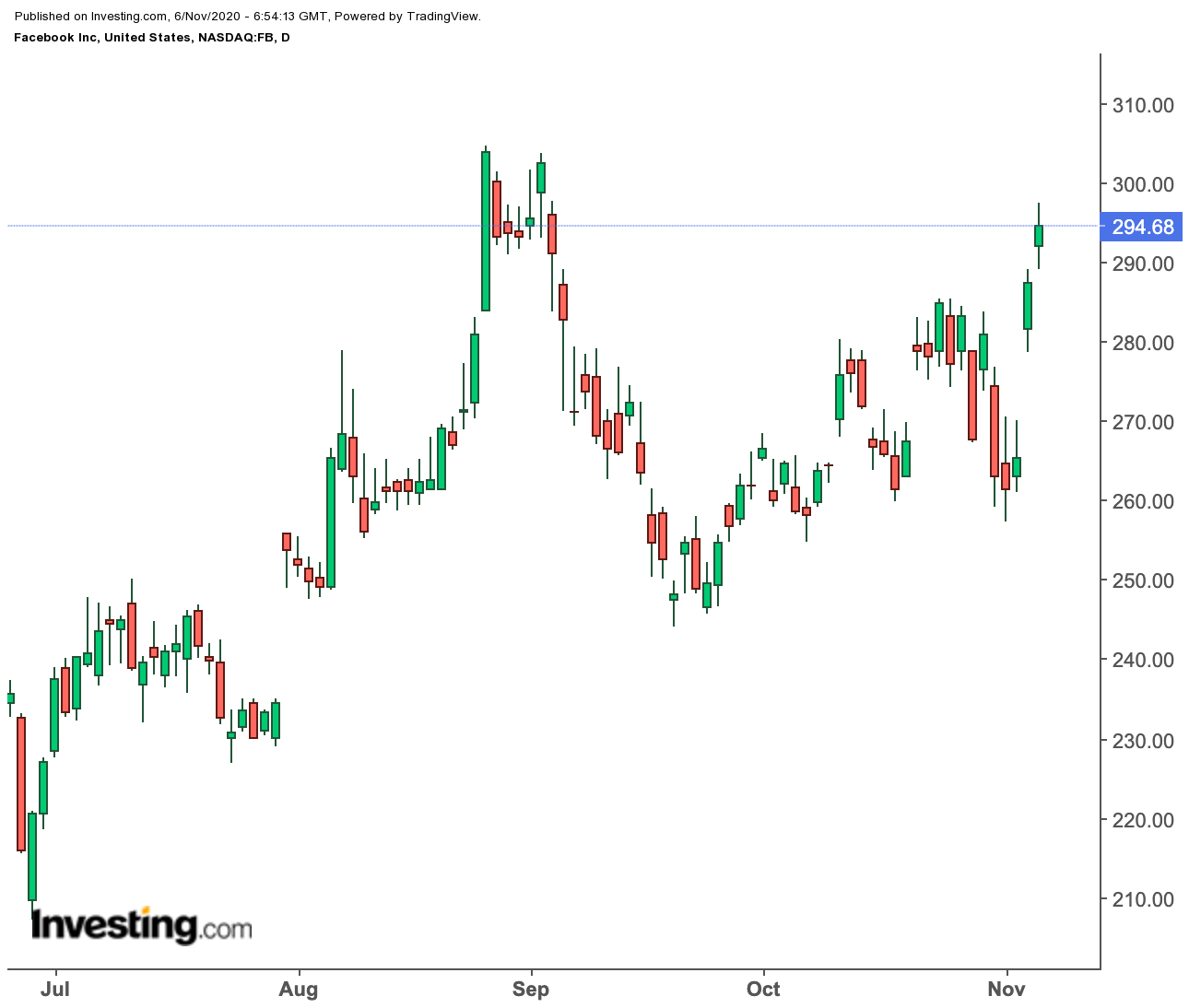 The Wall Street Journal reported last month that the Federal Trade Commission (FTC) staff members are recommending that the agency bring an antitrust case against Facebook. 
The FTC has spent more than a year looking into complaints that Facebook has been using its powerful market position to stifle competition, part of a broader effort by U.S. antitrust authorities to examine the conduct of big technology companies, the report said.
During the Trump administration's four-year term, Facebook has increasingly come under fire for breaching user privacy and its role in allowing hate speech and misinformation to spread across its network. 
With the Republicans likely to maintain control of the Senate, reaching a consensus on how to curb the power of big tech will be a challenge and it's likely that the status quo will continue. FB shares rose more than 8% on Wednesday.