Positive news about vaccines and potential COVID-19 treatments combined with an accelerating economic recovery are contributing to what looks like one of the best months for stocks ever. November comes to a close on Monday of this coming week.
As of this Friday's close, the has surged nearly 13% for November. If it holds its gains during Monday's trading, the 30-component, mega cap index will have had its best month since January 1987. The was up 11.3% for the month, on pace for its best performance since April.
November turned out to be the month investors decided to bet big on cyclical stocks, or companies whose growth is tied with the reopening of the economy. Financials, for example, gained more than 17% in the past month, and industrials rose nearly 15%, on strong indications that vaccines will bring the recession-hit global economy to life next year.
Amid this broad-based optimism, here are three stocks we plan to focus on next week:
1. Amazon
With the peak shopping weekend after Thanksgiving—which stretches from Black Friday to Cyber Monday—wrapping up early this coming week, investors will be eager for updated data from the world's largest online retailer, Amazon.com (NASDAQ:).
It's anticipated that US shoppers will spend $189 billion in November and December, up 33% from a year earlier and more than double the usual pace of growth, according to Adobe Analytics. Amazon captures about $0.40 of every dollar spent online in the US, meaning this period is crucial for the Seattle-based e-tail giant to continue on its robust growth path so far this year.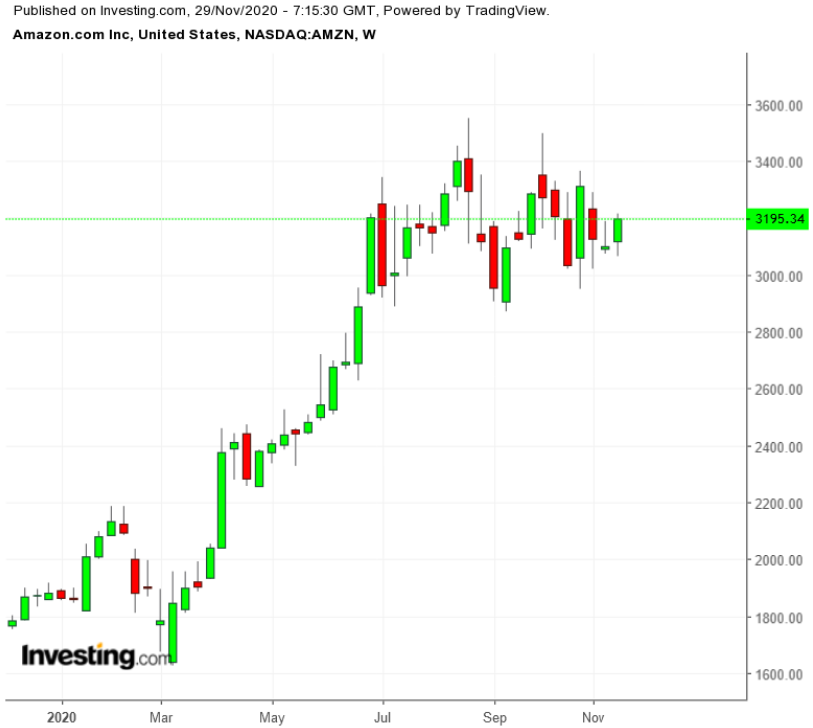 The early data suggest that this holiday period will bring strong sales for retailers with online capabilities able to handle the extra burden of stay-at-home shoppers due to the pandemic. According to Adobe, "Consumers spent $9 billion on the web the day after Thanksgiving, up 21.6% year over year."
Amazon has invested heavily in order to meet the escalating demand since the pandemic hit—hiring 250,000 workers and spending billions on new warehouses and delivery stations. Amazon shares closed on Friday at $3,195.34, after surging about 80% this year.
2. Zoom Video
Zoom Video Communications (NASDAQ:) will report third quarter earnings for its fiscal 2021 year after the market closes on Monday, Nov. 30. Analysts are expecting $0.759 a share profit on projected revenue of $693 million.
One of the clear winners in the coronavirus and post-pandemic economy, Zoom is now being used by millions of workers and students, who've flocked to providers of digital communications, after citizens were ordered to stay at home and businesses and schools were closed.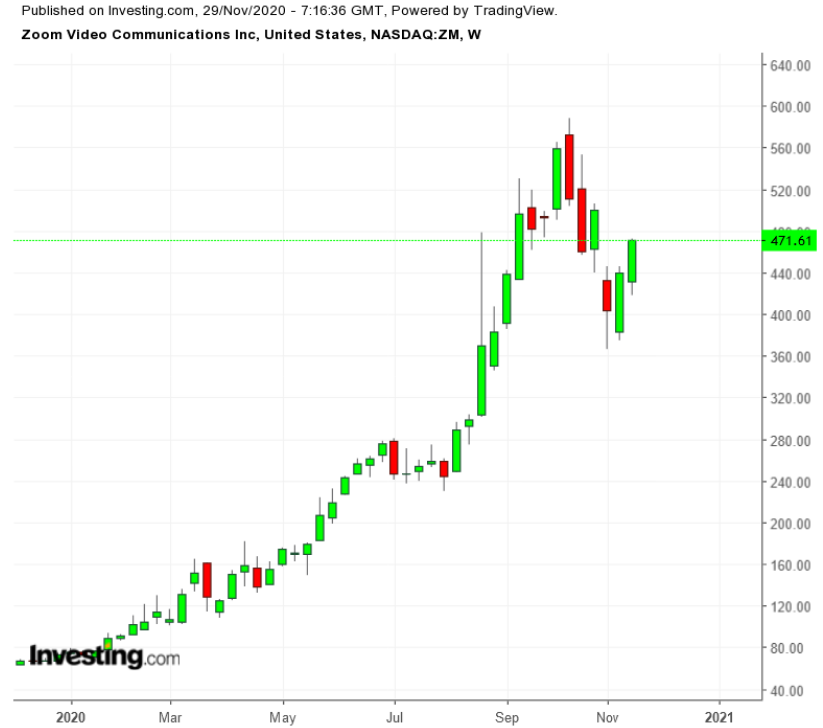 In August, Zoom said it had 370,200 business customers with more than 10 employees, a surge of more than fivefold from a year earlier. That kind of growth has helped the San Jose, California-based company to report that swelled more than four times in the fiscal second quarter from a year earlier.
Trading at $471.61 at Friday's close, Zoom's stock has jumped 600% during 2020, just over one year after its IPO in April 2019, when it priced at $36.
3. CrowdStrike
Cloud-based cybersecurity platform Crowdstrike Holdings (NASDAQ:) reports its latest quarterly earnings on Wednesday, Dec. 2, after the market close. Analysts are expecting a nominal profit on sales of $213 million, representing a 70% jump from the a year ago.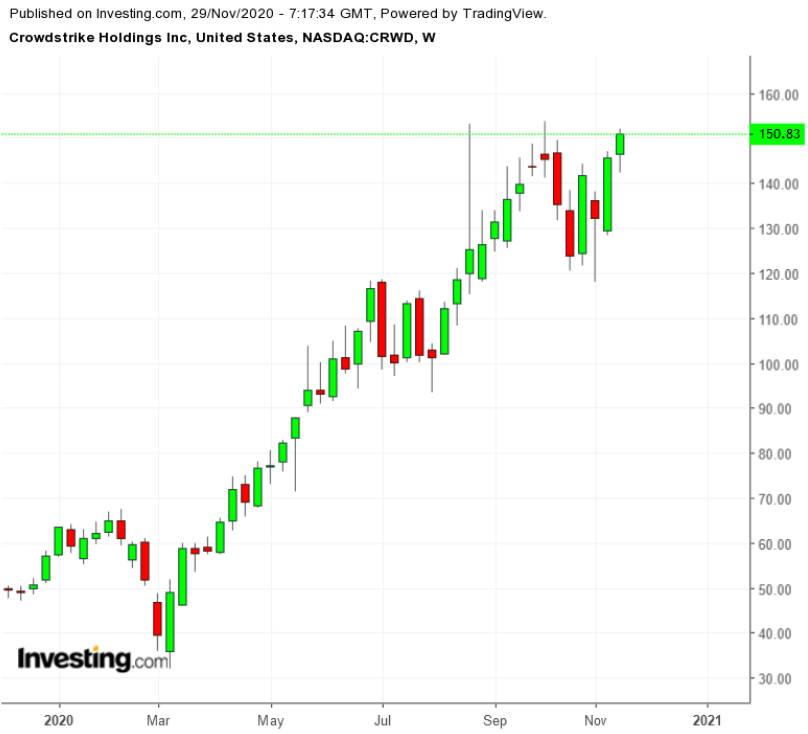 Shares of the cybersecurity firm have soared more than 200% this year as more and more companies seek to secure their networks amid surging use of online services and increasing cyber attacks by rogue actors and states.
CrowdStrike shares closed on Friday at $150.83, giving the company a valuation of $33 billion, just 18 months after the Sunnyvale, California-based firm began trading publicly.
Led by co-founder and Chief Executive George Kurtz, CrowdStrike aims to do for security what other cloud-based companies have done for human resources, customer-relationship management and additional sectors.