Even in a trading week shortened by Thursday's Thanksgiving holiday in the US, there are still plenty of things for investors to keep an eye on. Surging COVID-19 infections may force more states to introduce lockdown measures which could sputter an ongoing, nascent recovery.
For those eyeing the post-pandemic world, any weakness in markets could be taken as an opportunity to buy stocks which will benefit from the successful launch of vaccines, possibly as soon as the end of this year. 
JPMorgan economists warned Friday that the "winter will be grim." They forecast that the restrictions due to the virus will be a drag on the economy, resulting in a negative first quarter.  
So, while the uncertainty on the pandemic path continues, here are three stocks which could see some price action as they release their latest earnings reports:
1. Best Buy
The big box electronics and technology chain Best Buy (NYSE:) reports Q3 earnings on Tuesday, Nov. 24 before the market opens. The retailer is expected to report $1.71 per share profit and $11 billion in revenue, according to analyst consensus.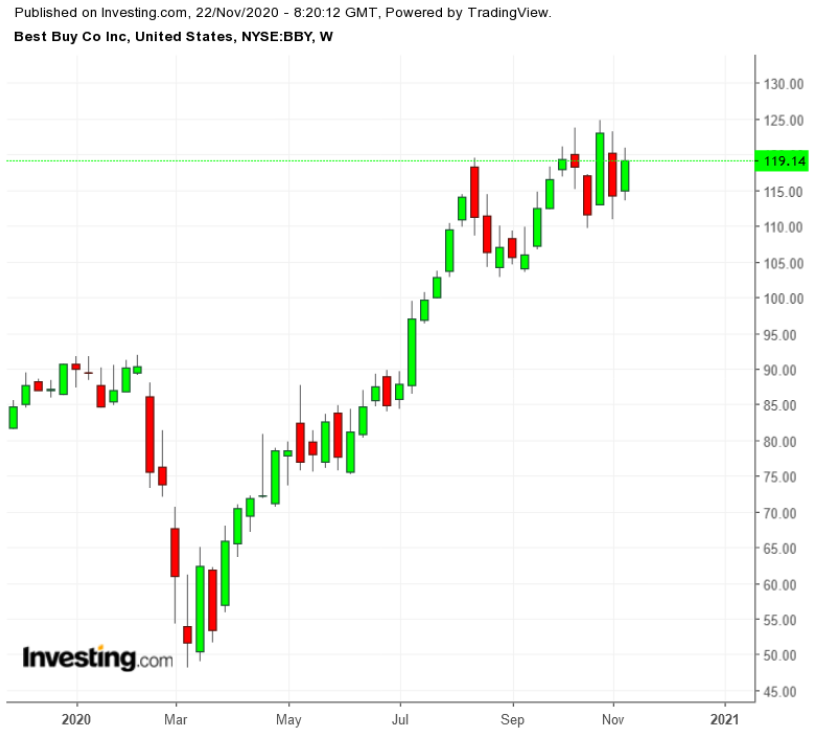 Shares have rallied strongly this year, surging 36%, as Best Buy continues to benefit from Americans splurging on household upgrades during the ongoing work-from-home environment. The stock closed on Friday at $119.14.
During the summer , double-digit gains in sales from computers and appliances helped the Minneapolis-based retailer to beat expectations.  Online sales soared 242% and made up more than half of all its US revenue.
In order to keep that momentum going, Best Buy needs to show that its e-commerce channels could make up for brick-and-mortar losses in the last quarter amid surging infections and possible lockdowns.
2. Dell Technologies
Dell Technologies (NYSE:) will also release its fiscal Q3 2021 results on Tuesday, after the market close. Analysts expect $1.36 EPS on more than $21.9 billion in revenue.
The Round Rock, Texas-based provider of IT products and services has been benefiting from strong demand for personal computers from workers and students stuck at home during the coronavirus pandemic. But at the same time, sales from corporate clients have suffered because of the virus-triggered recession.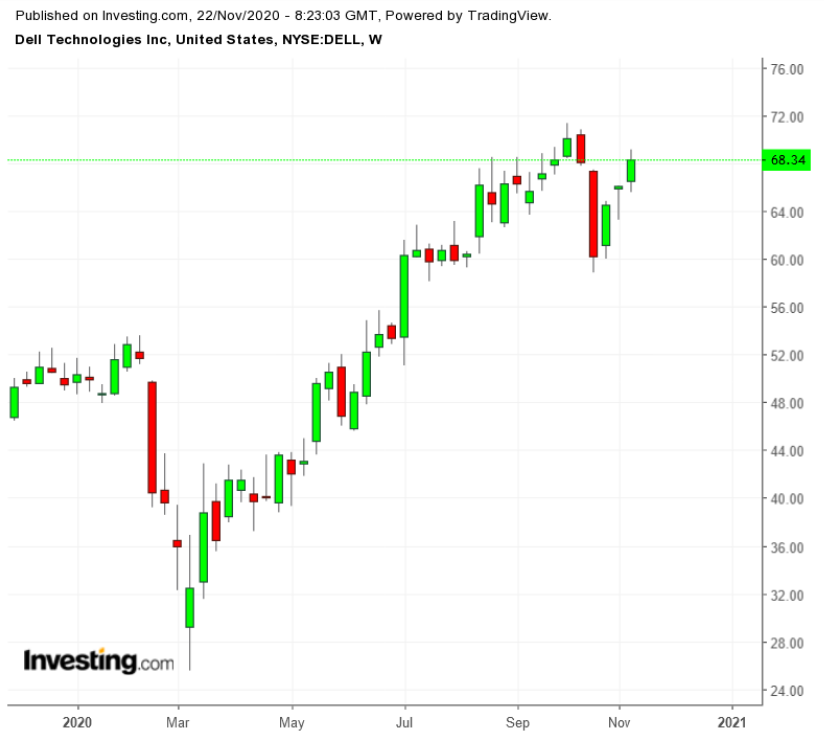 During Q2, from consumer devices jumped 18%, while PC sales to business clients dropped 11%. 
According to Bloomberg, Chief Executive Officer Michael Dell is once again looking to revamp the structure of his technology empire, this time to generate more value from his namesake company's 81% stake in publicly traded software maker VMware (NYSE:). Dell said in a July filing that it may look to spin off VMware. Dell shares have gained 36% this year, closing on Friday at $68.34.  
3. Deere & Company
Deere & Company (NYSE:), the world's largest tractor manufacturer, will release its Q4 earnings on Wednesday, Nov. 25, before the market opens. Wall Street is expecting sales to come in at $7.56 billion and $1.49 of earnings per share.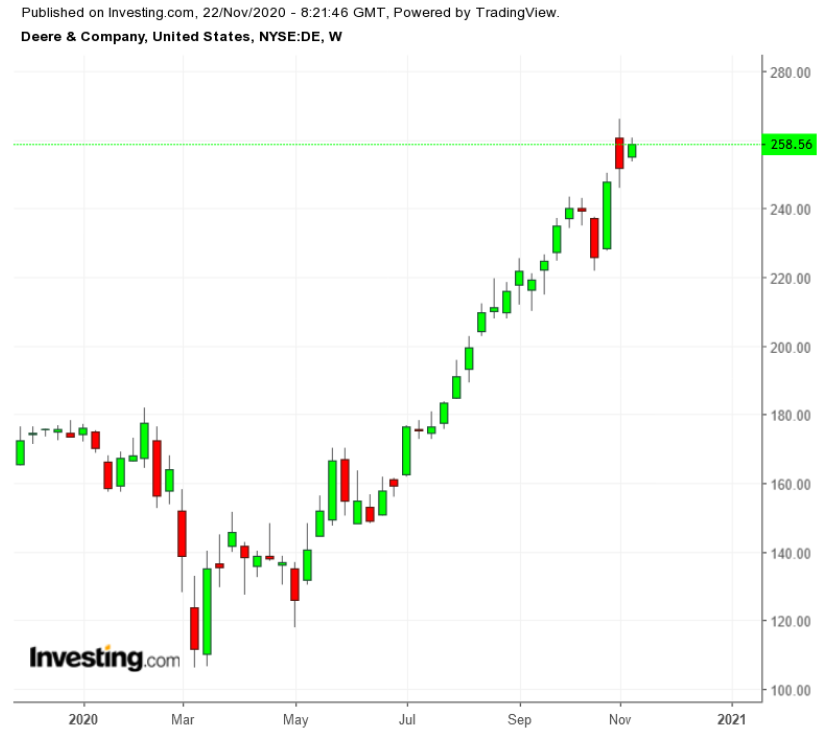 Deere's stock has rebounded strongly after the March dip as the Moline, Illinois-based farm-equipment producer raised its for the year as demand remained strong even amid the coronavirus pandemic.
The company said in August it expects agriculture and turf equipment sales to decline 10%, compared with a prior range of 10% to 15%, with a better outlook in the US and Canada. 
According to Chief Executive Officer John May:
"Although unsettled market conditions and related customer uncertainty are expected to have a moderating effect on key markets in the near term, we believe Deere is well-positioned to help make our customers more profitable and sustainable."  
Deere's shares are up 49% this year versus a 10% gain for the index. The stock closed on Friday at $258.56, after gaining more than 1% during the final day of the past week's trade.