Now that the major US companies have released their quarterly earnings for this season, investors are likely to focus on politics, ahead of the crucial Presidential election during the upcoming week.
Democratic candidate Joe Biden's chances of winning remain at 89%, according to FiveThirtyEight's forecasting model. Donald Trump trails Biden by about 7.8 points on average in national polls, RealClearPolitics has said. Still, the outcome of Tuesday's election is far from certain.
Amid the election uncertainty and the surging COVID-19 cases in the US, stocks took a dive during the past week, capping their biggest 5-day rout since March. The declined about 2.6%, pressured by some disappointing tech earnings. The Index dropped 5.6% during the period, its worst-ever loss in the week leading to a presidential election.
Despite the ongoing, fluid situation, equity markets may present a buying opportunity, irrespective of the political outcome on Tuesday. As such, stocks could continue their upward trajectory no matter who wins the presidential election.
Below, our short list of three stocks which could see some action after they announce their latest earnings reports.
1. PayPal
The payment processing giant PayPal Holdings (NASDAQ:) is scheduled to report Q3 earnings on Monday, Nov. 2, after the markets close. Analysts, on average, expect the company to post $0.94 a share profit on sales of $5.42 billion.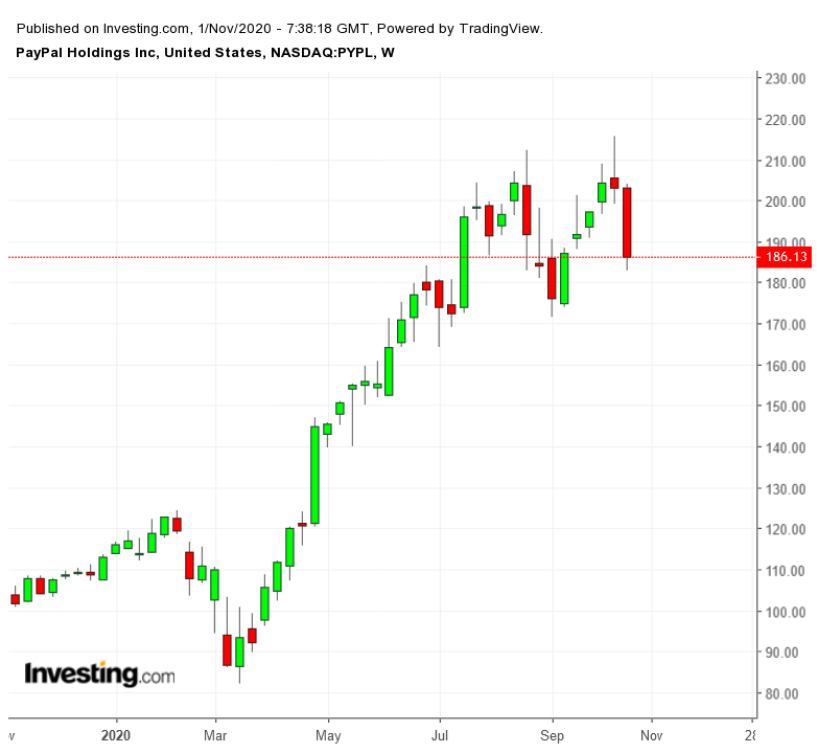 With consumers flocking to online shopping during the pandemic, PayPal's platform is experiencing a surge in payment volumes that should contribute strongly to its earnings.
The technology giant told investors that it expected revenue to expand 25% in Q3 while payments volume could gain 30%. At that time, the San Jose, California-based company saw full-year revenue climbing 22%.
PayPal forecasts it will add 70 million active accounts in the second half of 2020. Fueled by this unprecedented shift to e-commerce, PYPL shares have doubled this year, closing on Friday at $186.13 a share, down more than 4.5% during the final day of trade for the week.
2. Qualcomm
Qualcomm (NASDAQ:) is another tech giant scheduled to report its third quarter earnings next week, on Nov. 4. Analysts anticipate the San Diego-based chipmaker will report $1.17 a share profit on $5.9 billion sales during Wednesday's release after the market close.
Qualcomm, which mainly manufactures chips for the smartphone industry, is likely to benefit from the introduction of 5G-enabled smartphones by the big players. The technology will bring faster data speeds for consumers who have been holding on to their old phones for longer, thereby depressing cell phone sales.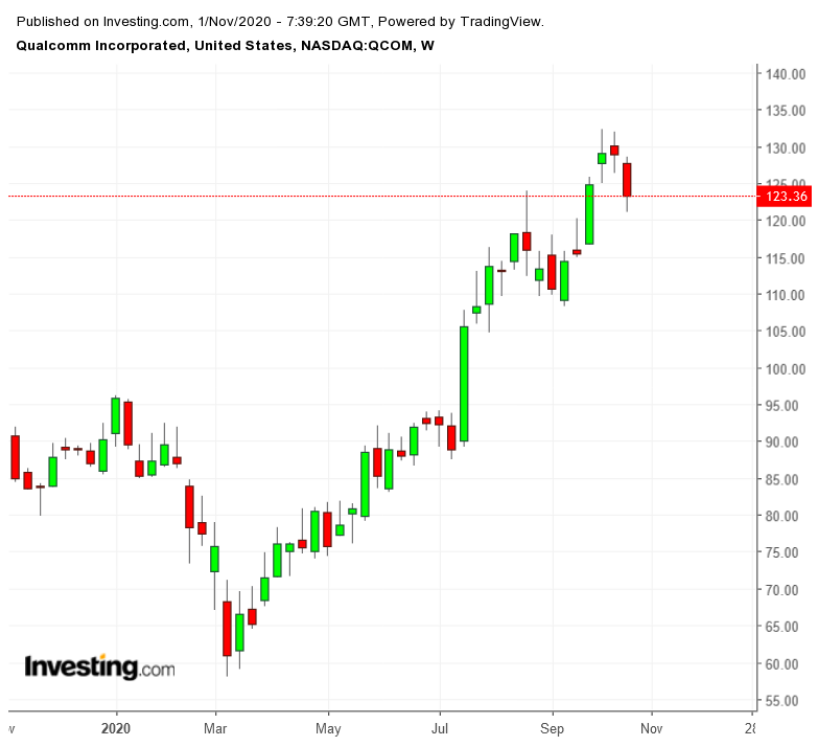 Qualcomm's latest could provide some insight into whether the major markets are ready to build out 5G networks as the world economy emerges from the coronavirus pandemic. The company's shares have gained about 40% this year, closing on Friday at $123.36, after falling more than 2% during the day.
3. T-Mobile
The US wireless carrier, T-Mobile (NASDAQ:), will report its Q3 earnings after the markets close on Thursday, Nov. 5. For the period, the company is forecast to report $0.46 a share profit on sales of $18.29 billion.
With the Sprint takeover completed in April, the carrier announced in August that it had overtaken AT&T (NYSE:) to become the second largest mobile provider in the US, with 98.3 million subscribers.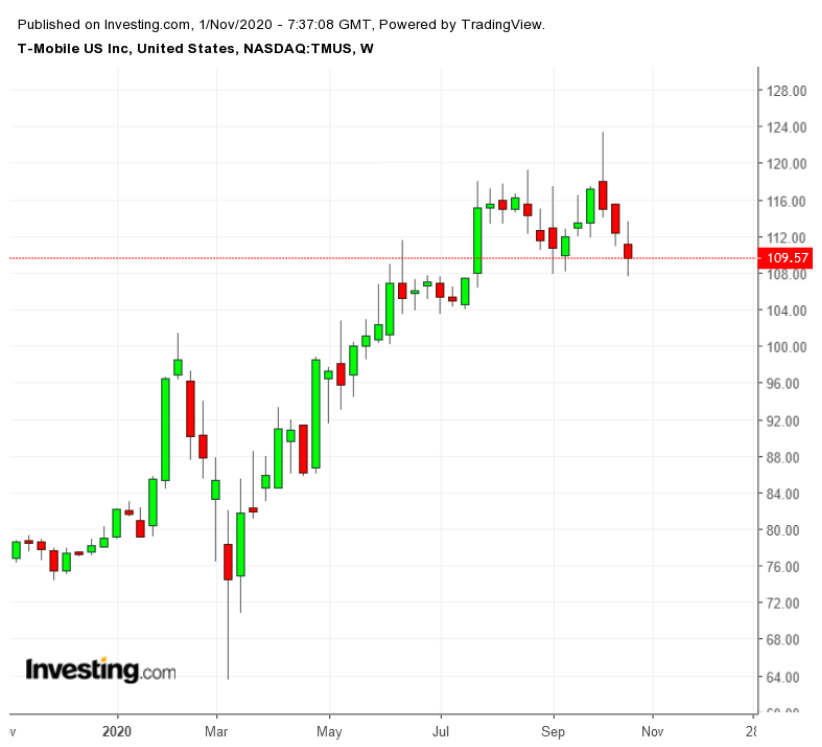 T-Mobile expects to add 1.7 million to 1.9 million new monthly customers this year. That's down from more than 4 million picked up last year, but T-Mobile has a history of giving conservative forecasts and raising the outlook over time.
T-Mobile's , in August, eased investor fears that Sprint would weigh on the company's bottom line when it produced earnings that were better than analysts' expectations. T-Mobile shares have massively outperformed the competition this year, gaining about 40%.
The stock closed on Friday at $109.57, up 0.05% for the day.