Russia's invasion of Ukraine will continue to dominate market focus and sentiment in the week ahead, as prices of oil and other commodities keep spiking on supply concerns. All four major US indices, including the , and , closed lower on Friday to finish both the day, and week, in the red.
posted its biggest weekly gain on record amid media reports that the Biden administration is weighing a ban on US imports of Russian crude oil to punish the Kremlin for its invasion of Ukraine.
Conversations are taking place within the administration and with the US oil and gas industry on the impact such a move would have on American consumers and the global supply, Bloomberg reported, citing sources.
With investors focusing on broader geopolitical risks stemming from the Russia-Ukraine conflict, here are three stocks we're monitoring during the coming week:
1. Rivian
Rivian Automotive (NASDAQ:), the electric truck and SUV maker backed by Amazon (NASDAQ:), is scheduled to report its fourth quarter earnings on Thursday, Mar. 10, after the market close. Analysts are forecasting a loss of $1.79 a share on sales of $60.5 million.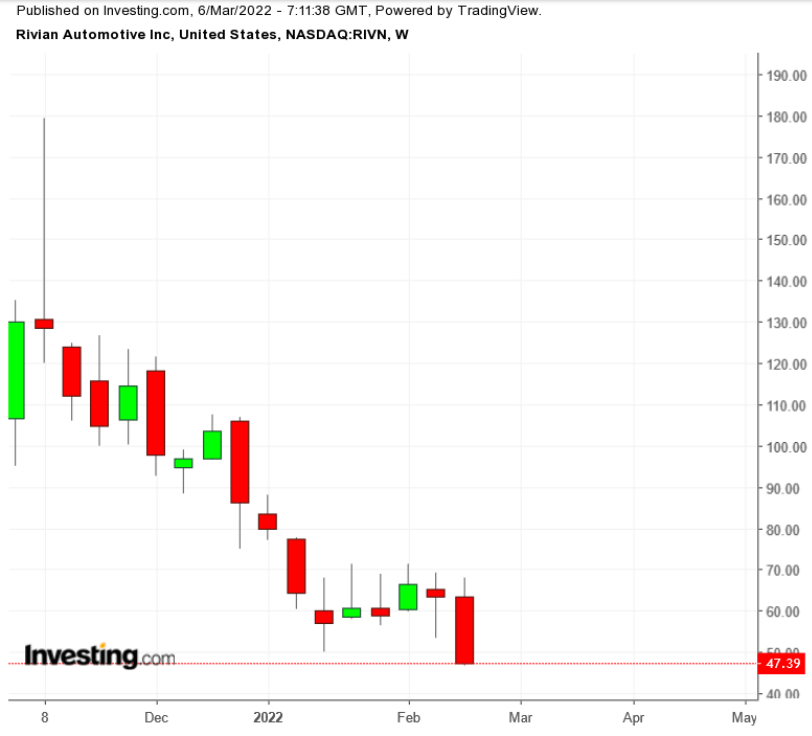 Shares of the Irvine, California-based electric vehicle maker have been under severe pressure since hitting their post-IPO high in late November on concerns that the EV startup will struggle to ramp up production amid supply chain disruptions. The stock, which went public on Nov. 10, 2021, closed on Friday at $47.39, more than 70% below its 52-week high of $179.47.
Since its listing in November, Rivian has made only limited progress on its debut consumer EV, a battery-electric powered pickup truck called the R1T. In December, the company revealed in its first a slower-than-expected ramp in production which it attributed to supply chain challenges. Rivian said then that it would fall "a few hundred vehicles short" of its full-year goal to produce 1,200 EVs in 2021.
At one point, the post-IPO buying spree made Rivian worth more than almost 90% of S&P 500 companies, including stocks like Boeing (NYSE:), Starbucks (NASDAQ:) and Caterpillar (NYSE:).
2. DocuSign
The e-signature platform, DocuSign (NASDAQ:) is another tech sector stalwart reporting quarterly earnings, albeit for FYQ4 2022, after the market closes on Thursday. Analysts see $0.479 a share profit on sales of $561.58 million.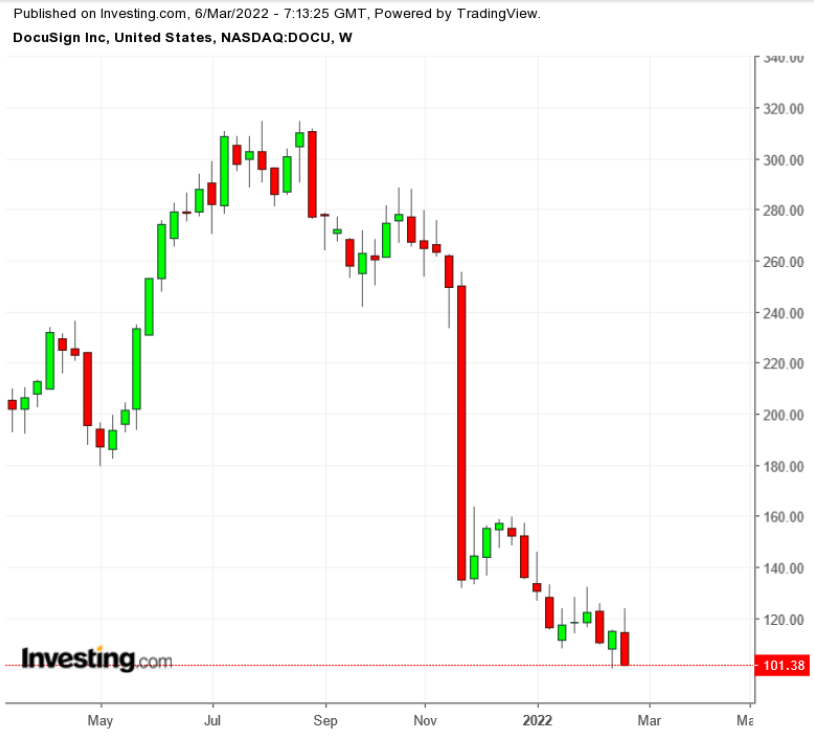 The San Francisco-based application software business experienced explosive growth for its digital services during the past two years, as the shift to remote work and social distancing prompted companies to seek digital signatures from workers, customers and clients working from home, as they managed their contracts and crucial documents electronically.
However, now signs are emerging that the company's growth has already peaked. In December, DocuSign provided a that missed analysts' estimates, after six quarters of accelerated growth. DocuSign shares, which are down 33% this year, closed on Friday at $101.38.
3. AT&T
Communication and entertainment services giant AT&T (NYSE:) will hold its Analyst & Investor Day webcast on Friday, Mar. 11 at 10AM ET. The company plans to update investors and other attendees on its strategies for business and capital allocation.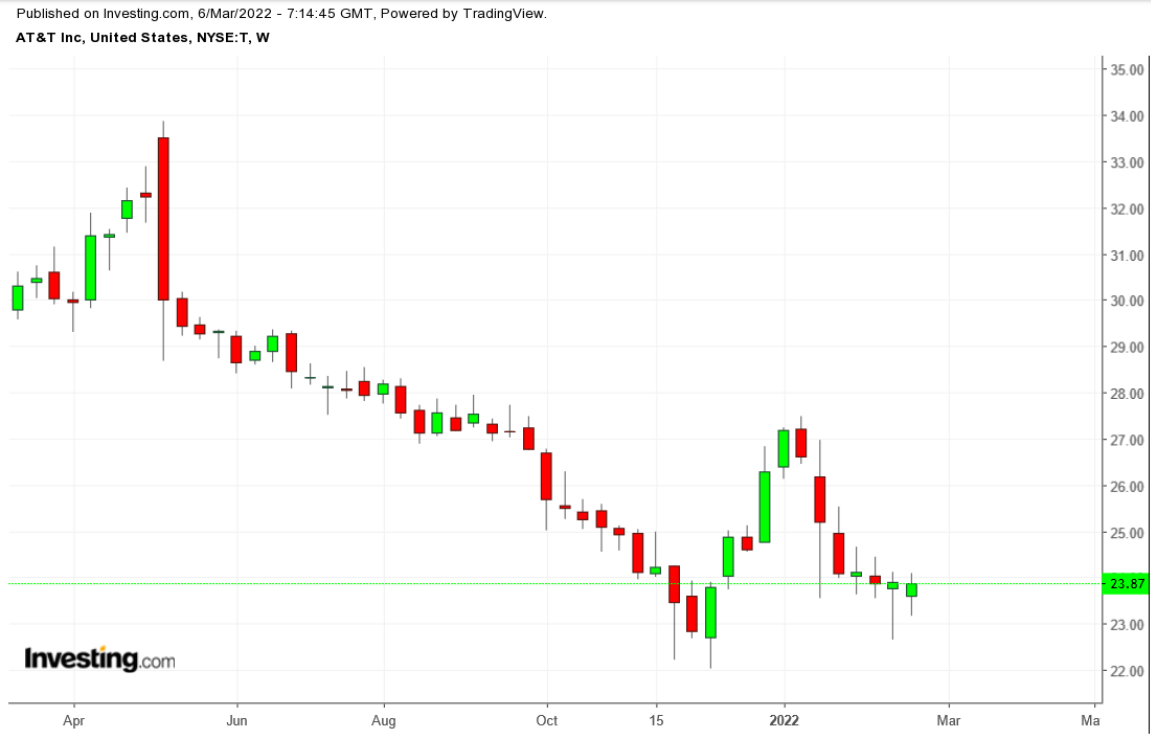 The Dallas, Texas-based company is undertaking deep restructuring currently, aiming to spin off media operations and focus on its core telecom business. The company told investors last month that it plans to cut its dividend payout by about half following the spinoff of its WarnerMedia business to Discovery (NASDAQ:) in the second half of the year.
According to the announcement, AT&T will lower its dividend payout ratio to about 40% of cash flow, translating to about $1.11 a share, or $8 billion annually. Until the deal, which is expected to close in the second quarter of 2022, takes effect AT&T's dividend remains at its current $2.08 a share, or about $15 billion annually, for a current yield of 8.71%.
Over the past two years, AT&T has vastly underperformed the benchmark S&P 500, losing about one-third of its value. The stock closed on Friday at $23.87.