After recovering from the political uncertainty caused by the tight U.S. presidential race, markets are entering another phase of potential volatility as escalating COVID-19 infections force many states to re-introduce restrictions. 
Media outlets reported over the weekend that three U.S. West Coast states jointly called for in non-essential travel. California, Oregon and Washington urged residents to avoid travel, as the daily increase in COVID-19 cases in the U.S. rose to a new record.
Investors have so far focused on the post-pandemic economic recovery on optimism that successful vaccine candidates would soon be granted emergency use authorizations. This is perhaps the reason that economically-sensitive stocks were in demand last week even with a surge in coronavirus cases. Both the and the small cap indices rallied to all-time highs, while the rose to pre-pandemic levels. 
Aside from escalating coronavirus infections and news related to vaccine development, investors will also hear from the U.S.'s largest retailers about their latest earnings reports. We've short-listed three stocks which could see some trading action after they report their quarterly numbers: 
 1. Walmart
America's biggest retailer, Walmart (NYSE:) reports its fiscal 2021, third-quarter earnings on Tuesday, Nov. 17 before the market opens. Consensus anticipates EPS of $1.18 on revenue of $132.08 billion.
The retailer has been a during the pandemic as people staying home stockpiled grocery items and consumed more daily staples. In Q2, the Bentonville, Arkansas-based retailer's e-commerce division powered robust growth when online sales jumped 97% from a year earlier, with both pickup and delivery options notching all-time high sales volumes.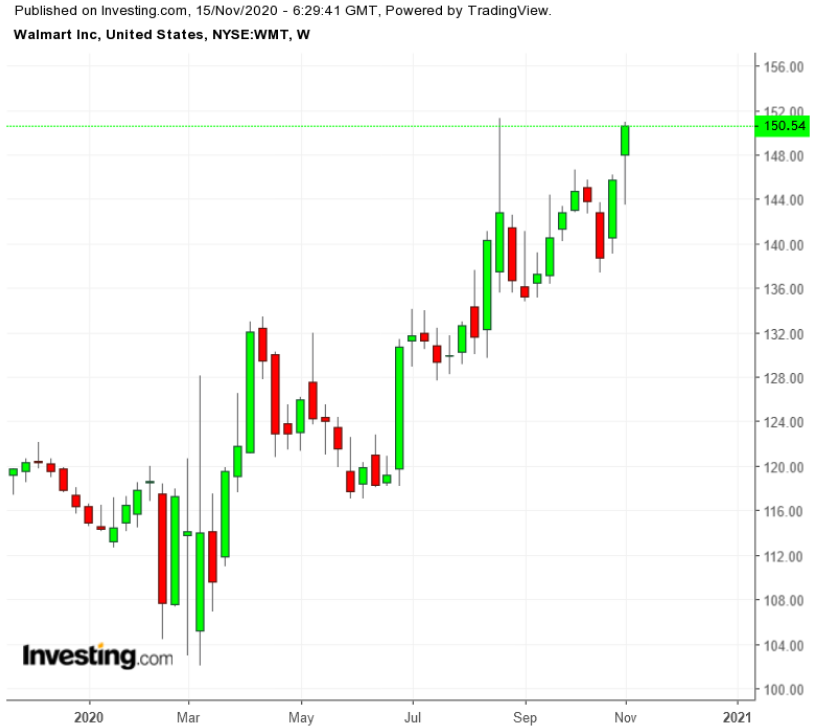 With expectations that the retailer will report strong quarterly earnings and growing online sales, investors have pushed WMT shares up 27% this year. The stock closed up 1.56% on Friday at $150.54. Ongoing uncertainty regarding the government's second stimulus package could weigh on future sales. 
Walmart cited the importance of government stimulus multiple times in its last earnings statement saying consumers having that money in their wallets helped power sales in high-margin general-merchandise categories.
2. Home Depot 
Home-improvement giant Home Depot (NYSE:) will also report its Q3 earnings on Tuesday before the market open. Analysts expect $3.05 a share profit on sales of  $31.78 billion.
HD also benefited from lockdowns as people, stuck in their homes, spent more money on home renovations. Since the March plunge, Home Depot stock has rebounded strongly, gaining more than 80%.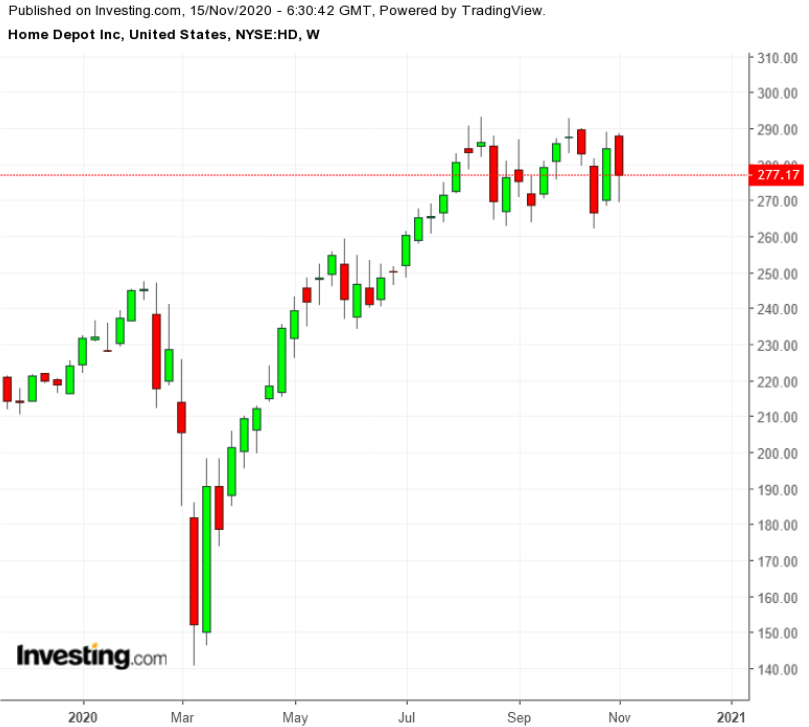 But that powerful rally has taken a breather during the past three months as rising expenses hurt the company's margins and the peak spring and summer period of spending ended. The shares closed on Friday at $277.17, almost unchanged during the past quarter.
Selling, general and administrative costs jumped 26% , with Morgan Stanley's Simeon Gutman noting the company is spending more than anticipated on virus-related costs and benefits. 
3. NVIDIA 
One of the world's largest chipmakers, NVIDIA (NASDAQ:) reports Q3 earnings on Wednesday, Nov. 18 after the market close. Analysts are expecting EPS of $2.57 on revenues of $4.41 billion.
Shares of NVIDIA have had a great run this year fueled by surging demand for its chips used in data centers and gaming consoles. The stock hit a record high of $588.01 on Nov. 6, and is up about 130% in 2020, massively outperforming the which is up 36% so far in 2020.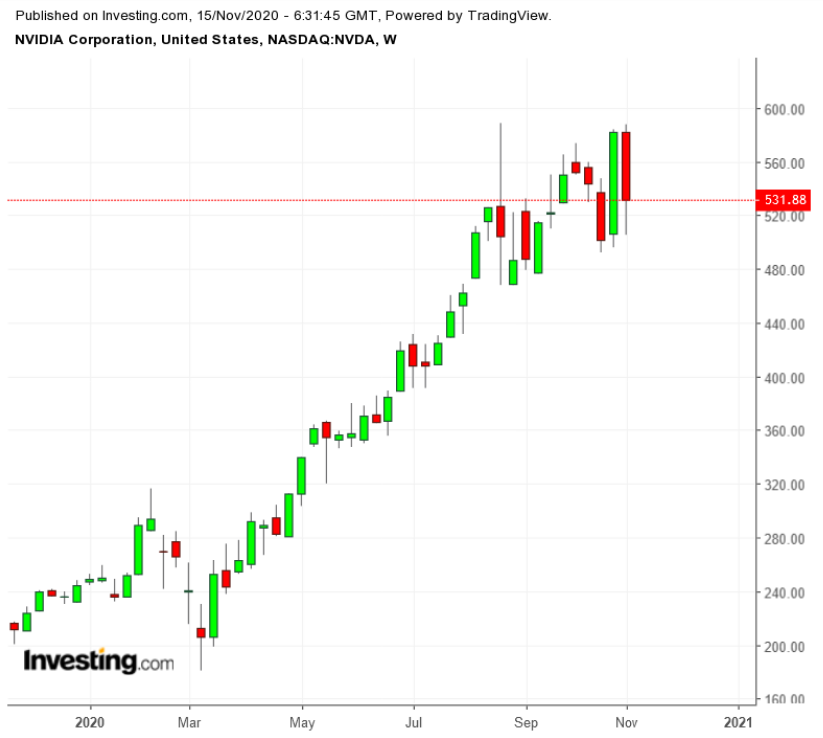 NVDA closed Friday at $531.88.
After the stock's powerful rise this year, NVIDIA is now one of the most richly valued chip stocks with a price-to-earnings ratio of 97.7, fetching more than two times the semiconductor group's average multiple of 43.64. 
That makes the stock susceptible to correction on any , especially when the economic and geopolitical environment remains fragile. Santa Clara, California-based NVIDIA is the biggest maker of graphics chips used in personal computer gaming. Over the past few years, the chipmaker has successfully adapted its technology for the Artificial Intelligence market, creating a new multi-billion-dollar business.