Investors will be turning their focus to earnings releases this week, as some of the largest US companies report third quarter numbers. If the economic rebound has boosted companies' sales, these reports could provide positive momentum for stocks, much like the Q2 releases did during the previous quarter.
According to Credit Suisse Group AG, most cyclical companies, such as banks and energy producers, aren't expected to get their earnings back to where they were last year until 2022. But if the companies are able to show they're coming out of the global health crisis just fine and their future sales are improving, investors will take this as a sign that the worst is over.
The strong recovery in major indices since the March meltdown also shows that investors have priced in a similar outcome. Below, our short-list of three large-cap stocks from different sectors which we're monitoring as Q3 earnings season kicks off:
1. JPMorgan & Chase
Wall Street's powerhouse commercial and investment bank, JPMorgan Chase (NYSE:), will report third quarter earnings on Tuesday, Oct. 13, before the market open. Analysts are expecting $2.05 a share profit on sales of $27.72 billion.
There's hardly any segment of the banking business which hasn't suffered in the wake of the global pandemic. Interest rates have fallen to near zero as the Fed unleashed unprecedented monetary stimulus, in order to fuel growth, while consumers have drastically cut spending—the main engine of US economic growth over the past decade.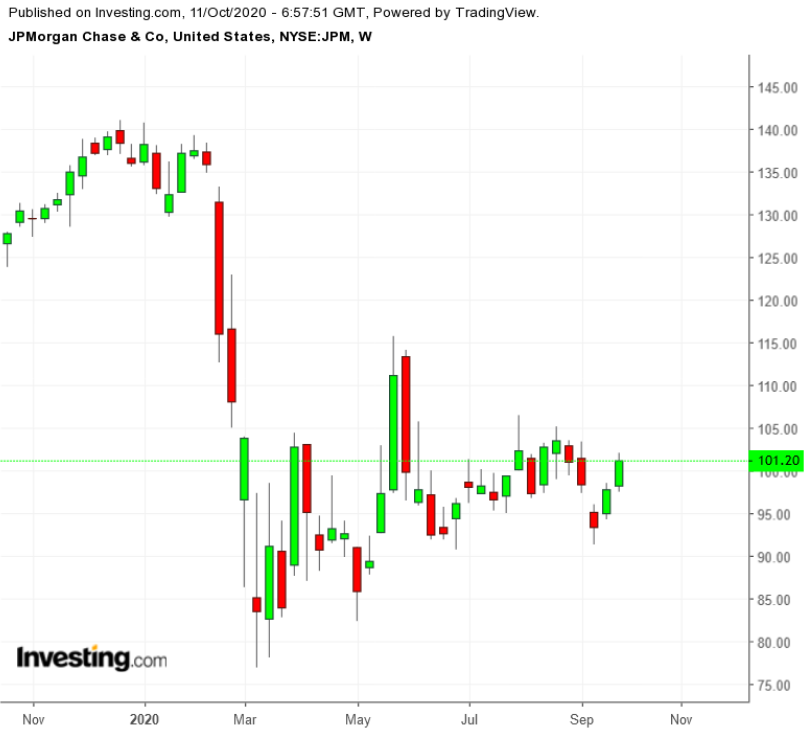 During , JPM set aside $10.47 billion for credit losses, more than anyone predicted and exceeding its record $8.6 billion in loan-loss provisions from the beginning of 2009.
Next week, investors will be looking for cues as to whether JPMorgan is close to the bottom of loan losses as the economy reopens and businesses try to get back on their feet. JPM stock closed on Friday at $101.20, down 27% for the year.
2. Johnson & Johnson
Global healthcare giant Johnson & Johnson (NYSE:) will also report Q3 earnings before the market opens on Tuesday. The stock has been under pressure during the past one year on concerns the increasing number of legal disputes related to its baby powder could damage as well as future growth potential.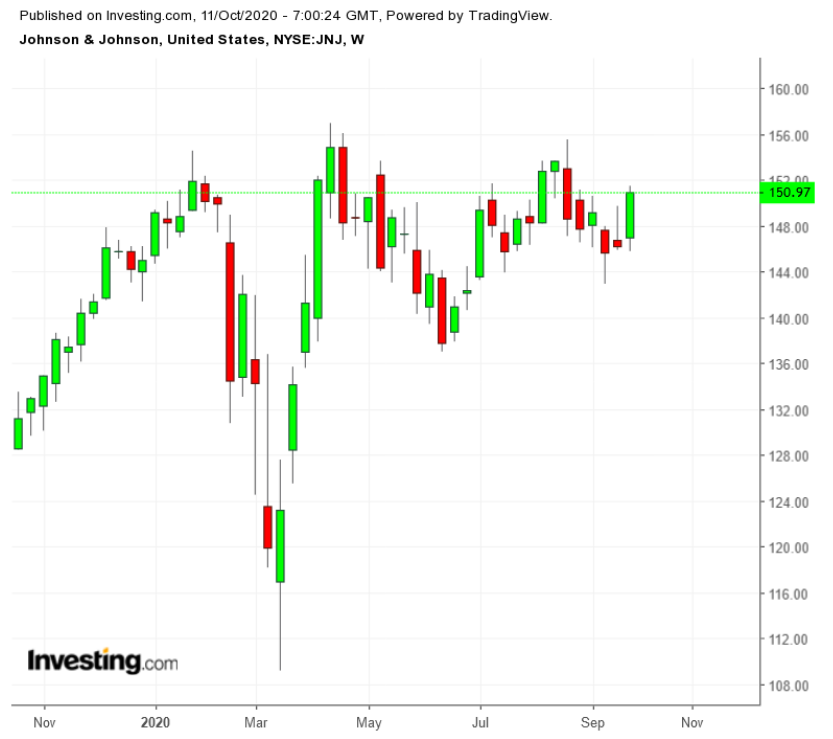 But the coronavirus pandemic has brightened the outlook for solid healthcare stocks which are showing resilience as investors turn to them for their safe dividends. Shares of the New Brunswick, New Jersey-based company closed at $150.97 on Friday, rebounding sharply from their March lows; they yield 2.71% and provide a quarterly payout of $1.01 per share.
The drugmaker is expected to post $1.96 a share profit on sales of $20.07 billion for the period, according to analysts' average estimate. The company is among the group of pharmaceuticals firms already in the late stage of their trials to produce a vaccine for COVID-19. Last month, J&J began dosing up to 60,000 volunteers, marking the first big US clinical trial of an inoculation that may work after just one shot.
J&J is the fourth vaccine maker to move its candidate into late-stage human studies in the US. If enrollment proceeds as expected, the trial could yield results as soon as year-end. If the vaccine proves effective, JNJ would seek emergency use authorization early next year, according to the company's Chief Scientific Officer Paul Stoffels.
3. UnitedHealth Group
The world's biggest health insurer, UnitedHealth Group (NYSE:) will report its Q3 earnings on Wednesday, Oct. 14, before the market open.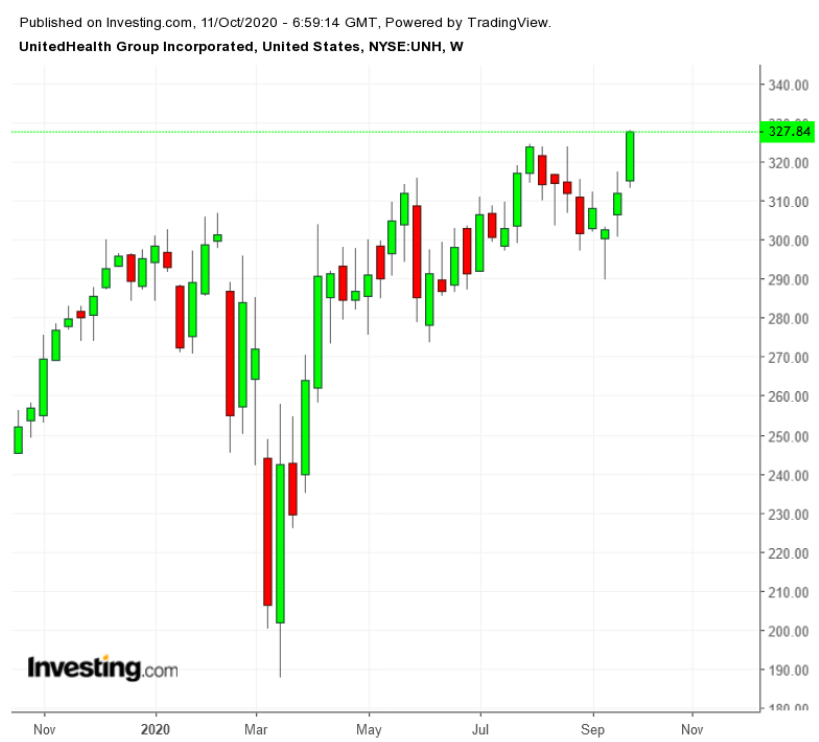 After languishing in bearish territory for the better part of last year, shares of this Minnetonka, Minnesota-based company have rewarded investors handsomely during the pandemic as sharply because of savings from cancelled surgeries, hospital stays and doctor visits.
The insurer's payouts for coronavirus care so far have fallen well short of the savings they have accrued from all of the forgone procedures and cancelled routine care appointments. That unexpected surge in earnings may have evaporated in the third quarter as health care requests returned to near-normal levels in recent weeks. Analysts expect earnings to increase to $3.09 a share on sales of $63.77.
UnitedHealth's stock has soared to a record level this year, surging more than 11%. Shares closed on Friday at $327.84, up 1.68%, hitting the top of the stock's current 52-week range.