With about a third of the companies reporting earnings next week, it's all about corporate America and its financial health in the midst of the still-raging pandemic.
Nearly 170 companies report earnings in the coming week, with a diverse group of blue chips among them, including Boeing (NYSE:), Caterpillar (NYSE:), and Merck (NYSE:), and the group, except (NASDAQ:), which already reported.
Our focus will be on the following three tech giants whose earnings for the July-September period could help clarify whether their latest share price gains are justified:
1. Microsoft
One of Wall Street's tech darlings, Microsoft (NASDAQ:),  earnings after the market close on Tuesday, Oct. 27. The computer behemoth is expected to post $1.54 a share profit on sales of $35.76 billion.
If the past provides any clues, Microsoft should show robust momentum fueled by a surge in technology investments and the strength of its core Office products. Because of this advantage, shares have largely remained immune from the global health crisis, gaining almost 37% for the year. The stock closed on Friday at $216.23 after rising 0.62% for the day.
Microsoft is benefiting from the increased demand for connectivity as people work and interact socially from home. As well, investors expect businesses and governments will continue to spend on their transition to cloud computing—which has been a key area of expansion for the corporation in recent years.
Sales for Azure, Microsoft's closely watched cloud-computing service, jumped by 47% in the previous quarter from a year earlier. The business notched 59% growth in the preceding period and 64% in the same quarter of the previous year.
2. Apple
Apple (NASDAQ:), the maker of popular iPhones as well as computers and smart wearables, will report its fiscal 2020 on Thursday, Oct. 29, after the market close.
Analysts, on average, project the company to post $0.71 a share profit on sales of $63.98 billion. The latest earnings announcement came after the company released its hotly anticipated new phone models this month, heralding what many analysts believe is another super growth cycle. These iPhones run on a new wireless standard, known as , that can transmit data as much as 10 times faster than the current 4G LTE technology.
While Apple's shares are up 57% this year, staging a strong rebound from the pandemic hit in March, they're under pressure since early September amid economic uncertainty and the U.S. elections.  AAPL closed on Friday at $115.04, down 15% from the September peak.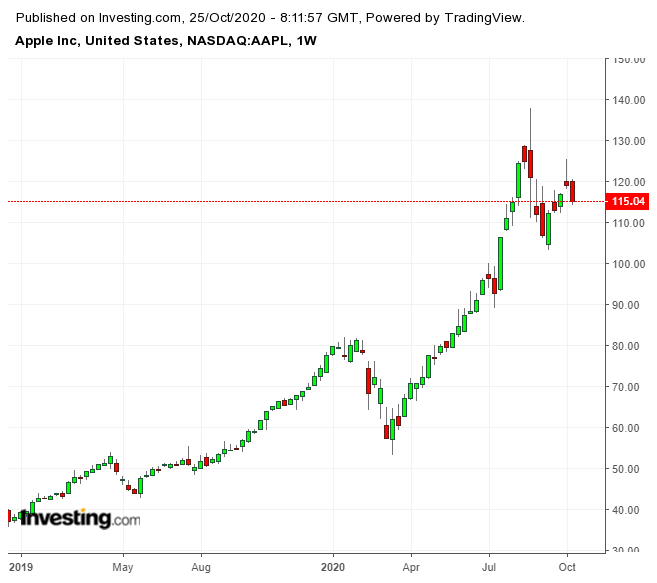 The company's massive innovation ecosystem and its huge cash hoard are some of the things keeping investors attracted and hopeful about the Cupertino, CA-based tech mammoth's future. The maker of the iPhone currently has about $207 billion in cash on hand with about $108 billion in both short-term and long-term debt.
3.  Amazon
Online retail juggernaut Amazon (NASDAQ:) is also scheduled to report after the market closes on Thursday, Oct. 29.
The consensus is that the world's most valuable e-commerce company by market cap will again crush expectations based on its strong earnings momentum. Sales are forecast to rise 30% to $92.6 billion from the same period a year ago, producing per share profit of $7.29.
This sentiment is very much reflected in the company's share price, which soared 73% this year, benefiting from the shift to online shopping during the COVID-19 pandemic. The stock closed on Friday at $3,204.40.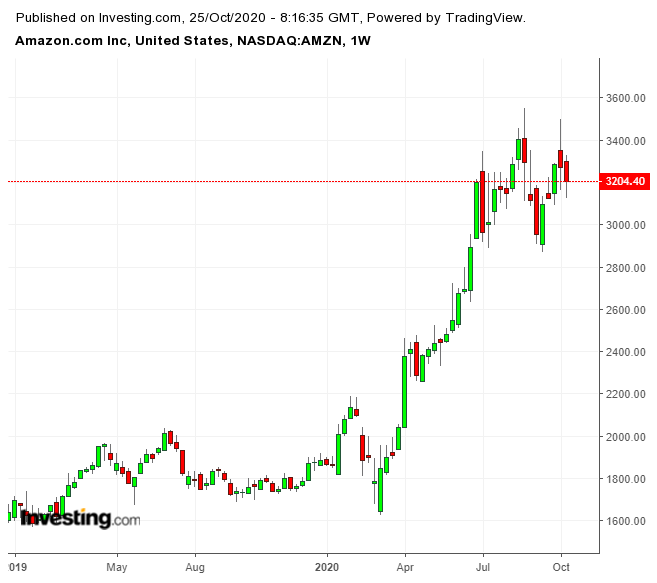 Any share weakness on a negative surprise should provide an ideal buying opportunity. Amazon continues to be an amazing business, spending aggressively in new growth areas, such as cloud computing. Its digital advertising business, another high-margin venture, is expanding at a triple-digit rate.