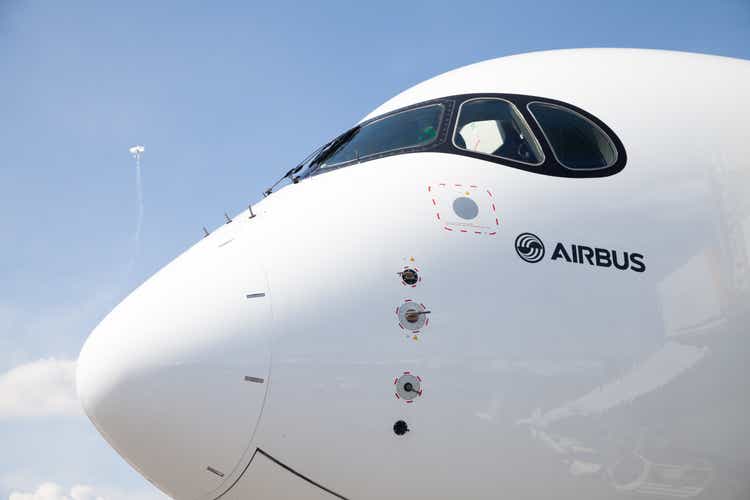 Author's Note: This piece was published on iREIT on Alpha on the 20th of February 2022. Please note that my long-term thesis and stance for Airbus has not changed as a result of the ongoing conflict in Europe.
The research for this piece has been extensive – that's why it took so long to bring out. I didn't want to write a so-so piece in establishing a fundamental thesis for the company.
As an investment, Airbus (OTCPK:EADSY) follows similar rules to every stock I review. But the ebb and flow of every company are somewhat different.
Let's start digging.
Airbus – The company
Airbus is the European Multinational Aerospace Corporation. It researches, designs, manufactures, and sells civil and military aerospace products and services. Most of it to European nations, but a lot of it outside of Europe as well.
The current corporate structure of Airbus is a result of massive industry consolidation on a Europe-wide basis going back to the formation of the Airbus Industrie GIE consortium in the 1970s. The European Aeronautic Defense And Space Company (EADS) – which by the way is the company's ADR ticker – was formed in 2000. This Company owned subsidiaries in the Defense industry back in 2000 as well as 100% of the Eurocopter SA, established in 1992. In addition, EADS owned 80% of the Airbus Industrie GIE.
This was reorged back in 2001 into Airbus SAS. When EADS acquired the last 20% of Airbus SAS from BAE Systems, the entire group was renamed Airbus Group NV/SE back in 2014-2015. Due to Airbus's Business dominance in the group, executive management/c-suite operations were aligned., even if the companies were kept as separate legal entities back in 2017.
That's also when they got their names.
In essence, Airbus holds what is the legacy of all relevant European aerospace/flight companies. Ever.
I'm sure you've heard of Messerschmitt, for instance. There are no major competitors or peers to the company around in Europe any longer. Airbus is the big dog. It's "any" dog.
The company's main operational segments are as follow:
Airbus Commercial
Airbus Helicopters
Airbus Defense & Space
On a high level, Airbus commercial is around 76% of annual sales revenues. The smallest is Helicopters, at around 8%, leaving the rest to Defense & Space.
Airbus has annual revenues of €51B, a market capitalization of €88B a credit rating of "A" (Unlike Boeing (NYSE:BA), which has a 'solid' BBB-) and can be considered the "safest" aerospace manufacturer on the entire planet.
Its products can be categorized into a couple of groups. The Civilian product line came in the early 1970s when Airbus made the world's first twin-aisle, twin-engined aircraft. The equivalent of this one today is the A310.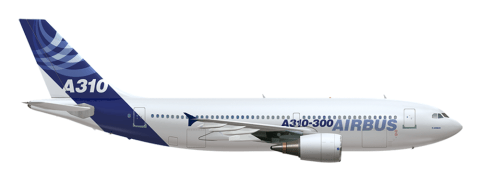 However, its most important products today are the A380, which is the world's largest airliner, and Single-aisle planes like the A320 (competing with Boeing's 737). It can be said that the 320 and the 380 versus the 737 and 747 respectively, are some of the most competitive for the two companies and in their civilian product lines.
The competition between Boeing and Airbus is a duopoly that, up until 2-3 years ago, was a fairly equal sort of dynamic.
Then the well-known shitstorm with Boeing came, and since then Boeing has been knocked out of its competitive place with a baseball bat.
Similar trends are found in the Jumbo Twin Aisles segment. The trend at this time is clear. Airbus has mostly won to a new sort of competitive landscape, where Boeing will have to bust their rears just to keep up.
Going deeply into the competition between Boeing and Airbus, of which I have around 35 pages of notes, would be an article in itself – so I won't go into it more at this time.
Airbus also has its military/defense products. The company builds tanker transports, airlift planes, turboprop tactical transports which are being developed to stop relying on Russian products or the American C-130 Hercules planes. It also develops and manufactures sensors, radars, avionics, and electronic warfare systems for military and security. Airbus is also part of the consortium that manufactures the Eurofighter Typhoon.
This aircraft is a direct competitor to the F-35 Lightning 2 and is considered a better multi-role fighter, while F-35 is better armed and better at stealth operations.
Airbus also has its Helicopter segment, which is the largest helicopter supplier and delivers a 54% market share of the civil/parapublic five-seater market.
What's happening to the company at this time is a complete refurbishment of the main aircraft sold by the company. This is done through new engines from the Rolls-Royce (OTCPK:RYCEF) company. On a high level, Airbus has enjoyed the downfall of Boeing on a competitive scale and enjoyed a higher order volume in comparison with its peer. That isn't to say Airbus hasn't suffered from COVID-19 – it most certainly has.
However, its market position and lack of similar scandals have kept this company well-insulated from the decline in Boeing. Boeing is lagging in the narrow-body market, and Airbus now has 60% of the market share in the entire segment. The fact often spouted that Boeing has secured "more orders" in FY21 is a misrepresentation of the state of the industry. Boeing has accumulated inventory of over 400 737MAX jets compared to only 100 for Airbus, meaning it probably has to drive sales through price. Also, almost all of the orders for Boeing came from US airliners, who could be easily incentivized to buy American, with the addition to that it's costly for legacy Boeing customers to switch to Airbus planes.
Airbus, on a high level, has no need to fight for market share. It already knows its products are superior to Boeing. They're best-in-class, as the recent 2 years of scandals on every level in Boeing has proven. This is also the reason why despite everything, Airbus is delivering solid profit margins.
Boeing is not. Boeing's margins went negative by 18% EBITDA during the crisis.
Airbus has no need to discount its aircraft. Its products are gaining traction, with the New A350F moving forward and competing with the 777X. Airbus has already said that its new transport aircraft will operate at 20% more fuel efficiency than competitors because 70% of that aircraft will be built using more advanced materials.
In addition, the A321XLR is being expected to come to market and fly in 2023. Boeing still hasn't announced any competing jet.
You may twist and turn this how you like. Boeing is in losing, indeed potentially loss-making position and has lost seemingly every momentum as a direct and serious competitor to Airbus. That is also the reason why I sold Boeing a long, long time ago (at a small profit, thankfully).
Making money in aviation is not easy. It's one of the most research-heavy, capital-intensive industries on the entire planet. Project delays can cost tens of billions. To go through the intricacies on an accounting level would take yet another article, so let me keep this to a high level.
Airbus has good margins. It reached doubled digits on an EBIT basis following the ramp-up of its new programs. The A380 production is on pause due to weak demand (global, not product-specific), but the A350 is on track, generating an uptick in margins and profits. Airbus's overall backlog is over €450B, which is a number that needs to be considered deeply before the depth is understood.
The commercial aviation sector is by far the most profitable of the bunch. However, profitability here is dependent on working delivery schedules and production – which hasn't been the case for the past 2-3 years. So there's been some suffering here. In addition, like Boeing, Airbus is dependant on virtually a small nation of suppliers to ensure that products are built according to spec and plan. Each A380 consists of 4 million individual components, with 2.5 million part numbers, produced by 1,500 companies from 30 countries around the world.
There is a lot to keep track of.
The Helicopter business has been suffering a bit for a few reasons. Helicopters are highly correlated to oil price trends, rising in which impacts the demand for the products. There was also a fatal accident involving an H225 in Norway a few years back, which Airbus hasn't completely recovered from. Statoil, now Equinor (EQNR), decided to no longer fly or buy the H225 as a result of this. So Airbus had its own little "Boeing crisis". Helicopters has margins of around 7.88% on an EBIT basis.
The military segment suffers from the potential of non-recurring costs because of delays in its C-130 Hercules replacement program, the A400M. Some of these visibilities have improved, but there are still some issues here.
In terms of the space segment, Airbus is highly correlated with its 50/50 Safran (OTCPK:SAFRY) JV, which will put the launcher for Ariane 6 to compete with Space X. Airbus recently sold off its Commercial Satellite Division and will do so with Defense Electronics as well.
All in all, the space segment is a very strategic asset which Airbus means to grow significantly over the next years as Space becomes more and more important to the company's mix. Airbus, and one of the reasons I own it, is a good way to get exposure to European space ambitions at a relatively low-risk ratio. The current margins for Space/Defense are around 6.4%.
On an FX level, most of Airbus revenues are actually USD (around 55-65%), while the cost base is in Euros. The combination of this requires Airbus to hedge its dollar exposures through FX sourcing as well as a hedge book, which is essentially a schedule of hedges based on all outstanding hedge contracts/transactions.
That's a somewhat high-level review of the company, what it does, some risks, some competition, and some interesting facts of what you're buying when you buy one share of EASDF.
In terms of debt, Airbus is extremely safe. Cash positions are well over €10B, with undrawn credit facilities over €15B. At this time, Airbus operates at a negative adj net debt/EBITDA position. For 2021, that number is -1.01X, with an EBIT coverage of 13.1X, truly deserving that A/A2 credit rating.
Risks to Airbus
I will argue, based on the company's European and global exposure, backlog, and assets, that Airbus is one of the least risky aviation businesses out there. It's revenue/sales mix is appealing, and while there are company-specific risks to consider, most of them aren't fundamental but specific to one program or macro situations that Airbus does not control.
There is no doubt that the pandemic has left the entire aviation industry devastated. There has been a structural shift towards smaller jets, which are likely to put widebody-type products and programs under significant cost pressure. While this is a net benefit for Airbus, which focuses somewhat on smaller jets, the company still has plenty of programs and obligations in the former. I expect the company to be under pressure short-term – perhaps for years.
While Boeing isn't yet out of the race, I believe most of its European competitive advantage has been effectively neutered. Boeing won't sell a lot of planes in Europe compared to planes sold by Airbus. However, Boeing isn't the only player. The arrival of serious Chinese competition could drive trends here in Europe, and while recent geopolitical tensions seem to make it unlikely for Chinese aviation to gain an easy foothold into Europe, this definitely bears watching.
Furthermore, compared to Boeing, Airbus actually has an unfavorable revenue/sales mix. Boeing has a much higher defense exposure, which given the continental state of Europe, should be a focus for Airbus. It doesn't seem to be here, and this makes Airbus more of a commercial play than it does a military one.
Also, and as I said before, there is some FX exposure risk given the massive need for hedging for Airbus.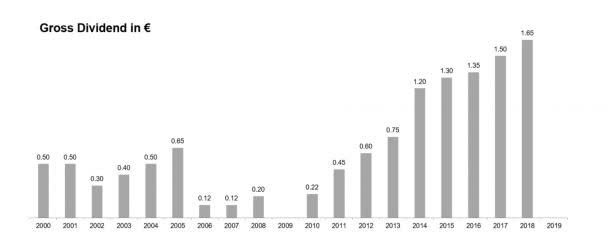 Also, dividend stability. Airbus has none. They will cut it when needed, but reinstate it when possible. Your dividends mean nothing to airbus – the company answers to nations, and to much higher ambitions.
Fundamental upsides to Airbus
Airbus is perhaps one of the most complex businesses I've ever reviewed. It offers investors exposure to the profitable but risky commercial aviation market, the European military market through Airbus massive JV's and projects with companies such as Safran, Leonardo (OTCPK:FINMY), and others, Helicopters, as well as exposure to European space ambitions.
It's almost a sort of "market" by itself.
Airbus has market leadership in Single Aisle, where it more or less "owns" the current market through its legacy from the early A220 to its newest release, the A321XLR. Peers such as Boeing can only dream of approaching Airbus here, and with the recent risk legacy for Boeing, that will probably be a non-starter for years as I see it, compared to Airbus.
The company's overall market exposure is global. Yes, Europe is the largest, but Airbus sells everywhere, including China.
There is also a fundamental upside that needs to be very clearly stated. That is the fact that Airbus is "The one". There is no company, and I do mean no company that in the same way, scope or exposure competes in commercial aviation, space, and defense in all of Europe. Yes, we have defense companies. I've mentioned several. But the fact is that all of them in some way work with Airbus. By investing in Airbus, you're getting exposure to national defense programs as well. You're getting European space exposure. In a way, buying Airbus is probably one of the best proxies for buying "Europe" that I can think of. Few companies are like this.
Yes, the yield isn't great at this time. In fact, let's be candid and call it what it is. It's crap. But it's on an upward trajectory, and according to most analysts, including myself, headed for a nice 2023E 2% at current share prices, assuming a €2/share dividend in 2 years.
Still. Investing in Airbus is like investing in a European nation – except you're investing in several – not just one. This is reflected in terms of shareholding. While in certain airlines you might have governments in it to fund them for a while due to debt and issues.
With Airbus, state participation is very significant. In this way, Airbus is almost like a government bond. The French state owns 11% of Airbus, being the largest shareholder. After that, Germany owns 10.9%. SEPI, which is the Spanish government, owns 4.12%. Capital Group International, one of the world's oldest investment management organizations with $2.6T in AUM owns another 9.02%. Blackrock (BLK) is the first "normal" shareholder here, and they own barely 3.01% of Airbus.
In short, as an Airbus owner, you're in good and safe company.
Airbus Valuation
This is perhaps one of the trickiest valuations we've looked at on SA. Ever.
As I mentioned, Airbus really only has one relevant public comp. You can argue that Bombardier (OTCQX:BDRAF) or Dassault (OTCPK:DASTY) are comps. I say you're wrong.
Comparing the company to pure airlines doesn't work. That's not what Airbus does. Comparing it to military peers like Lockheed (LMT) or General Dynamics (GD) doesn't work. They do less than 20% military. Comparing it to engine manufacturers or project-specific companies like Safran or Leonardo doesn't really work either.
Dear readers, valuing Airbus is another level, because we need to be very careful with every step we take here, as much of it is based on forward assumptions. Boeing cannot really be compared to due to the scandal. By comparing it to Boeing, you'd get the picture that Airbus is overvalued (or undervalued, depending on how you spin the current results).
I don't believe that it is – and my point is, a company with negative EPS for 3 years doesn't make for a good comparison.
Let me start off with DCF.
In my model, I've estimated an aggressive sales growth rate of around 4-5% on the high end, as the company is increasing production across all of its current programs to deliver on its almost half trillion Euro backlog. To be clear, Airbus has 10 years of production in the backlog. There is also a net benefit here of the new engines bringing good margins to the mix. WACC comes in at around 9%, with a cost of debt at around 4.1%. To stay conservative, I've maintained a flat CapEx at 3-4% of overall sales, which is where the company has mostly been on a historical basis. Under these circumstances and assuming that lower end 4% EBITDA growth rate (2-3% in sales), i get an implied EV/Share of around €128 on the low end and €145 on the high end. That's for DCF. I believe these assumptions to be conservative, but fair given the massive backlog and production ramp-up.
On a NAV basis, I'm valuing commercial at a 15X Multiple, but Defense and Heli's at 10-11X due to its significantly lower margins – and I don't see the potential for near-term improvement here. Nonetheless, this brings us to total gross assets of around €82-€84B depending on how you model those multiples and given the company's excellent cash/debt position. The implication is a sum-of-the-parts valuation that is based on ~766M shares comes to €107-€110 or thereabouts. This implies that on a NAV basis, the company is either fair or slightly overvalued here, depending on if you want to apply a premium or not.
On a public comp basis, which I've already told you is probably the weakest of the bunch, we would find averages of around 25-30X P/E when looking at Airbus engine manufacturers, Leonardo, Boeing, Safran, MTU (OTCPK:MTUAY), and others. Airbus is significantly below average P/E, EBITDA, Book, and yield multiples, assuming a current yield of 1.4% going by the €1.5/share dividend. Airbus shows undervaluation here, but I absolutely refuse to consider Airbus here without discounting it at least 10% to reflect the uncertainty in this method.
Look. In the end, Airbus shows up as undervalued. That's the math. I weigh DCF the heaviest because I consider this to be the most realistic. My range for Airbus is €123 on the low end and €130 on the higher end. I would say a PT of €125/share to stay conservative, but that makes me perhaps one of the most conservative analysts on Airbus out there.
Why?
Because the S&P Global target range for Airbus based on 20 analysts comes in at a range of €126-€179. I can sort of see where these analysts get their ~€180 targets from. That near-half trillion euro backlog is nothing to play around with, especially now with dividends and profits normalizing. However, I wouldn't want to pre-assume that the company can grow this fast that quickly. Assuming €150+ share price either is based on some amazing growth rates, some amazing NAV multiples, or including companies I wouldn't want to include in the peers and weighting them too heavily.
As always, I prefer to discount. Heavily, if needed.
That makes my €125 PT the lowest current target out there, but even on the basis of this target, we have a 9% upside to the current share price.
Thesis
Buying Airbus is a good idea, in my view. You're getting legacy exposure in good-margin commercial aviation production, with helicopters, a strong military exposure (that's likely to increase based on EU pushing defense spending).
What's more, you get the wild card. Space.
Evaluating space is difficult – as is valuing it. What I feel confident saying is that Space operations will play a significantly larger role in the next 50 years than in the past 20.
That's why I want to position myself in a favorable position for space investments. And my clear stance is, I'd rather buy a multi-government sponsored entity like Airbus, than I would buy a partial wish-and-hope business like SpaceX (SPACE), regardless of how much respect I have for the head honcho's ability to seemingly conjure confidence out of thin air. That isn't to say that SPACE is bad – just Airbus is safer.
Disagree? Please let me know – and why.
Airbus is a "BUY" to me at anything below €125/share.
Editor's Note: This article discusses one or more securities that do not trade on a major U.S. exchange. Please be aware of the risks associated with these stocks.