Allied Mind (LON:)'s portfolio has been significantly rationalised since 2017, with the portfolio now focused on six principal companies. Management expects the top three companies to achieve commercialisation in 2019, and we believe there could be substantial upside if this is achieved. The shares trade at 0.41x H118 NAV (adjusted for latest net cash). Allied Minds' enterprise value (market capitalisation less parent cash) trades at a 45% discount to our valuation for the top four portfolio companies, each of which has been validated by external fund-raisings. Following recent cash management measures, management believes that Allied Minds' cash runway has been extended into 2021.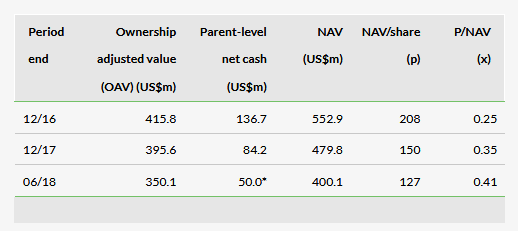 Portfolio Rebased For Growth
Strategic investors underline value
After the rationalisation of the portfolio in 2017, the six principal companies, in the space, connectivity/5G and medical devices sectors, comprise 92%+ of portfolio fair value. Allied Minds' EV trades at a 45% discount to our valuation for the top four portfolio companies, each of which has been validated by external fund-raisings. Funding rounds have been led by major independent strategic investors, at Spin Memory (Arm, Applied Materials (NASDAQ:)), HawkEye 360 (Raytheon (NYSE:)), BridgeSat (Boeing (NYSE:)) and Federated Wireless (Charter, Arris, American Tower (NYSE:)). However, despite recent bridging rounds, third-party validation is still pending for two of the six principal portfolio companies, Precision Biopsy and SciFluor.
Targeting premium exit valuations
Ultimately, Allied Minds' value will be determined by a small number of premium exits. CEO Jill Smith is focused on driving commercialisation at the top businesses and investing selectively in the pipeline. The group's priorities include attracting strategic investors, strengthening leadership and governance across the portfolio, while focusing on thematic investing. Subsidiary management teams have been strengthened and are aligned and accountable for achieving clear milestones. Management estimates end-FY18 parent cash to have been $50m which, following cost management measures, it deems sufficient to fund the businesses into 2021.
Valuation: 59% discount to NAV unwarranted
Allied Minds' share price has fallen by 72% since its portfolio write-down announced on 5 April 2017. The company's shares now trade at 0.41x H118 NAV even though c 64% of H118 NAV is either in cash or has been validated by strategic co-investors. Our bottom-up analysis of the six core assets suggests meaningful upside potential once key milestones are achieved (particularly at Federated Wireless, Spin Memory and HawkEye 360). This level of discount to NAV appears unjustified. However, we note that Allied Minds has yet to exit any investments.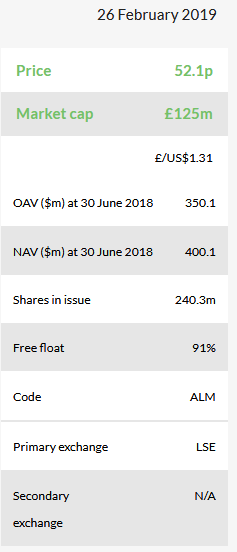 Investment Companies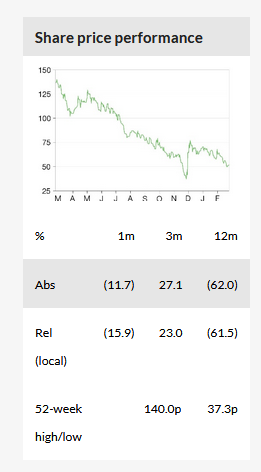 Share Price Performance
Business description
Allied Minds is an IP commercialisation company focusing on early-stage companies within life sciences and technology. Its portfolio companies are spin-outs from US federal government laboratories and universities. The top six holdings comprise 92%+ of portfolio fair value.
To read the entire report Please click on the pdf File Below..