Gamers around the world are anxiously awaiting the launch of the next-generation consoles from Microsoft (NASDAQ:) and Sony (NYSE:).
The hype around the new consoles has been building with Microsoft's Xbox Series X and Series S set to be launched Nov. 10, and Sony's PlayStation 5 debuting Nov. 12.
The latest console wars have put the focus on the growing demand for video games and eSports, especially given the impact of the coronavirus pandemic.
Today we'll look at one thematic exchange-traded fund (ETFs) to invest in the sector:
Despite The Pandemic, The Game Is On
Many analysts concur that the video gaming industry and eSports represent a long-term growth opportunity. This year's "stay-at-home, work-from-home" trend has clearly provided tailwinds for the industry as lockdowns have resulted in boosted engagement with video games and eSports. The video gaming market is currently worth over $60 billion in the US and almost $160 billion worldwide.
In eSports, both professional and amateur players compete in tournaments and fans watch them play competitively as well. The global audience size and revenue stand close to 500 million people and $1 billion, respectively.
Video gaming stocks, such as Activision Blizzard (NASDAQ:), Electronic Arts (NASDAQ:), Nintendo (OTC:), Take-Two (NASDAQ:), and Tencent Holdings (OTC:), saw their share prices dip initially in March. But since then, the industry has had a remarkable comeback. Let's take a closer look at an ETF positioned to gain:
Wedbush ETFMG Video Game Tech ETF
Current Price: $67.48
52-Week Range: $35.50 – $70.63
Dividend Yield: 0.79%
Expense Ratio: 0.75%
The Wedbush ETFMG Video Game Tech ETF (NYSE:) provides exposure to a range of global businesses, including video game developers, console, chip manufacturers, and game retailers. The fund started trading in 2016.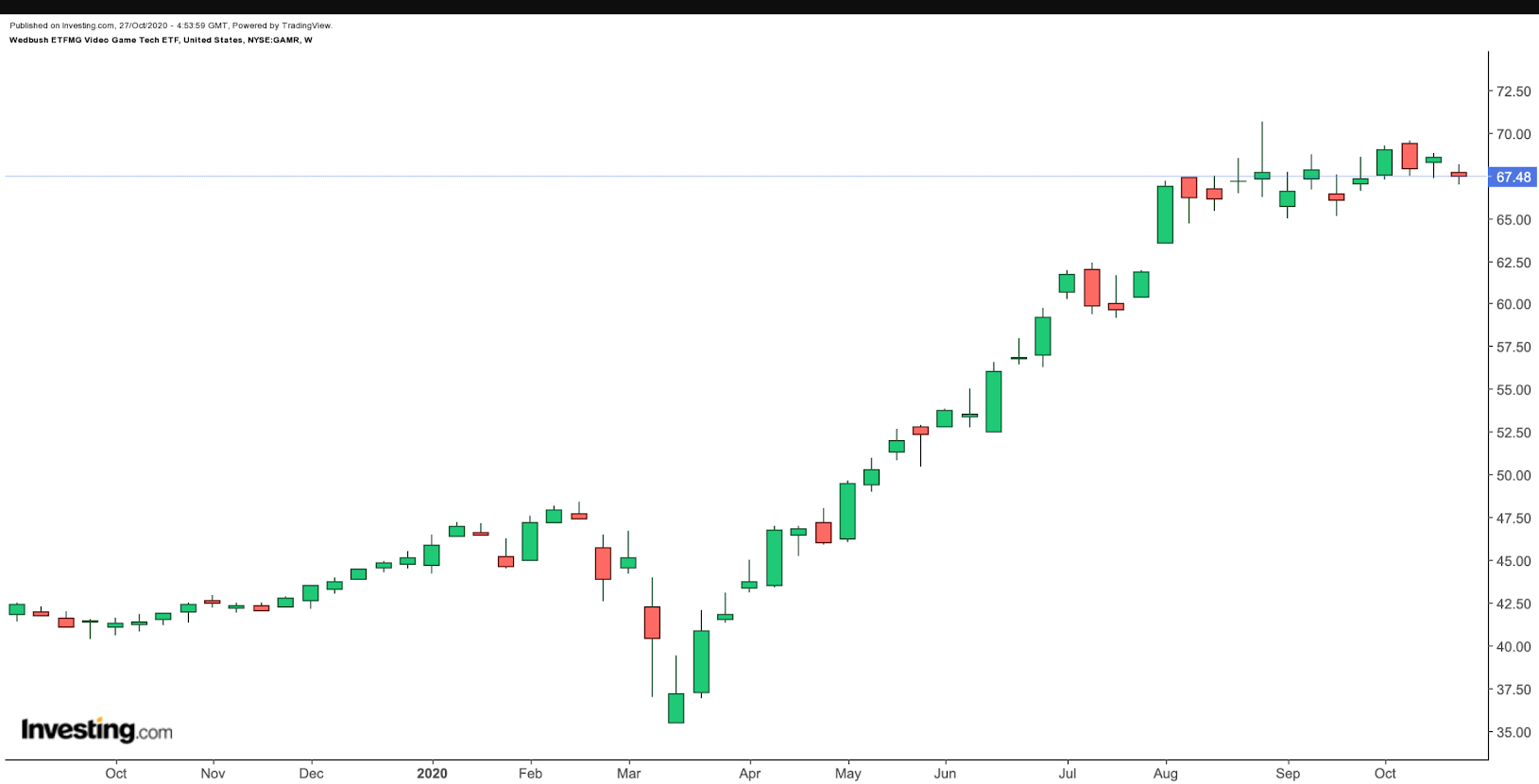 GAMR, which has 89 holdings, tracks the . The fund is rebalanced quarterly and the top ten businesses make up around 22% of net assets of $126.5 million. Put another way, no individual stock's weighting is large enough to affect the fund's value by itself. About a quarter of the firms come from the US, followed by Japan (17.6%), South Korea (15.9%), China (11.4%), and Sweden (8.4%), among other countries.
Some of the biggest shares in this fund include computer peripherals and hardware company Corsair Gaming (NASDAQ:) and game creator Unity Software (NYSE:), which both went public in September. In addition, gaming hardware provider Razer (OTC:), video game developer Gravity (NASDAQ:), and online video game publisher Nexon (OTC:NEXOF) head the list of shares in the fund.
Since the start of the year, GAMR is up over 50% and hit an all-time high on Sept. 2 of $70.63. Given the volatility we are witnessing during this earnings season ahead of the US Presidential Election, short-term profit-taking is likely in the shares that make up the fund. A potential decline toward the $60 level would make GAMR's risk/return profile more attractive.
Bottom Line
The growth of video gaming shows that the industry is not just a hobby for a small group of young or young-at-heart consumers. The viewership numbers and fan culture around these games also highlight that eSports are likely to keep growing in the next decade, too.
Another thematic fund in the sector is the VanEck Vectors Video Gaming and eSports (NYSE:) which provides access to businesses, focusing on video game development and eSports as well as related hardware and software. It started trading in 2018 and has 25 holdings. So far in the year, ESPO is up 60% and also hit an all-time high on Sept. 2.
In earlier articles, we looked at the growth of the industry as well as two other exchange-traded funds (ETFs), i.e., the Global X Video Games & Esports ETF (NASDAQ:)—covered and the Roundhill BITKRAFT Esports & Digital Entertainment ETF (NYSE:)—covered . Readers may also want to keep these funds on their radar.
Other funds also provide indirect access to diverse businesses that are involved in video gaming and eSports. They include,
Global X Social Media ETF (NASDAQ:)
First Trust Cloud Computing ETF (NASDAQ:)
iShares Expanded Tech-Software Sector ETF (NYSE:)