Reports Q2 results on Thursday, Aug. 5, after the market close
Revenue Expectation: $143 billion
EPS Expectation: loss of $0.23
Shares of Beyond Meat (NASDAQ:) have remained under pressure throughout the pandemic as the veggie burger-maker struggled to increase its sales when restaurants, stadiums and campuses were closed.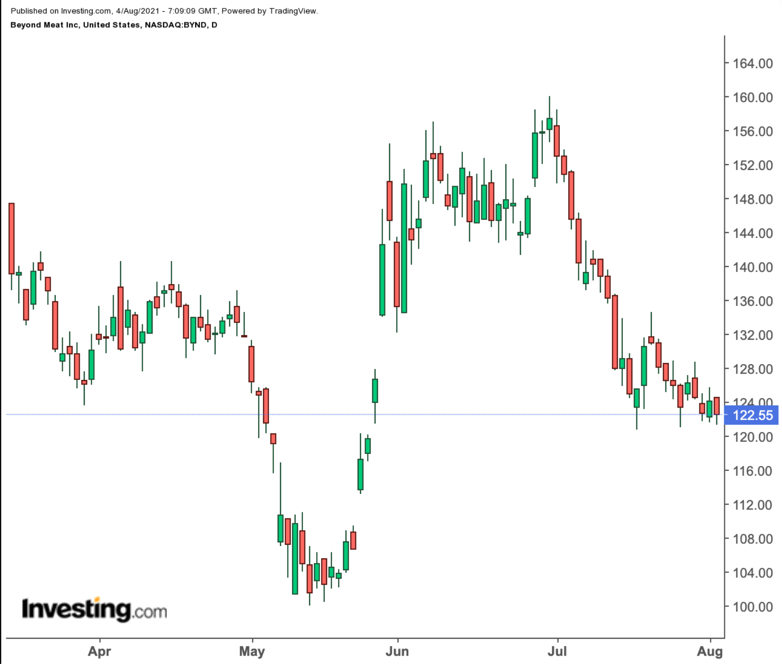 As the economy reopens and some of these avenues start again, investors are not convinced that sales will come back quickly. BYND shares have fallen 19% during the past month, illustrating investors' nervousness about owning this high-growth stock.
When the Los Angeles-based company releases its second-quarter earnings tomorrow, one of the most important numbers to analyze is how quickly sales from restaurant and food-service sectors are rebounding.
Unlike other packaged-food companies, Beyond Meat relies heavily on these segments for growth. The emergence of the Delta variant of COVID-19, which forced many countries to re-impose lockdowns and prompted US health authorities to reinstate mask mandates at indoor settings, is making the revenue outlook more uncertain for BYND.
Despite the pandemic setback, we continue to believe Beyond Meat is a great food stock to own as consumers become more health conscious. Its recent weakness is a bump in the company's long-term growth potential. BYND's latest partnerships and expansion plans validate this bullish case.
A Clear Lead
A few years ago the big question was whether fake meat would take off. Now that it's moving into the mainstream, the global market is projected to reach $450 billion by 2040, according to global consulting firm Kearney.
And when it comes to competition, Beyond Meat is much further along than its closest rival, Impossible Foods. It had more US retailers—28,000 compared with Impossible's 20,000. Its products were being offered in more restaurants (42,000 in the US vs. 30,000+), and more international markets (more than 80 vs. 5), according to a Bloomberg analysis in April.
Beyond Meat this year announced several expansion plans that should ease investor anxiety, including a new burger, European retail expansion, and the opening of its production plant in China—its first outside the US—to produce and distribute its plant-based products, including Beyond Pork, created specifically for the Chinese market.
In January, Beyond Meat finalized its agreements with McDonald' (NYSE:) and Yum! Brands (NYSE:)—two of the largest fast-food companies in the world. The three-year deal with McDonald's makes Beyond Meat the chain's "preferred supplier" for the McPlant patty. Beyond Meat and McDonald's will also explore developing other plant-based menu items, including alternative chicken, pork and eggs.
Bottom Line
Beyond Meat sales will rebound quickly once the global economy overcomes the pandemic and people resume their routine activities. The company's leading position in the plant-based food market makes it an ideal candidate to buy on weakness.