The world's largest crypto exchange, , has conducted its quarterly token burn, destroying $390 million worth of Binance Coins (). The exchange pledged to burn tokens equal to 20% of its quarterly profits.
Key Takeaways
Binance has completed its 16th quarterly Binance Coin (BNB) burn, a regular practice that keeps the coin's value strong.
Over 1.2 million BNB tokens have been destroyed, equivalent to $390 million at the time of the burn.
The amount burned implies Binance made close to $2 billion in profit since April.
Binance Burns BNB tokens
The latest burn event was the second largest in history, beaten only by Binance's previous quarterly burn, which destroyed almost $600 million worth of BNB tokens. Binance CEO Changpeng Zhao announced the amount burned on Twitter while reassuring users that the BNB tokens held by the Binance team would never be used or sold.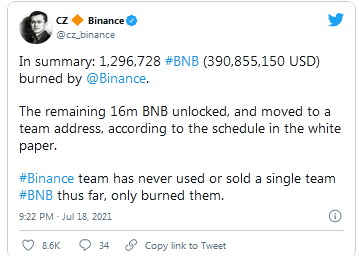 Tweet From Binance
Outlined in the original Binance Coin whitepaper, the company pledged to burn BNB tokens equal to 20% of its quarterly profits. With BNB tokens valued at $390 million burned this quarter, Binance should have made close to $2 billion in profit since April. Despite the exchange removing over 1.2 million tokens from circulation, the price of Binance Coin did not react to the news.
By burning so many BNB tokens, the exchange aims to increase scarcity and maintain the token's value, while also benefitting those holding the token. As of the latest burn, approximately 16% of the 200 million BNB initially minted have been destroyed so far. The exchange plans to remove an additional 35% of all tokens through future burns.
Historically, Binance Coin burns have had little immediate impact on the token's price. However, the quarterly burns have removed almost $1 billion worth of BNB since the start of the year, and the token has seen significant gains.
Over the last six months, BNB saw an impressive 1,487% rise, reaching an all-time high of $675 in May. Despite the recent market downturn, BNB is still holding strong compared to other coins in the market, trading at around $300 when the latest burn was conducted.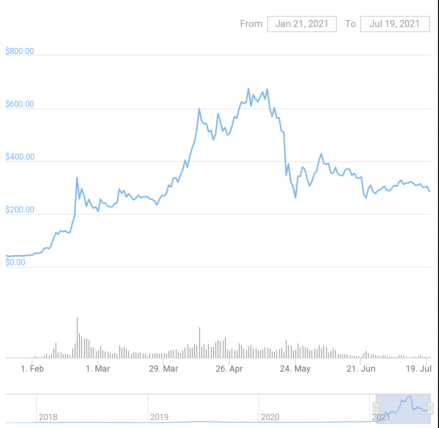 BNB Price Chart
While Binance maintains its position as the largest crypto exchange by trading volume, it has repeatedly come under fire from regulators in several countries including , Italy, and the U.K. due to its lack of regulatory compliance.
In response to the mounting pressure, CEO Changpeng Zhao penned a blog post addressing concerns and detailing the company's plans to work with regulators. Zhao stated that his firm would comply with anti-money laundering regulations, grow its compliance team, and localize operations to follow local regulations.