At the end of November, decided to surprise the crypto community. In more than a day, from Nov. 26-27, the price fell to $16,100, having lost about $2,500, after which the price went to recovery. Against this background, the volume of Bitcoin trading increased by a quarter! As a result of the active trading of BTC paired with USD, the trading volume of stablecoin exceeded 100 billion, setting a historical record.
Traders and analysts over the past weeks have been warning of a correction that should follow such strong growth. But in the end, the optimism of market participants made them forget about caution. The fall of BTC on Oct. 27 resulted in the liquidation of open positions worth $2 billion. Nine out of 10 liquidated positions were long.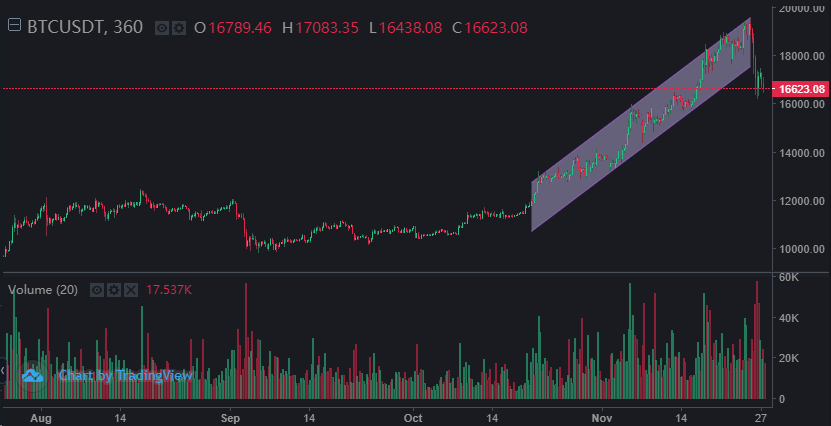 Since September, bitcoin has been moving along an ascending trend channel, but now it has broken through its lower level. Despite a weak attempt to return, this is unlikely to happen in the coming days. It is likely that the $18,000 level will be the new resistance for Bitcoin. The indices confirm this: the scholastic, who showed overbought, turned in the opposite direction, like the RSI.
For almost two months MACD has been in an uptrend and has shown strong dynamics. Now the gap between the younger moving average and the older one has become negative and will only increase in the coming days. Also, the price broke through the Bollinger Middle Line and fixed below it.
The support level for the next few days may be the price of $17,000. But in the coming weeks, bitcoin has every chance to continue to decline. According to the indicators, this may be the beginning of a trend reversal.
The growth of bitcoin, which has continued for almost two months, has been stopped, it is clear. It is too early to say whether this is a correction or a reversal. But at least until mid-December, bitcoin may continue to decline to the level of $15,500-$16,000.
However, the bulls will not give up easily, so a scenario is possible in which the price will briefly rise to $18,000 so that traders can close their positions with minimal damage.
About author: Roman Nekrasov is a serial entrepreneur, IT engineer, expert in the field of information and decentralized technologies. He is the founder of the advanced blockchain and cyber-security holding company ENCRY Foundation (encry.com).