During the course of post-US election night returns, was trading at highs of around $14,000 before losing some of its momentum, slipping back to the $13,700- range at time of writing.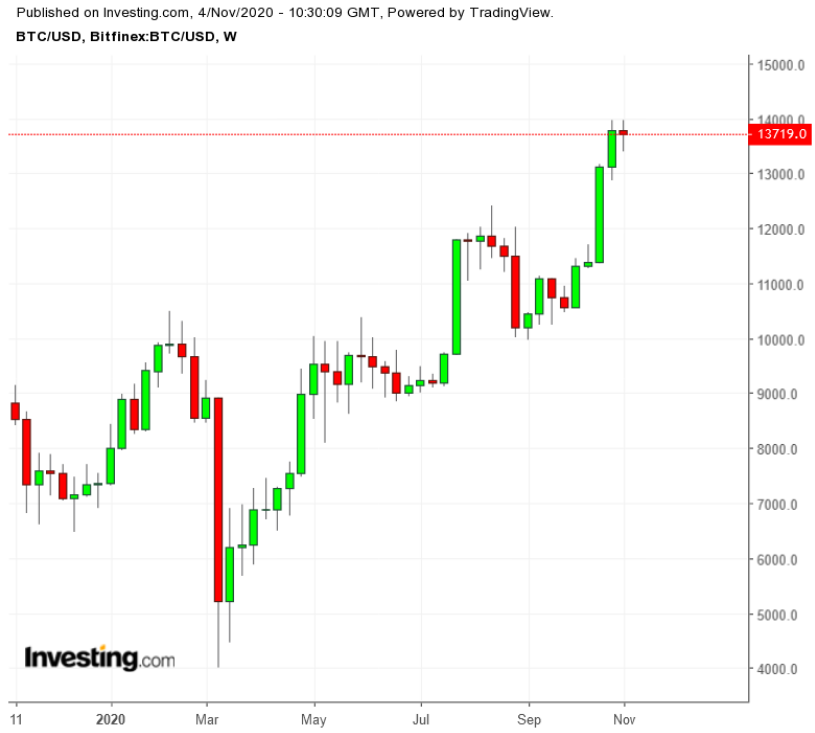 How much of an impact will the election outcome actually have on the price of the cryptocurrency, and is its recent surge due to short-term safe haven buying or something more sustainable? 
Multiple Factors Fueling Gains
Early Wednesday, the post-election count was ongoing, with the winner yet unclear. Still, whether the ultimate victor is President Donald Trump or former Vice President Joseph Biden, it may not be this nail-biter election fueling the cryptocurrency's longer term rise.
There are explaining Bitcoin's current momentum including the recent announcement that PayPal (NASDAQ:) is adding features enabling users to buy and sell cryptocurrencies. Other publicly listed fintech firms including Microstrategy (NASDAQ:) and Square (NYSE:) have also made recent announcements regarding adding sizable sums of Bitcoin to their holdings.
One thing seems clear: it appears there's an uptrend unfolding for Bitcoin. The recent BTC price run is also in stark contrast to the 's poor performance during the same period, though the greenback has turned higher over the short run.
Omri Argaman, co-founder of the digital platform Zoomd says recent central bank and government stimulus, such as the $3 trillion that was pumped into US markets, in order to mitigate the financial and economic pain of the COVID-19 pandemic on the economy and American population is also boosting the digital currency, by diminishing the integrity of conventional currencies.
"This will have a long-term effect including on the pension side of things. People are scared. [They are] losing belief in regular, 'fiat'-based financial institutions and "rules" of the world. They're scared for the future of their savings." 
Others, however, believe election uncertainty plays a stronger, more enduring role. It's worth considering how previous elections impacted cryptocurrency prices. For example, during the 2016 election, after Trump's surprise defeat of Hillary Clinton, Bitcoin barely moved. 
Douglas Borthwick, chief marketing officer and head of business development at INX believes the upward trend is supported by a number of policy factors related to each candidate that could have some impact on the price. He says:
"If Trump wins, he will continue to push for easy monetary policy in order to combat COVID-related economic weakness. This will be a positive environment for crypto."
Nonetheless, notes Borthwick, if Biden wins it's expected the Democrats will raise taxes, but also call for easing monetary policy from the Fed, so the higher taxes may compel some investors to shift their assets onto the blockchain more quickly. 
Conversely, Jason Deane, a cryptocurrency analyst at Quantum Economics anticipates that the price of Bitcoin isn't likely to be significantly affected either positively or negatively over the short-term, as long as there is a clear win by either candidate. 
"Although both contenders [Trump and Biden] have differing policies on, for example, tech stocks and capital gains/corporate taxation levels, I feel these factors are far more likely to play out directly with U.S. stocks in those sectors rather than via Bitcoin itself." 
However, should there be a contested election result—something that remains entirely possible—markets could see an extra short-term boost for and possibly traditional defensive stocks. Should this be the case, Quantum (NASDAQ:) Economics analyst Deane expects to see Bitcoin included in the safe haven category, driven by US-based buyers looking for some form of lower risk via an independent asset. He notes:
"In an extreme case, for example where an extended period of uncertainty occurs due to a legal challenge by one or other of the candidates over the result itself, it's also possible this would see traders unloading assets into fiat until the dust settles. That would almost certainly include Bitcoin, especially since the recent gains would be very attractive in that context." 
In addition, adds INX's Borthwick, if there's post-election unrest, there could be another higher uptick for the digital currency, though that may only last for a week or so and could only be something triggered by US investors. Other countries will be concentrating on beating COVID-19 and possibly entering a second lockdown, says Borthwick.