Yeti YETI stock has skyrocketed since it went public in 2018, including a 115% jump in the last year. The growing high-end cooler company's expansion into other areas has attracted more customers and more Wall Street praise.
Far from Cooling Down
Yeti started out as a high-end cooler maker about 15 years ago. Its heavy-duty offerings can cost up to $1,300 and they have become a mainstay on commercial fishing boats and other outdoor-activities that demand ice, given their rugged nature and ability to keep ice cold for days. But there is only so big a cooler firm catering to niche consumers can grow.
Yeti still sells those massive white coolers. More importantly, it sells a seemingly ever-expanding array of coolers in various styles, sizes, colors, and more. And its strong branding efforts have helped it turn into a billion-dollar business.
Along with coolers, Yeti sells gear-boxes, outdoor chairs, dog bowls, and much more. In fact, some of its most popular items are tumblers and mugs, with drinkware accounting for nearly 60% of total FY20 revenue.
Yeti is now a staple everywhere from car cupholders and office desks to cookouts, campsites, and beyond. And the company is currently focused on rolling out more luggage, backpacks, and duffels as it continually expands its reach.
Yeti's 2020 sales jumped 19.5% to $1.1 billion, with its direct-to-consumer revenue up 50% to account for nearly half of its sales. The company's DTC growth outside of its wholesale business to stores such as Dick's Sporting Goods DKS, and other outdoor-focused retailers has helped improve its margins.
Along with e-commerce, Yeti has slowly built its brick-and-mortar business beyond its flagship store in Austin, Texas. The company currently has stores in Denver, Charleston, Chicago, and a few other strategic locations. All of these offerings are supported by its rather impressive brand building that's inspired countless knockoffs.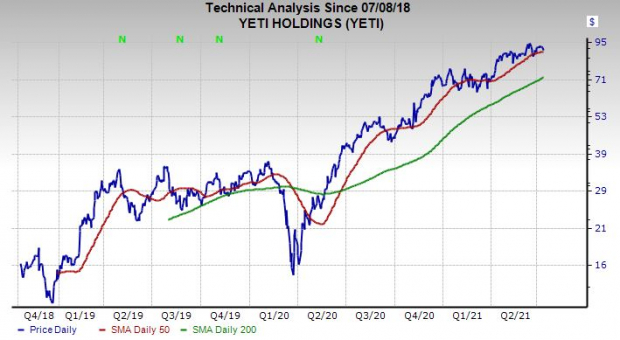 Zacks Investment Research
Image Source: Zacks Investment Research
Other Fundamentals
Yeti crushed our Q1 estimates, with sales up a whopping 42% and its adjusted earnings 245% higher. Looking ahead, Zacks estimates call for its full-year 2021 sales so jump another 22.5% and then pop 14% higher in FY22. These estimates would come on top of 17% top-line growth in FY19 and 19.5% last year.
Meanwhile, its adjusted earnings are projected to climb by 26% this year and another 17% in 2022. Yeti has also has topped our bottom-line estimates by an average of 82% in the trailing four periods.
Yeti is part of the Leisure and Recreation Products industry that's in the top 7% of our over 250 Zacks industries. It is poised to benefit from continued spending and pent-up demand, especially amid higher-income households that can afford $40 mugs and $300 coolers.
Yeti is also part of a group of newer, higher-end brands thriving in the Amazon AMZN age that includes the likes of Lululemon LULU, Peloton PTON, Canada Goose GOOS, and others. "The momentum carried over from 2020 and on display to start 2021 showcases the passion for the brand and the relevance of our product portfolio as consumers continue to participate in the significant growth in active, outdoor lifestyles," CEO Matt Reintjes said in prepared Q1 remarks.
As we mentioned up top, Yeti has surged 115% in the last year, which is part of a roughly 430% climb since its public debut. The stock had cooled off a bit earlier in the year. But it's up 15% in the past three months to outclimb its industry and the market.
Yeti closed regular hours Thursday 5% below its early June record at around $90 a share. Despite its run and the broader market looking due for a bit of a pullback, Yeti sits below neutral RSI levels. The stock is also trading 15% below its year-long highs in terms of forward earnings.
Bottom Line
Yeti's positive EPS revisions help it capture a Zacks Rank #1 (Strong Buy) at the moment, alongside its "B" grade for Growth in our Style Scores system. Plus, eight of the 14 brokerage recommendations Zacks has are "Strong Buys," with nothing below a "Hold." Therefore, investors with long-term outlooks might want to consider Yeti.
5 Stocks Set to Double
Each was hand-picked by a Zacks expert as the #1 favorite stock to gain +100% or more in 2020. Each comes from a different sector and has unique qualities and catalysts that could fuel exceptional growth.
Most of the stocks in this report are flying under Wall Street radar, which provides a great opportunity to get in on the ground floor.
Today, See These 5 Potential Home Runs >>
Want the latest recommendations from Zacks Investment Research? Today, you can download 7 Best Stocks for the Next 30 Days. Click to get this free report
Amazon.com, Inc. (NASDAQ:): Free Stock Analysis Report
DICKS Sporting Goods, Inc. (DKS): Free Stock Analysis Report
lululemon athletica inc. (LULU): Free Stock Analysis Report
Canada Goose Holdings Inc. (NYSE:): Free Stock Analysis Report
YETI Holdings, Inc. (YETI): Free Stock Analysis Report
Peloton Interactive, Inc. (NASDAQ:): Free Stock Analysis Report
To read this article on Zacks.com click here.