"Bitcoin volatility has fallen to a 16-month low, signaling that a sharp move in BTC looms," according to crypto analyst, Marcel Pechman.
To simplify the complex activities in the derivatives markets, you can consider a period of price equilibrium which follows a sharp move as an elimination process. Buyers and sellers crowd into a narrow range intensively exchanging contracts. As time goes on, more investors successfully execute their trades, which leaves a vacuum that sucks in remaining traders.
Bitcoin has been ranging in congestion with a downward bias, a Falling Flag in technical speak.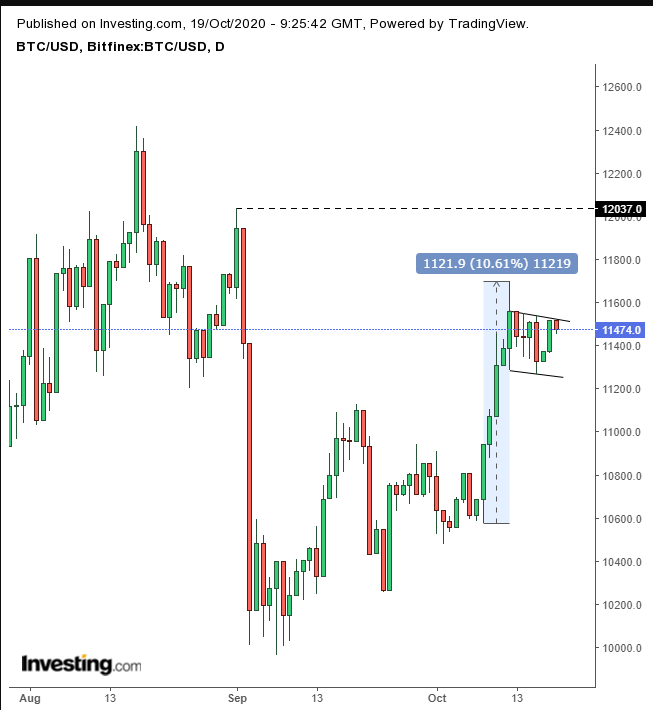 The tightness of the trade reveals the intensity of the trading, as an abundance of interest doesn't give the price room to roam freely.
The declining tilt of the range demonstrates the selling pressure—the expected profit-taking after a 10% surge—while the tightness proves that every contract sold has a taker. This signifies the changing of the guard for this rally—fresh bulls, picking up the contracts sold by the early bulls who are now exiting positions.
The place on the chart where the flag developed makes perfect sense and therefore infuses meaning to what may appear as random price movements to the untrained eye. The bulls who already made profits want to make sure to secure their winnings before they meet any resistance from traders recalling the 16% price drop on Sep. 1.
This is why the rally needs new blood— fresh, hungry bulls who are willing to take a risk for the foreseen reward—to take the price higher.
An upside breakout would signal that whoever wanted to sell has already done so, leaving only buyers in the equation. This newfound vacuum of supply is expected to trigger an increase in demand orders, driving the price up.
Trading Strategies – Long Position Setup
Conservative traders would wait on a long position for the price to register a new high above the Aug. 17, $12,415 peak to ensure a continued uptrend.
Moderate traders will probably wait for the upside breakout before risking a long position.
Aggressive traders may buy at will, provided they understand that the pattern is not complete and even if it remains intact, it may retest its bottom before an upside breakout. Therefore, money management is key, especially for this class of traders.
Here's an example:
Trade Sample
Entry: $11,300
Stop-Loss: $11,200
Risk: $100
Target: $11,700 – Oct. 2 high
Reward: $400
Risk-Reward Ratio: 1:4