In response to Prime Minister Liz Truss' defense earlier today of Friday's massive package of unfunded tax cuts that rocked markets, the lost two days' worth of gains, and UK gilt yields increased.
Mark Carney, former governor of the Bank of England, charged that the UK government was "undercutting" the country's financial institutions adding that its fiscal plans were to blame for the decline in the value of the pound and government bonds. The International Monetary Fund and rating agency Moody's Investors Service criticized the UK government and also issued warnings.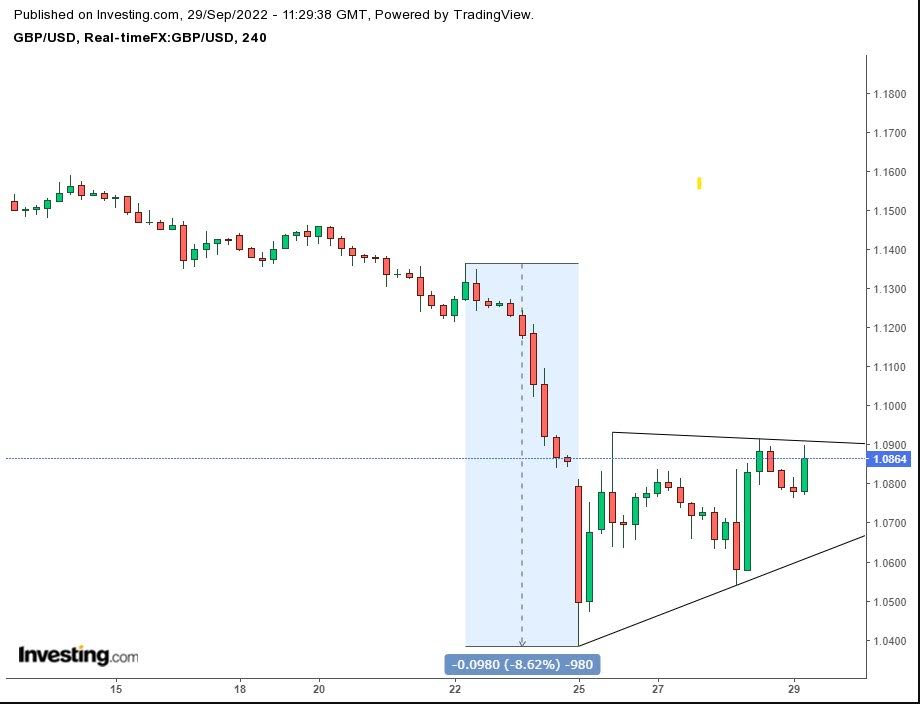 On the technical front, the GBP was retesting the top of a rising flat on the 4-hour chart. If the price closes above 1.1000, it will have blown the presumed downward-continuation pattern. Alternatively, if the pound closes below 1.0700, it will likely repeat downward the same move preceding the range, aiming at 0.9700.
Trading Strategies
Conservative traders should wait for the price to complete the pattern, fall below 1.0500, then wait for a return move to confirm the resistance before risking a short position.
Moderate traders would be content with a close below 1.0600 and a corrective rally for a better entry, if not for added resistance confirmation.
Aggressive traders can short now off the flag's top.
Trade Sample – Aggressive Short
Entry: 1.0900
Stop-Loss: 1.0925
Risk: 25 pips
Target: 1.0700
Reward: 200 pips
Risk-Reward Ratio: 1:8
Disclaimer: At the time of publication, the author had no positions in the stocks mentioned.