Just this week, Bitcoin pushed past $18,400—its highest level in three years. However, the cryptocurrency is down around the $17,600 level at time of writing. The volatile digital token has been wavering between a 0.9% gain and a 2.3% loss today.
hit an all-time high of $19,891 on Dec. 17, 2017, but subsequently crashed by a whopping 84% until its Dec. 3, 2018 low of $3,219.20.
Nevertheless, the digital currency has come a long way since then, surging an unbelievable 465% higher from that low. The US 's slump amid the pandemic helped boost the cryptocurrency, which is immune to the fundamentals plaguing the USD, such as America's $27 trillion debt, ongoing QE and the lowest US rates on record.
On the other hand, Bitcoin jumped 150% this year alone, advancing 15% last week. Even severe critics of the digital asset, such as Ray Dalio, co-founder of Bridgewater Associates, and Jamie Dimon, CEO of JPMorgan Chase can't ignore it.
Just this week, Dalio asked on Twitter whether he was missing something about Bitcoin being an effective currency, a question that went viral. Dimon called Bitcoin a fraud in 2017, but now says he's "a believer" in blockchain technology—if not the cryptocurrency itself—as long as it's "properly backed, properly regulated." JPM, like other financial institutions, is currently pursuing blockchain-focused projects.
Having made a on Bitcoin exactly one month ago, as well as the cryptocurrency the implied target of its 9-month-long H&S bottom, we think it's a good time to cash out and wait for a pullback for a better buying opportunity.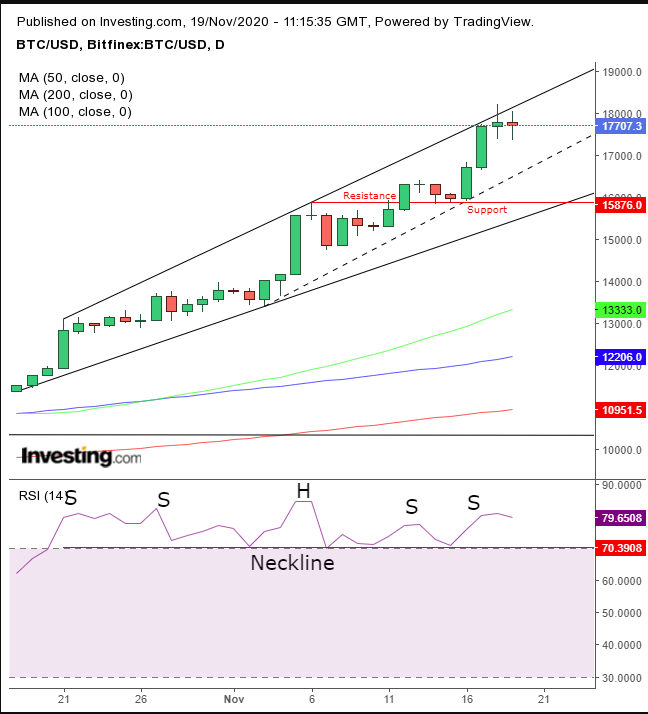 BTC/USD Daily
Yesterday, the price developed a high wave candle. Trading swung wildly between gains and losses during the day, only to close little changed—producing sound and fury that ultimately signified nothing. Such a pattern could be a sign of a reversal, or a least a pause in the short-term trend.
The fact that the rally is hitting resistance at the top of a rising channel, where supply has overcome demand, underscores Bitcoin's precarious situation. All this is matching up with resistance near the record. But investors also remember the seismic selloff that followed these levels and many may be hoping for another such crisis. Those traders could be considering fantastic gains by shorting the popular cryptocurrency.
The RSI has been extremely overbought for nearly a full month, its longest duration since June 2019, as it develops a H&S top.
Precisely because the 2020 Bitcoin rally has caused so much excitement, we're becoming wary. The recent surge was thought to be driven by retail investors getting caught up in the excitement, FOMO to the extreme, which is the worst time to get in.
When their funds run out, sapping demand, the digital asset will likely fall, at least profit-taking, even if the uptrend should remain intact.
Trading Strategies
Conservative traders would wait for the price to fall toward the bottom of the channel and rebound upon evidence of accumulation.
Moderate traders might jump the gun and buy when the price falls toward the channel bottom, without waiting for confirmation.
Aggressive traders may risk a contrarian short, counting on the pull-back, provided they understand and accept the risk. They should only do so with a clear trading map. Here's an example:
Trade Sample
Entry: $18,020
Stop-Loss: $18,220
Risk: $200
Target: $16,020
Reward: $2,000
Risk:Reward Ratio: 1:10