This article was written exclusively for Investing.com
The will be tested again today with the release of US report and the will be among the most interesting dollar pairs to watch given that the Canadian will also be published at the same time.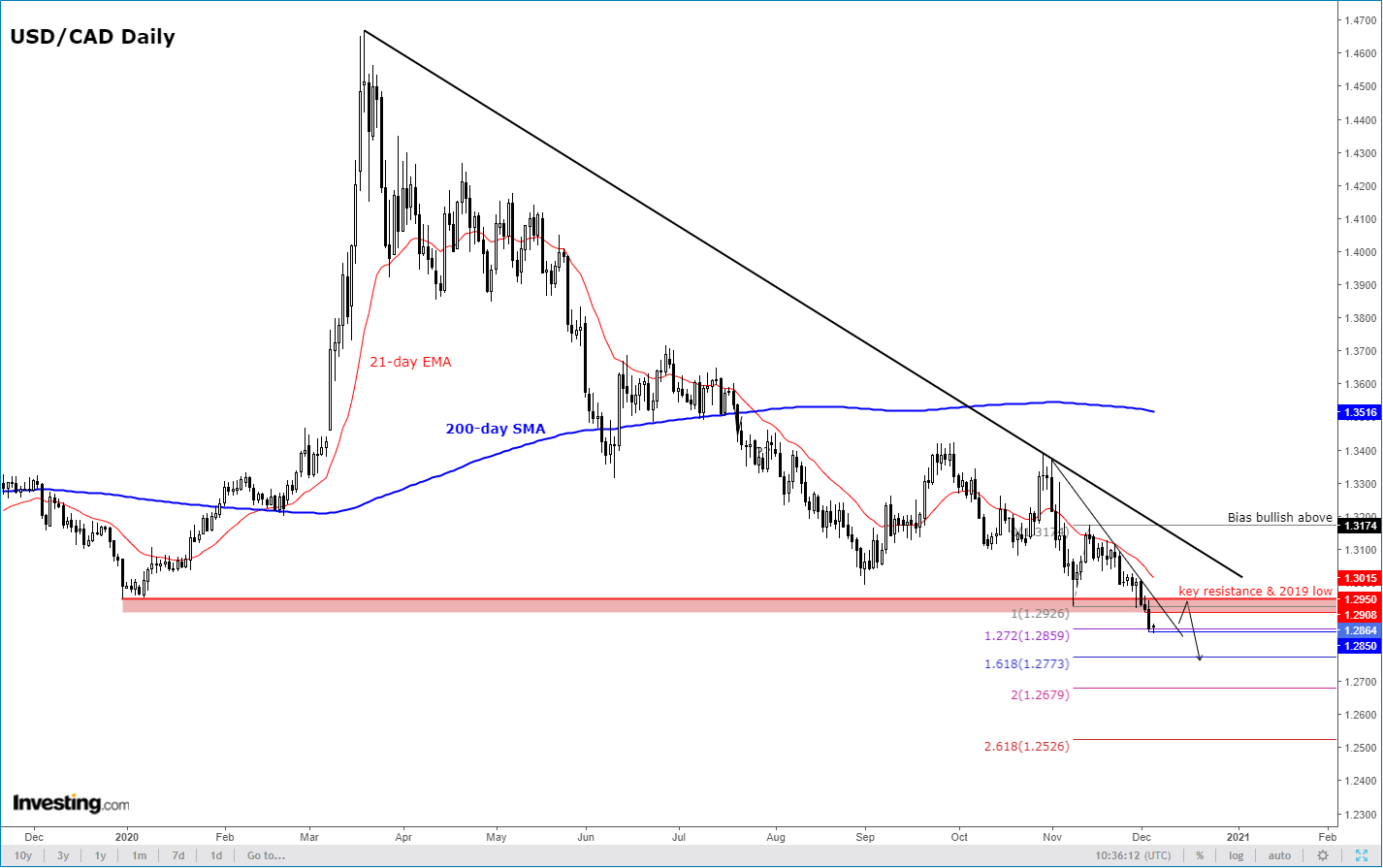 But in this strong "risk-on" market environment, how big of an impact will these reports have on the slumping USD/CAD?
Any gains due to the job reports will be quickly faded. That's because there is a stronger force driving the financial markets right now. Economic data, which has so far been largely ignored along with the rising coronavirus cases and deaths in the US and elsewhere, will likely be shrugged off again.
The risk rally has kept the greenback under intense pressure. FX investors have been piling into growth-sensitive commodity dollars and emerging market currencies amid hopes the development of vaccines will pave the way for life to start returning back to normal in 2021, which should hopefully kickstart the global economic recovery.
The Canadian dollar has been among these commodity currencies. It recently found additional support from a sharp recovery in crude oil prices amid hopes of a strong demand recovery in 2021. prices extended their recent gains after OPEC+ last night to gently ease their historic output cuts next year. Crude oil is Canada's major export commodity and so whenever prices rise this will result in higher revenue per barrel of oil sold by Canadian energy companies, which is obviously good news for the North American economy.
So, the current market environment means that the reaction to today's US jobs report is likely to be somewhat muted on the US dollar, unless we see a massive beat or a massive disappointment.
For that reason, I am expecting the USD/CAD to continue trending lower, as I have .
The key zone of resistance that needs to hold, and where I expect to see fresh selling come into play, is around the 1.2908-1.2950 area. The upper end of this range was last year's low, while the lower end marks Wednesday's low. Once support, this area is now potential resistance. We also have a short-term bearish trend line coming into play here, making it an even more technically friendly area.
Previously, my main downside objective was the liquidity below the 2019 low, which has now been taken. But rates could certainly extend lower as the trend is getting stronger. Some of the objective downside targets include the Fibonacci extension levels shown on the chart. The 127.2% at 1.2859 was already hit yesterday, where the selling has—for now—paused. Below this is the 161.8% extension at 1.2773. It is also worth keeping an eye on round handles, such as 1.28, 1.27 and so on.
In summary, I expect the USD/CAD to trend further lower in the coming days and reckon there might be a good tradable opportunity around the 1.2908-1.2950 area, should price revisit this zone. Don't expect today's employment reports to have too big an impact. For what it is worth, the headline US nonfarm payrolls report is expected to print 469K, while the Canadian employment data is expected to show a rise of 20K in net jobs gained in November.