This article was written exclusively for Investing.com
Parabolic bull markets are magnets for speculators
Bitcoin, Ethereum set the stage for over 10,880 tokens in cyberspace
Some could soar, many will wind up as dust collectors in computer wallets
Chiliz (CHZ) has a substantial market cap
Synthetix (SNX) is another leading cryptocurrency
Just a bit over a decade ago, technology gave birth to a new asset class. At the turn of the 21st century, the notion of a cryptocurrency seemed like something out of a science fiction novel.
A decade ago, was like a new variation of a video game with miners earning tokens that were more like arcade prizes than money. However, those tokens became better than gold, minting millionaires and billionaires since 2017. Investors who held onto the tokens and ignored the price volatility gained wealth beyond their wildest dreams.
Even after halving in value, a buyer at five cents in 2010 who invested $100 in Bitcoin and still owns the tokens has a stash worth over $64 million at $32,000 per token in mid-July 2021.
The most recent market cap of the over 10,880 cryptocurrencies circulating in cyberspace stood at $1.34 trillion. Only 71—or under 0.66% of the tokens—have a value of over $1 billion. (CHZ) and (SNX) are members of the one billion-plus cryptocurrency club.
Parabolic bull markets are magnets for speculators
Bull and bear markets tend to rise and fall to price levels that are often irrational, unreasonable, and illogical. In April 2020, crude oil not only fell below zero, which many market participants believed impossible, but it dropped to a low of over negative $40 per barrel—it is currently trading at $72.42. In 2011, cotton futures, which today trade at $0.90, rose to $2.27 per pound. Before 2010, the fluffy fiber never rose above $1.1720 per pound. Many cotton traders, producers, and consumers believed the move was irrational.
Over the past months, lumber futures, which are currently trading at $604, exploded to over $1700 per 1,000 board feet. Before 2017, the price of wood in the futures market never traded above $493.50. Many silver bulls are anxiously await the precious metal's return to the 1980 high at $50.36. It is currently trading at $26.43. Silver almost made it in 2011, but it fell short when it ran out of upside steam at $49.82 per ounce.
We have seen parabolic moves to the upside and price implosions in the world of commodities and stocks over the years. Cryptocurrencies are the latest asset class to experience some of the most extreme parabolic price action. Bull markets are magnets for speculative activity. Everyone wants to hop on board.
When Bitcoin was rising last year, my 88-year old mom called to ask if she should buy a few Bitcoin. To me, that was a sign that the shooting star would eventually come back down to earth. It is impossible to pick tops in parabolic moves or bottoms in imploding markets. More market participants have been left without the shirt on their backs by going against the grain. There is nothing worse than calling a market correctly and losing it all.
Meanwhile, even though Bitcoin was trading at almost half the value at the Apr. 14 high in mid-July, the speculative fever continues. After all, any asset that rises from five cents to over $32,000 makes the greed emotion run wild.
Bitcoin, Ethereum set stage for over 10,880 tokens in cyberspace
Bitcoin and experienced explosive price appreciation over the past years. Few assets in my lifetime have matched the percentage gains. When I began keeping track of the rise in the number of cryptocurrencies floating around in cyberspace and filling computer wallets, the number was already high at 2,136 at the end of Q1 2019.
At the end of 2020, the number had increased to 8,153. On June 30, 2021, there were 10,725; at last count, it had risen above the 10,880 level.
The speculative quest for the next Bitcoin, Ethereum, , or another cryptocurrency to deliver incredible wealth to those with the foresight to invest is a powerful force promoting the appearance of new tokens each day.
Some could soar, many will wind up as dust collectors in computer wallets
The odds do not favor success for the vast majority of cryptocurrencies. Like penny stocks, most are doomed and will wind up as space dust in computer wallets.
Still, in every market, there are exceptions. A few of the future chosen ones are still diamonds in the rough. No one knows how high the number of tokens will rise before the asset class finally reaches its crescendo. Like markets, the number has exceeded the wildest expectations at the 10,880 level.
Until the crypto market matures, the potential for typical penny stock type pump and dump schemes will continue as scammers play on naïve investors' greediest impulses. Nothing supports a scam like the potential for wealth, no matter how remote the odds. Only 62 cryptocurrencies, or under 0.66% of the entire asset class, had a market cap of over $1 billion. Chiliz and Synthetix are two of these elite cryptos.
Chiliz has a substantial market cap
Chiliz (CHZ) is an ERC-20 utility token on the Ethereum blockchain that serves as the digital currency for the chiliZ and Socious.com platform. ERC-20 has emerged as a technical standard for smart contracts on the Ethereum blockchain for token implementation.
It provides rules that all Ethereum-based tokens must follow. Chiliz's website says:
"Chiliz developed the Socious.com sports fan engagement platform which is built on the Chiliz blockchain infrastructure and uses $CHZ as its exclusive on-platform currency."
As of July 15, Chiliz had a market cap of $1.56 billion and was the 56th leading cryptocurrency.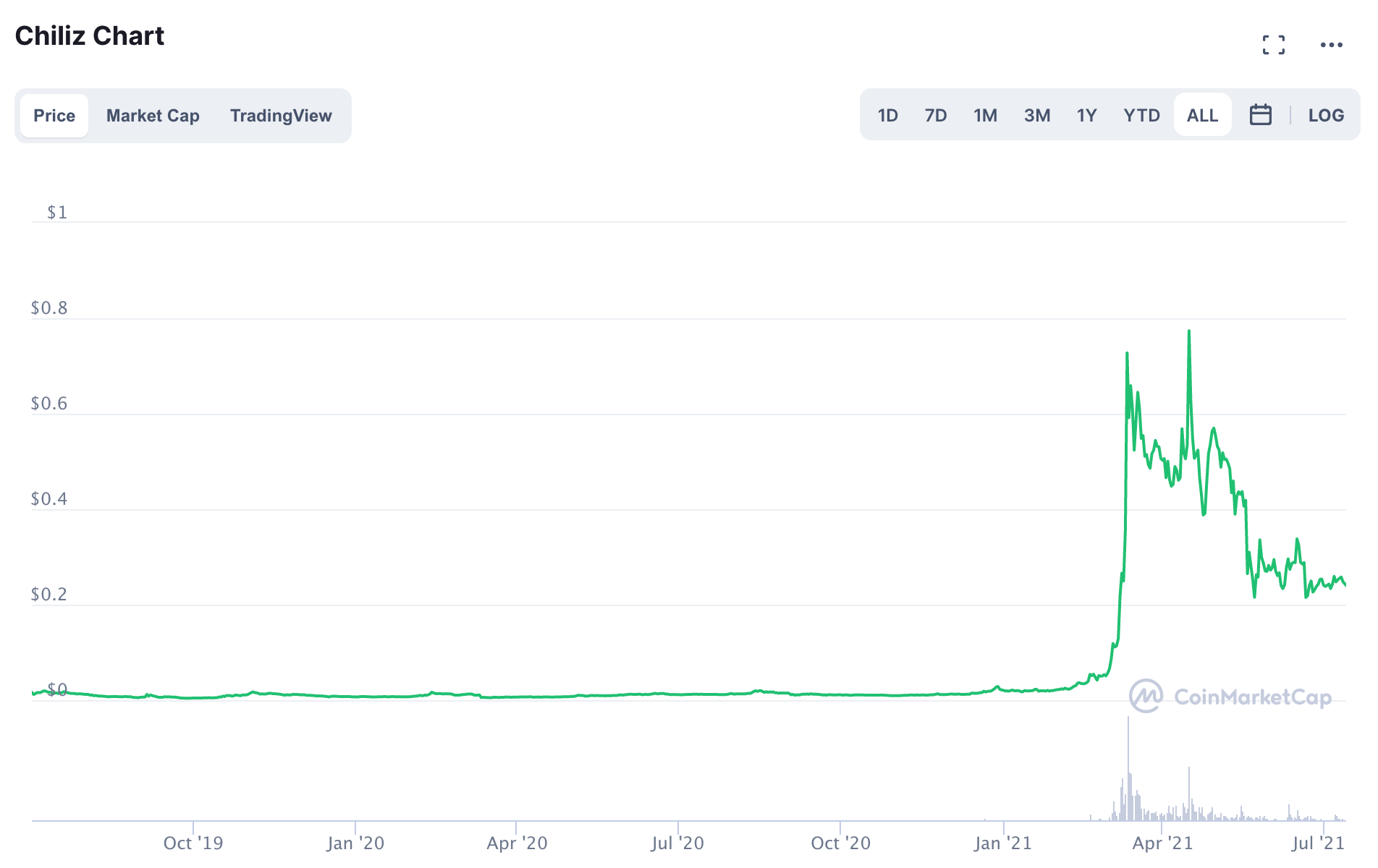 Source, all charts: CoinMarketCap
Chiliz began trading in July 2019 at just over the 1.2 cents level. Chiliz hit its most recent high at 0.7739 cents in mid-April 2021. On July 15, the price was around the 0.265 cents per token level.
Synthetix: another leading cryptocurrency
Synthetix (SNX) allows users to mint new crypto assets that mimic both real-world assets like fiat currencies and crypto assets like Bitcoin. Synthetix generates new assets using a process of collateralization. In crypto-based lending, collateral is the cryptocurrency asset that the borrower pledges as a guarantee that the loan will be repaid.
Synthetix website describes the liquidity protocol as:
"The backbone for derivatives trading in DeFi, allowing anyone, anywhere to gain on-chain exposure to a vast range of assets."
DeFi is decentralized finance, a libertarian financial concept that globalizes money.
SNX was the 69th leading cryptocurrency on July 15, with a market cap of $1.15 billion at $10.08 per token.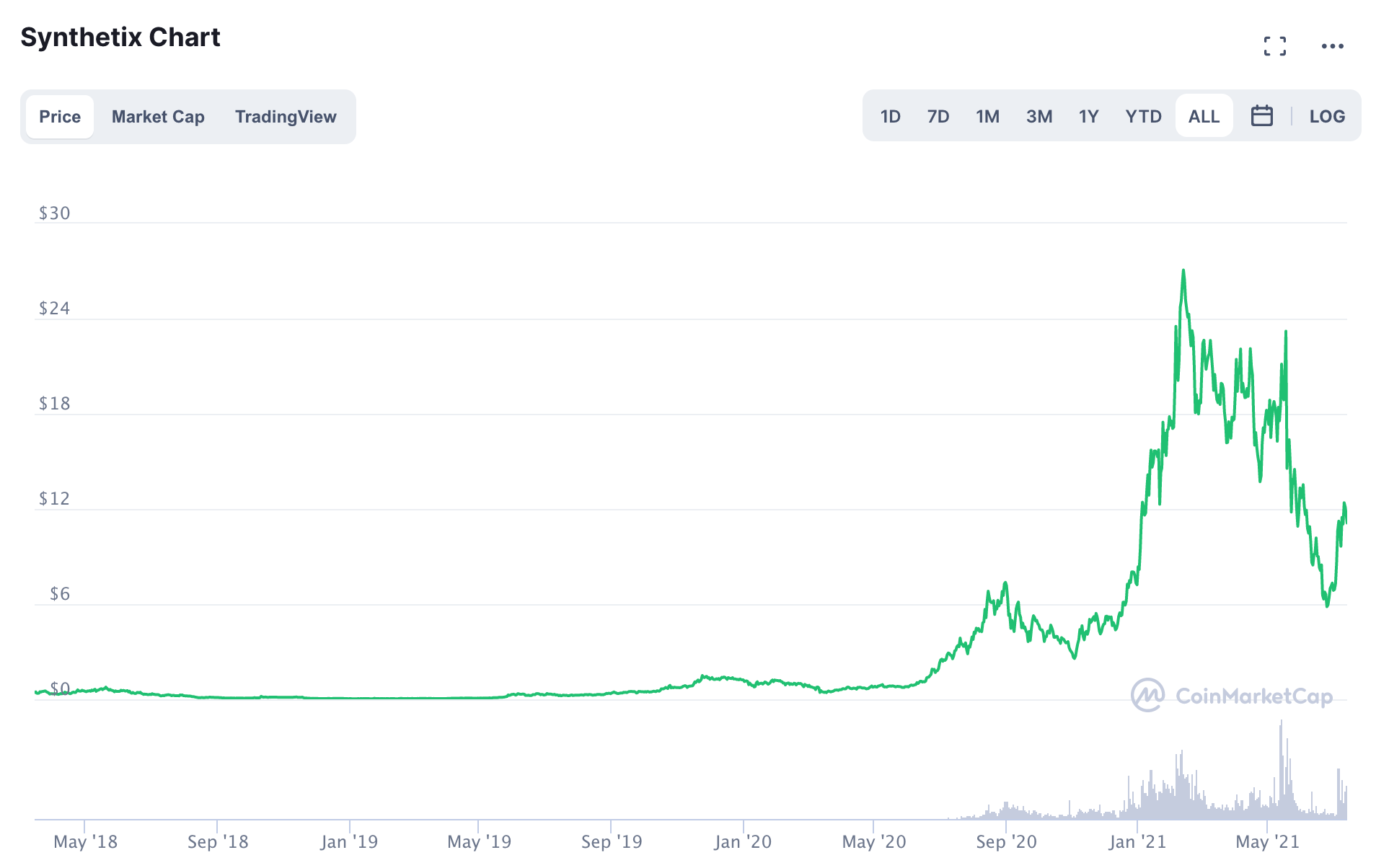 SNX began trading in mid-March 2018 at just below 44 cents. In February 2021, SNX rose to a high of $27.07 per token. At around $11.10 on July 13, SNX has been making lower lows since February, with the latest low at just under $5.84 on June 24.
Time will tell if CHZ and SNX can deliver more rewards. However, they are already established cryptocurrencies and in an elite class near the top of the asset class.