Reports Wednesday, July 21, before the market opens
Revenue Expectation: $9.3 billion
EPS: $0.56
When Coca-Cola (NYSE:) reports its latest quarterly earnings tomorrow ahead of the open, expectations are that its sales will have already recovered to the pre-pandemic level with the economic reopenings in the world's most vaccinated nations.
Coca-Cola Weekly Chart.
Analysts' consensus estimates call for $0.56-a-share profit for the period that ended June 30, up from $0.42 a share . Sales are forecast to surge to $9.3 billion, up 29% from the same period a year ago when the world was battling the first wave of COVID-19 infections, forcing theatres and restaurants to remain closed.
In April, Coke reaffirmed its forecast of organic sales percentage growth in the high single digits in 2021 and comparable earnings-per-share expansion in the high single digits to low double digits. These estimates, however, could still prove optimistic for the consumer giant amid the surging cases of the coronavirus in some parts of the world, including highly vaccinated countries like the U.K.
This resurgence in infections has prompted many investors to dial down their expectations of economic growth in the coming months. Coke, for its part, has already warned investors, terming recovery in sales as "asynchronous." Unit case volume, for example, was down 6% in North America during the first quarter, but up 9% in Asia Pacific. Globally, case unit volume was flat.
Inflation Risks
Another risk that packaged consumer companies face is the jump in prices of materials they use. For Coke, it's the higher costs of plastic and aluminum. Chief Financial Officer John Murphy told Bloomberg in April that the company is "well-hedged" to withstand much of the cost pressure in the near term, but next year could be a challenge.
Despite these challenges, some analysts believe Coca-Cola is in a position to beat estimates this year, as the consensus underestimates the recovery from the pandemic.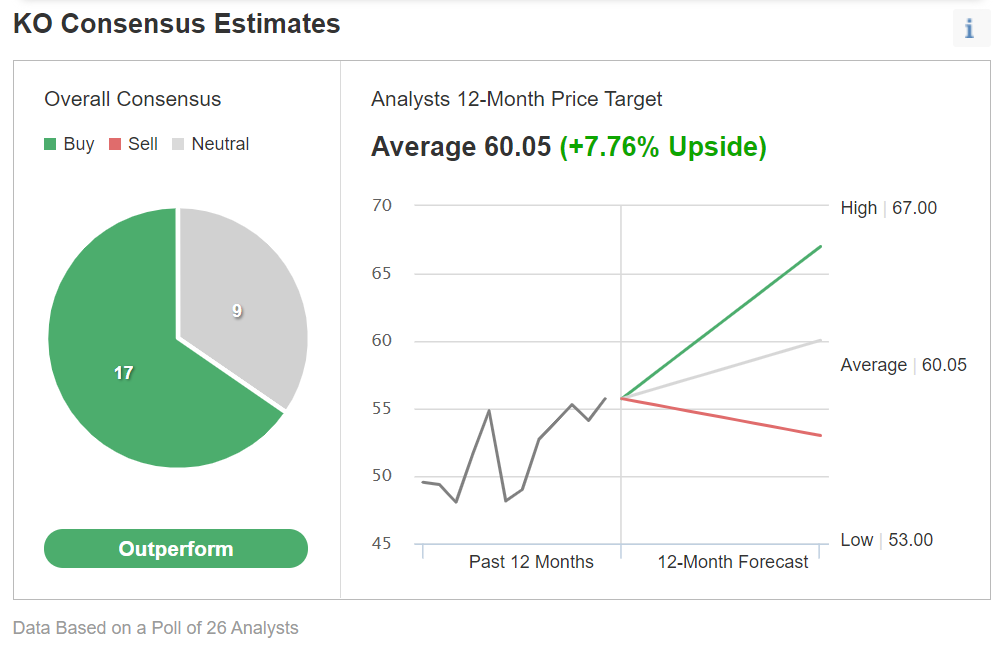 Among 26 analysts polled by Investing.com, the bulk of respondents gave the stock an 'outperform' rating. As well, in a recent note, Morgan Stanley reiterated its overweight rating on the stock and raised the price target to $64 per share from $60.
"Short term, we see a well-above consensus post-COVID topline/EPS recovery ahead; longer term, a return to pre-COVID outsized sales growth vs. peers, improved execution under a reorganization, and higher margins with productivity and lower marketing spending."
In order to mitigate the impact of a slump in sales, Coke said in December that it would cut 2,200 jobs. It has also narrowed its focus on core brands, dropping smaller ones like Tab, a diet soda popular in the 1970s, and Zico coconut water.
KO shares, after recovering from their pandemic plunge, are flat this year. They closed Monday at $55.73.
Bottom Line
Coke remains a solid dividend stock for long-term investors, with a yield of 3% and a quarterly payout of $0.42. The company has now increased its dividend 58 years in a row.
We believe Coke is a good defensive play, especially when the risks to growth stocks have increased in the face of a resurgent pandemic that is sending investors to seek shelter in safe-haven consumer stocks.