A Coinbase (NASDAQ:) user has filed a class lawsuit seeking damages worth $5 million, alleging the exchange ran a misleading Dogecoin-related promotion. The plaintiff claimed he was tricked into trading $100 worth of .
Key Takeaways
Coinbase faces a class action lawsuit from a Dogecoin trader who seeks $5 million in damages.
The plaintiff, David Suski, claimed he was deceived by Coinbase to trade $100 of Dogecoin to become eligible for a $1.2 million promotion.
The promotion's rules specify that a customer can be eligible without making any trade by mailing a simple index card.
Disgruntled Trader Files Class Action Lawsuit
Coinbase, the largest retail cryptocurrency exchange in the U.S., is facing a class action lawsuit from a Dogecoin trader.
In a legal document, plaintiff David Suski said he was deceived into trading $100 of (DOGE) to become eligible for entry into Coinbase's $1.2 million Sweepstakes offer. The document claims that entry into Sweepstakes could be made free of charge, but Coinbase did not disclose that fact for financial gains.
Sweepstakes is a contest where prizes are given out through a lottery system to users of one of Coinbase's product or services. The Sweepstakes that the plaintiff had issues with took place on June 3 and involved prizes worth $1.2 million in Dogecoin.
The contest aimed to incentivize Dogecoin trading in the days following its .
From that day, Coinbase began promoting Dogecoin Sweepstakes worth $1.2 million through an advertisement campaign targeted at its users through emails and across its website and mobile app.
In the promotions, Coinbase asked users to trade at least $100 or more in Dogecoin between 3 June and 10 June 2021 to be eligible for the Sweepstakes.
The plaintiff's lawyer alleges that the campaign was misleading since the rules allowed anyone to take part free of cost. The rule was not disclosed up front and instead only mentioned under a separate "rules and details" section.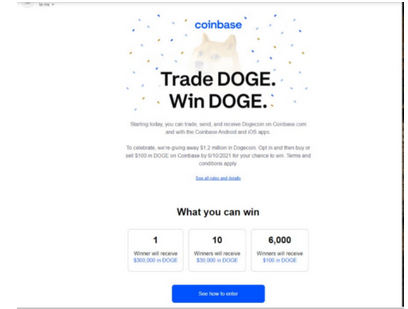 Dogecoin Trade Image
The current rules on Sweepstakes specify that a customer can be eligible for Sweepstakes by mailing a 3×5-inch index card with their name, address, email address, phone, and date of birth written on it.
However, the document further argued that Coinbase's adverts were knowingly designed in order to "deceive and confuse" the plaintiff and others into believing that they would have to trade at least $100 worth of Dogecoin on Coinbase to enter. The document read:
"The only reason that Plaintiff undertook to buy more Dogecoins from Coinbase was because the Company led him to believe that doing so was necessary to enter Coinbase's $1.2 million Sweepstakes."
Finally, the document said the defendant would not have paid Coinbase $100, including trading commissions, to purchase Dogecoin had the 100% free entry option been made clearer.
It added that a "deceptive digital ad campaign" unnecessarily cost traders millions of dollars in Dogecoin purchases and commission fees. The lawsuit seeks punitive damages that exceed $5,000,000 on behalf of the plaintiff and millions of other users.