Between the 24-hour period from approximately 2:00 PM EST on Feb 24 and 2:00 PM on Feb 25, 2019, , , and all saw increases in price.
Each of the crypto assets faced a sharp downward trend during Feb 23 and 24.
Increases in prices may be a natural response to these sharp and sudden declines. The values may be expected to increase for EOS and TRON. This becomes especially true when qualitative factors are assessed alongside technical indicators.
TRON (TRX)
At 1:59 PM EST on Feb 24, TRON closed at USD($)0.024359. This was also the opening, high, and low price for that minute. It increased to $0.024573 eight minutes later.
A low of $0.023801 was reached at 6:59 PM. A general uptrend saw TRX reach $0.025 at 11:49 AM on Feb 25. A slight downtrend followed, but an overall uptrend was experienced with TRX with a closing value of $0.0247 at 2:01 PM.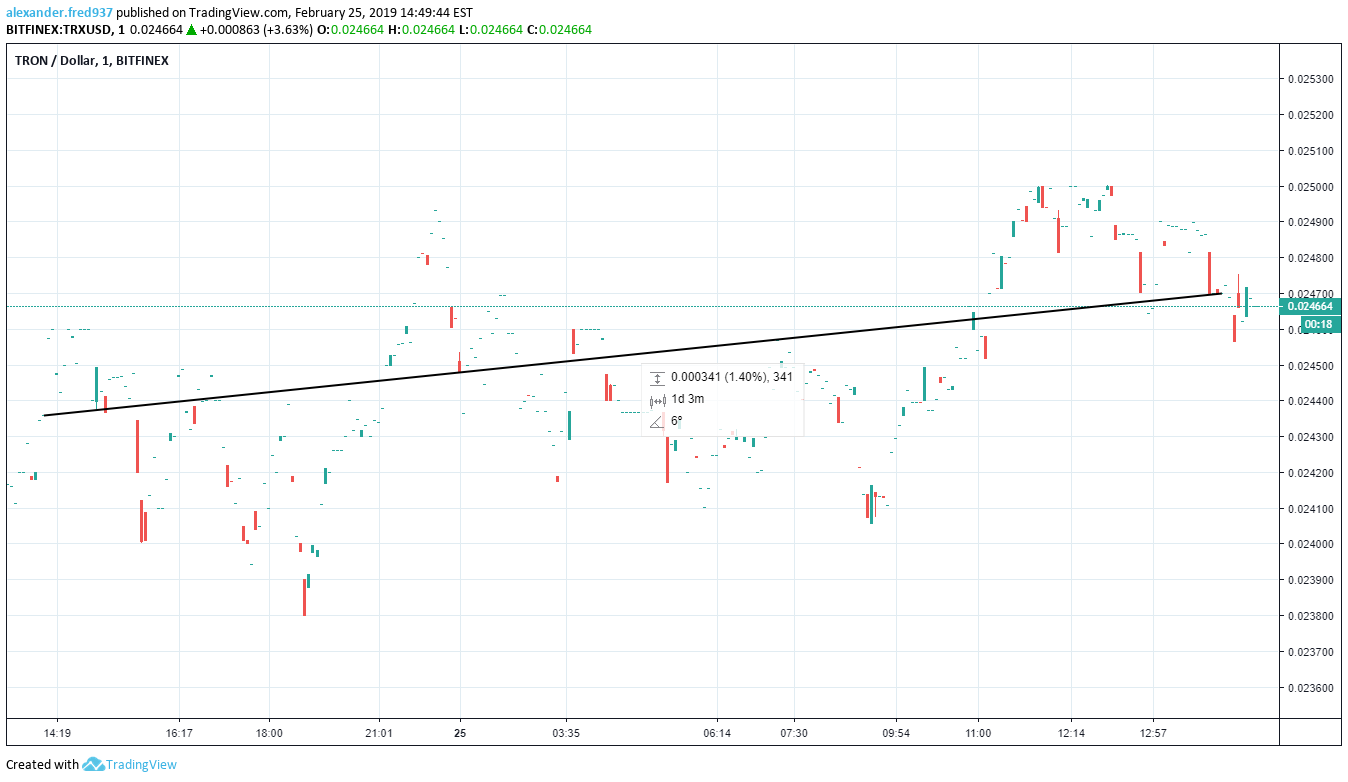 Tron may continue to see gradual increases in price if qualitative factors are able to increase demand. For example, the #VoiceYourLove Campaign, BitTorrent Token (BTT) built on the Tron network, and the release of TRX and BTT crypto cards may positively affect the price of TRX.
EOS (EOS)
EOS saw a similar uptrend during the same period. At 1:59 PM, it closed at $3.6671, nearly 15,000 percent higher than TRX at the same time. 24 hours later, the value increased by 1.75 percent.
EOS reached a low of $3.3555 at 5:22 AM on Feb 25. It rebounded to $3.79 at 11:55 AM. A slight downtrend over the next several hours found EOS closing at $3.7251 at 1:59 PM.
TRON and EOS are competing for dominance in the decentralized application (dApp) market. 48 out of the most active dApps in the last 24 hours are built on the TRON or EOS network. If EOS is able to maintain in the dApp market, long-term increases in price might follow.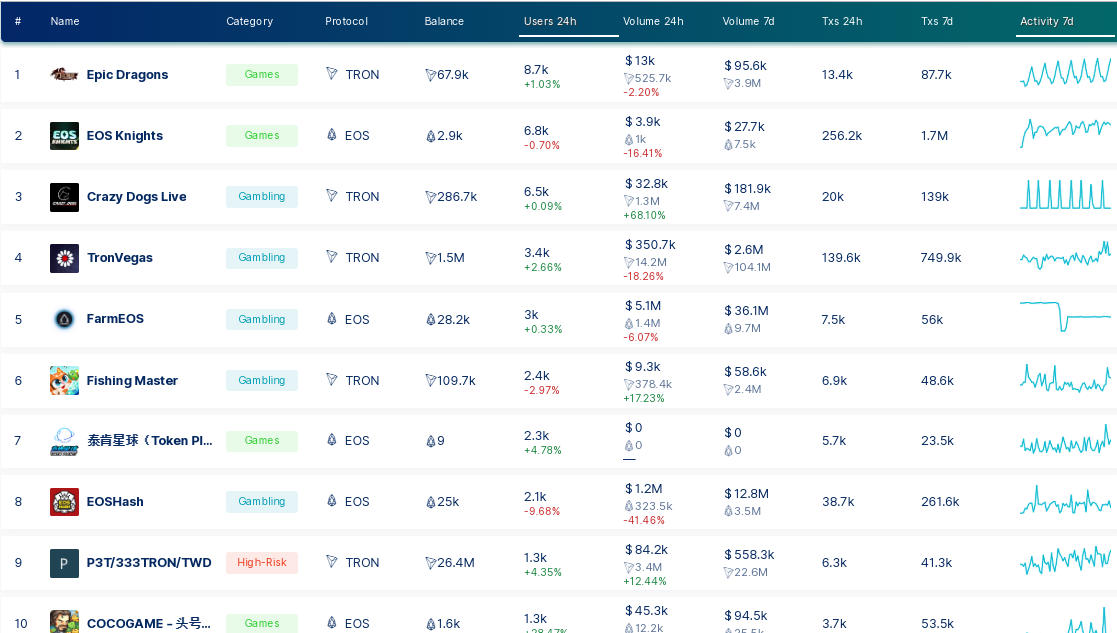 Image courtesy of DappRadar.
Stellar (XLM)
Stellar outperformed both EOS and TRON with price increases of 5.86 percent. At 1:59 PM on Feb 24, it closed at $0.08620201 and rose to $0.09125700 twenty-four hours later.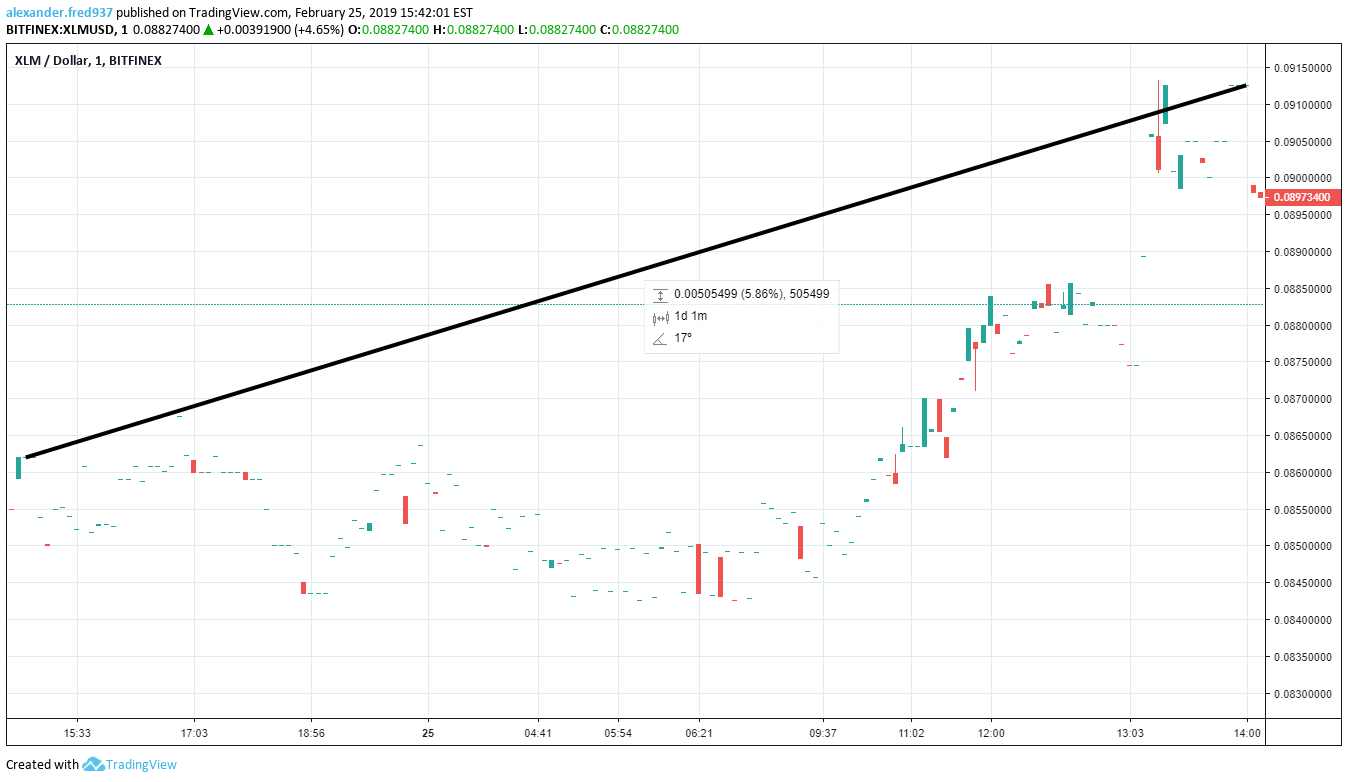 Stellar's 24-hour performance my suggest a small correction in the near future. It is uncertain whether qualitative factors are currently in Stellar's favor. Unlike TRON, EOS, and , Stellar is not listed on DappRadar.
Dominance in the dApp market might showcase increased use cases for a particular network. This could lead to increased demand for the services.
Furthermore, while TRON and EOS showcase uses for their tokens, Stellar seems to be lagging behind. While dApps have been developed on the network, the total number and their actual usage is difficult to track.