Reports Q4 2020 earnings on Thursday, Nov. 12, after the close
Revenue Expectation: $14.15B
EPS Expectation: -$0.73
The powerful rebound of Disney (NYSE:) shares since the March low, makes it easy to conclude that investors have already started anticipating a return to normal life at the entertainment giant's theme parks, movie theaters and cruise ships.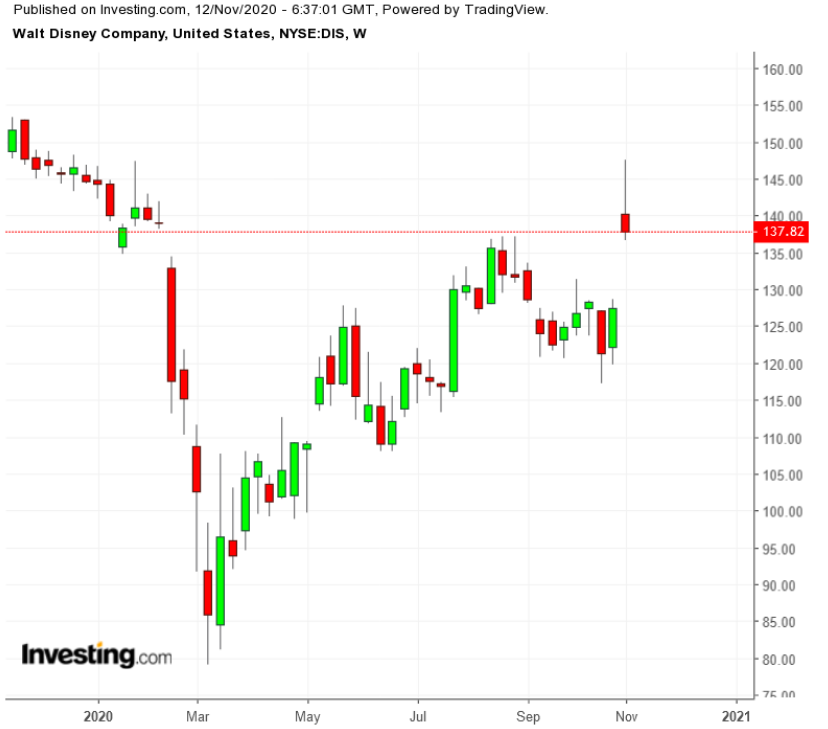 After the stock plunged more than 40% as the coronavirus outbreak gained traction, Disney shares have jumped almost 61% as of yesterday's $137.82 close. This gradual and strong rebound clearly shows that investors don't see permanent damage to Disney's cash-producing businesses after the pandemic deprived the company of much of its operating profit.
Is this level of faith justified when we're still in the middle of this deadly global health crisis? Investors will get a fresh look at earnings—and an updated answer—when the Burbank, California-based company releases its fourth quarter report and provides guidance for its upcoming fiscal year.
However, if you go by the company's current , there is little reason to rejoice. Disney continues to suffer from the COVID-19 pandemic; its parks and studio entertainment segments continue posting steep losses. The pandemic also forced the company to lay off 28,000 employees across its parks, experiences and consumer products division in late September.
Hit To Operating Profit
Operating profit, which is normally driven by the company's theme parks and cable-TV networks such as ESPN, plunged 98% in the three months through June 27 from a year earlier. For the quarter that ended on Sept. 30, analysts are expecting the company to post a $0.73 per share loss on sales of $14.15 billion.
But all of this is already history. In order to successfully transition to a changed, post-pandemic world Disney is quickly adjusting its priorities and investors are getting excited about the company's new direction. Last month, the House of Mouse announced a major shake-up of its operations with the aim of shifting the focus to its newly launched streaming business, Disney+.
The global entertainment colossus is putting its TV networks, film studio and direct-to-consumer divisions under the umbrella of its Media and Entertainment segment. Existing content chiefs will continue to oversee their businesses, but they will now also be able to directly choose which movies and TV shows air on Disney's growing lineup of streaming services.
Disney's largest shareholders, such as Third Point's Dan Loeb, have welcomed the company's new direction, which prioritizes its streaming business. "We are pleased to see that Disney is focused on the same opportunity that makes us such enthusiastic shareholders," Loeb said in an emailed statement, cited by Bloomberg News.
The stay-at-home environment globally has provided a boost to the company's Disney+ streaming service which is thriving and becoming a threat to other industry players. Disney has signed up more than 60 million users in nearly nine months, a benchmark that took about eight years for Netflix (NASDAQ:) to achieve.
Bottom Line
Disney's largest revenue-generating units are under great pressure due to the pandemic and there is no quick path back to normal. That said, the coronavirus pandemic has accelerated the shift toward streaming entertainment at home and Disney seems to be in a consummate position to benefit.