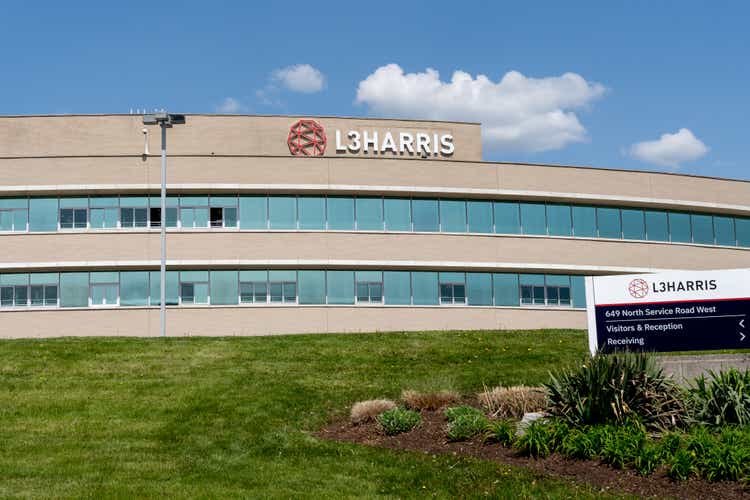 We monitor dividend announcements for stocks in Dividend Radar, a spreadsheet we update and publish for free every Friday. The spreadsheet provides key data of stocks with dividend streaks of five years or more. The Dividend Radar spreadsheet separates stocks into categories based on the length of the streak: Champions (25+ years), Contenders (10- 24 years), and Challengers (5-9 years).
This past week, 27 companies in Dividend Radar decided to increase their dividends, including four of my DivGro holdings. Note there were no dividend cuts or suspensions announced for Dividend Radar stocks during this period.
The following table provides a summary of the dividend increases. The table is sorted into sections for Champions, Contenders, and Challengers, and then by the percentage increase, (%Incr). Dividends are annualized and in US$, unless otherwise indicated. Yield is the new dividend yield for a recent price and Yrs are years of consecutive dividend increases.
The following dividend increase data are sorted alphabetically by ticker.
Company descriptions are the author's summary of company descriptions sourced from Finviz.
Agnico Eagle Mines Limited (AEM)
AEM engages in the exploration, development, and production of mineral properties in Canada, Mexico, and Finland. The company operates through Northern Business and Southern Business segments. It primarily produces and sells gold deposits, as well as explores for silver, zinc, and copper deposits. AEM was founded in 1953 and is headquartered in Toronto, Canada.
Assured Guaranty Ltd. (AGO)
AGO provides credit protection products to public finance, infrastructure, and structured finance markets in the United States and internationally. The company offers financial guaranty insurance that protects holders of debt instruments and other monetary obligations from defaults in scheduled payments. AGO was founded in 2003 and is based in Hamilton, Bermuda.
Albemarle Corporation (ALB)
Founded in 1994 and headquartered in Charlotte, North Carolina, ALB develops, manufactures, and markets engineered specialty chemicals worldwide. The company operates in three segments: Lithium, Bromine Specialties, and Catalysts. ALB serves energy storage, petroleum refining, consumer electronics, construction, automotive, lubricants, pharmaceuticals, crop protection, and custom chemistry services markets.
Franklin Resources, Inc. (BEN)
BEN is a global investment management company operating as Franklin Templeton Investments. The company provides investment management and related services to retail, institutional, and high net-worth clients in jurisdictions around the world. BEN was founded in 1947 and is based in San Mateo, California with an additional office in Hyderabad, India.
Popular, Inc. (BPOP)
BPOP, through its subsidiaries, provides various retail, mortgage, and commercial banking products and services. The company offers various deposit, loan, and insurance products in Puerto Rico, New York, New Jersey, Florida, and the Virgin Islands. BPOP was founded in 1893 and is headquartered in Hato Rey, Puerto Rico.
Cogent Communications Holdings, Inc. (CCOI)
Founded in 1999 and headquartered in Washington, D.C., CCOI provides high-speed Internet access and Internet protocol communications services to small and medium-sized businesses, communications service providers, and other bandwidth-intensive organizations in North America, Europe, and Asia. CCOI offers bandwidths up to 100 Gigabits per second.
Cohen & Steers, Inc. (CNS)
CNS is a global investment manager that specializes in liquid real assets, including real estate securities, listed infrastructure, commodities, and natural resource equities, and preferred securities. The company serves institutional and individual investors around the world. CNS was founded in 1986 and is headquartered in New York, New York.
Danaher Corporation (DHR)
Formerly known as Diversified Mortgage Investors, DHR designs, manufactures, and markets professional, medical, industrial, and commercial products and services worldwide. The company operates in the Life Sciences, Diagnostics, Dental, and Environmental & Applied Solutions segments. DHR was founded in 1969 and is headquartered in Washington, the District of Columbia.
Essex Property Trust, Inc. (ESS)
ESS is a self-administered and self-managed real estate investment trust operating in Southern California, the San Francisco Bay Area, and the Seattle metropolitan area. The company owns, operates, manages, acquires, develops, and redevelops apartment communities and commercial properties. ESS was founded in 1971 and is headquartered in Palo Alto, California.
Eaton Corporation plc (ETN)
Founded in 1916 and now headquartered in Dublin, Ireland, ETN is a diversified power management company. The company serves industrial, vehicle, construction, commercial, and semiconductor markets in more than 175 countries. ETN operates in four segments: Electrical Products, Electrical Systems and Services, Hydraulics, and Vehicle.
Farmers National Banc Corp. (FMNB)
FMNB, a financial holding company, operates in the banking, trust, retirement consulting, insurance, and financial management industries. The company offers various deposit and loan services, as well as trust services and insurance products and services in the States of Ohio and Pennsylvania. FMNB was founded in 1887 and is headquartered in Canfield, Ohio.
First Savings Financial Group, Inc. (FSFG)
FSFG operates as the holding company for First Savings Bank that provides various banking products and services to consumers and businesses in southern Indiana. The company operates through Core Banking and SBA Lending segments. It provides deposit, loan, and investment products. FSFG was incorporated in 2008 and is based in Clarksville, Indiana.
Gaming and Leisure Properties, Inc. (GLPI)
GLPI is engaged in the business of acquiring, financing and owning real estate property to be leased to gaming operators in triple-net lease arrangements. GLPI elected to be taxed as a REIT for United States federal income tax purposes commencing with the 2014 taxable year and was the first gaming-focused REIT in North America.
The Home Depot, Inc. (HD)
Founded in 1978 and based in Atlanta, Georgia, HD is a home improvement retailer that sells an assortment of building materials, home improvement products, and lawn and garden products. HD provides installation, home maintenance, and professional service programs to do-it-yourself, do-it-for-me, and professional customers.
Leggett & Platt, Incorporated (LEG)
Founded in 1883 and based in Carthage, Missouri, LEG designs and manufactures a range of engineered components and products found in homes, offices, and automobiles. LEG operates through four segments, Residential Furnishings, Commercial Products, Industrial Materials, and Specialized Products. It serves manufacturers of finished bedding, upholstered furniture, mechanical springs, automobile seating, and more.
L3Harris Technologies, Inc. (LHX)
LHX, an aerospace and defense technology company, provides mission-critical solutions for government and commercial customers worldwide. The company operates in four segments: Integrated Mission Systems, Space and Airborne Systems, Communication Systems, and Aviation Systems. LHX was founded in 1895 and is headquartered in Melbourne, Florida.
LeMaitre Vascular, Inc. (LMAT)
Formerly known as Vascutech, Inc, LMAT designs, markets, sells, services, and supports medical devices and implants for the treatment of peripheral vascular disease worldwide. The company markets its products through a direct sales force and distributors. LMAT was founded in 1983 and is headquartered in Burlington, Massachusetts.
Masco Corporation (MAS)
MAS designs, manufactures, and distributes home improvement and building products under many different brands, including Cobra, Heritage, Endless Pools, Behr, Kichler, Kraftmaid, and Duraflex. The company operates in three segments: Plumbing Products, Decorative Architectural Products, and Windows and Other Specialty Products. MAS was founded in 1929 and is headquartered in Livonia, Michigan.
Northrim BanCorp, Inc. (NRIM)
NRIM operates as the bank holding company for Northrim Bank that provides commercial banking products and services to businesses and professional individuals in Alaska. It operates in two segments, Community Banking and Home Mortgage Lending. NRIM. was founded in 1990 and is headquartered in Anchorage, Alaska.
National Storage Affiliates Trust (NSA)
NSA is a Maryland real estate investment trust focused on the ownership, operation, and acquisition of self-storage properties located within the top metropolitan areas throughout the United States. The company holds ownership interests in and operates self-storage properties located in 35 states and in Puerto Rico.
Old Republic International Corporation (ORI)
ORI is engaged in the business of insurance underwriting and related services, primarily in the United States and Canada. The company provides property and liability insurance to businesses, the government, and other institutions. It also provides policies to real estate purchasers and investors. ORI was founded in 1887 and is based in Chicago, Illinois.
Prologis, Inc. (PLD)
PLD is the global leader in logistics real estate with a focus on high-barrier, high-growth markets. The company owns and invests in properties and development projects in 19 countries. PLD leases modern distribution facilities to a diverse base of customers across two major categories: business-to-business and retail/online fulfillment.
Silgan Holdings Inc. (SLGN)
SLGN manufactures and sells rigid packaging for shelf-stable food and other consumer goods products. The company's products include steel and aluminum containers, metal, composite and plastic closures, and custom-designed plastic containers and closures. SLGN was founded in 1987 and is headquartered in Stamford, Connecticut.
Sempra Energy (SRE)
SRE, an energy services holding company, develops energy infrastructure, operates utilities, and provides related services. Operating through eight principal subsidiaries, the company serves customers in the United States, Canada, Mexico, South America, Europe, and Asia. SRE was founded in 1998 and is headquartered in San Diego, California.
Southwest Gas Holdings, Inc. (SWX)
Founded in 1931, SWX is an energy holding company based in Las Vegas, Nevada. The company provides natural gas service to residential, commercial, and industrial natural gas customers in Arizona, Nevada, and California. A wholly-owned subsidiary of SWX provides utility companies with trenching and installation, replacement, and maintenance services for energy distribution systems.
WesBanco, Inc. (WSBC)
WSBC is a multi-state bank holding company with branch locations in West Virginia, Ohio, and Pennsylvania. The company offers a range of financial services that include retail banking, corporate banking, personal and corporate trust services, brokerage services, mortgage banking, and insurance. WSBC was founded in 1968 and is headquartered in Wheeling, West Virginia.
Xcel Energy Inc. (XEL)
Founded in 1909 and based in Minneapolis, Minnesota, XEL is an operating public utility engaged in the generation, transmission, and distribution of electricity and the transportation, storage, and distribution of natural gas. XEL generates electricity from coal, nuclear, natural gas, hydro, solar, biomass, oil and refuse, and wind energy sources.
Please note that we're not recommending any of these stocks. Readers should do their own research on these companies before buying shares.
Dividend Cuts and Suspensions
Following requests from readers, we've added this section to our weekly article series. Please note that we're only covering dividend cuts and suspensions announced by companies in Dividend Radar's spreadsheet.
There were no dividend cuts or suspensions announced for stocks in Dividend Radar during this period.
An Interesting Candidate
In this section, we highlight one of the stocks that announced a dividend increase. We provide a quality assessment and present performance, earnings, and valuation charts.
Our objective is to identify high-quality dividend growth [DG] stocks trading at reasonable valuations. That's a tough task, though, as high-quality DG stocks often trade at premium valuations. If we can't find a worthy candidate, we'll suggest a stock to add to your watchlist and a suitable target price.
To start, we use DVK Quality Snapshots to do a quick quality assessment, screening our list of DG stocks based on quality scores in the range 19-26. Only four stocks qualify this week!

We've highlighted HD before, so let's look at one of the other candidates.
Dividend Challenger L3Harris Technologies, Inc (LHX) is interesting because of its impressive 5-year dividend growth rate [DGR] of 14.7%. The stock yields a modest 1.77%.
LHX is rated Fine (quality score: 19-22):

Over the past ten years, LHX has outperformed the SPDR S&P 500 ETF (SPY), an ETF designed to track the 500 companies in the S&P 500 index: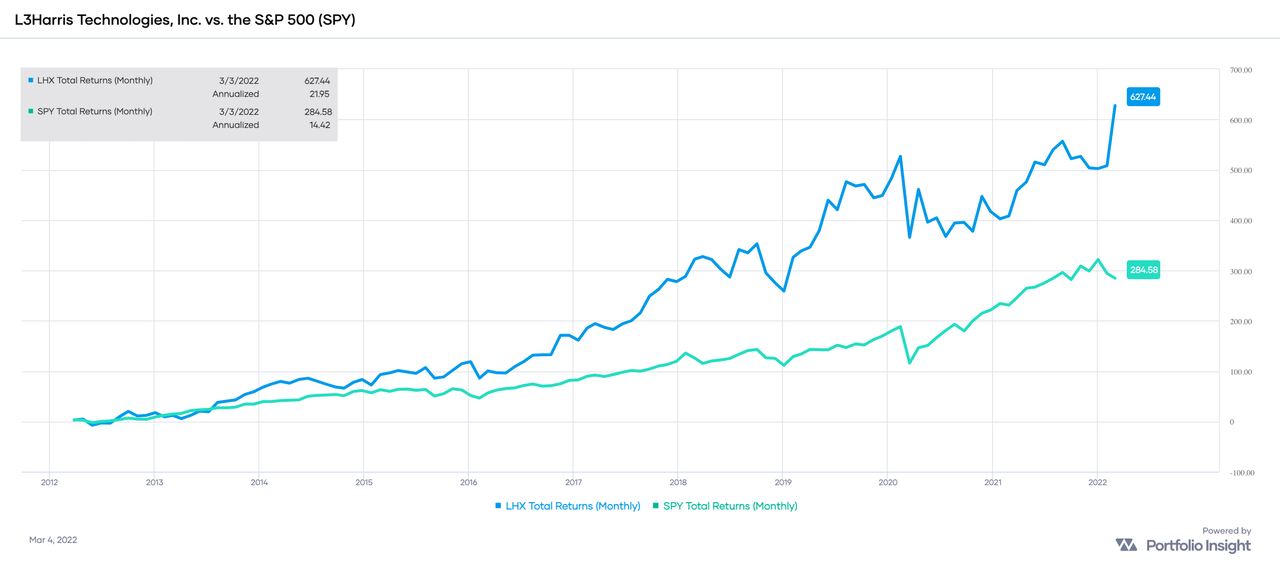 Over this time frame, LHX delivered total returns of 627% versus SPY's 285%, a margin of 2.20-to-1.
However, if we extend the period of comparison to the past twenty years, LHX outperformed SPY by an even wider margin of 4.38-to-1, with total returns of 1,985% versus SPY's 453%!
LHX's dividend growth history really is impressive: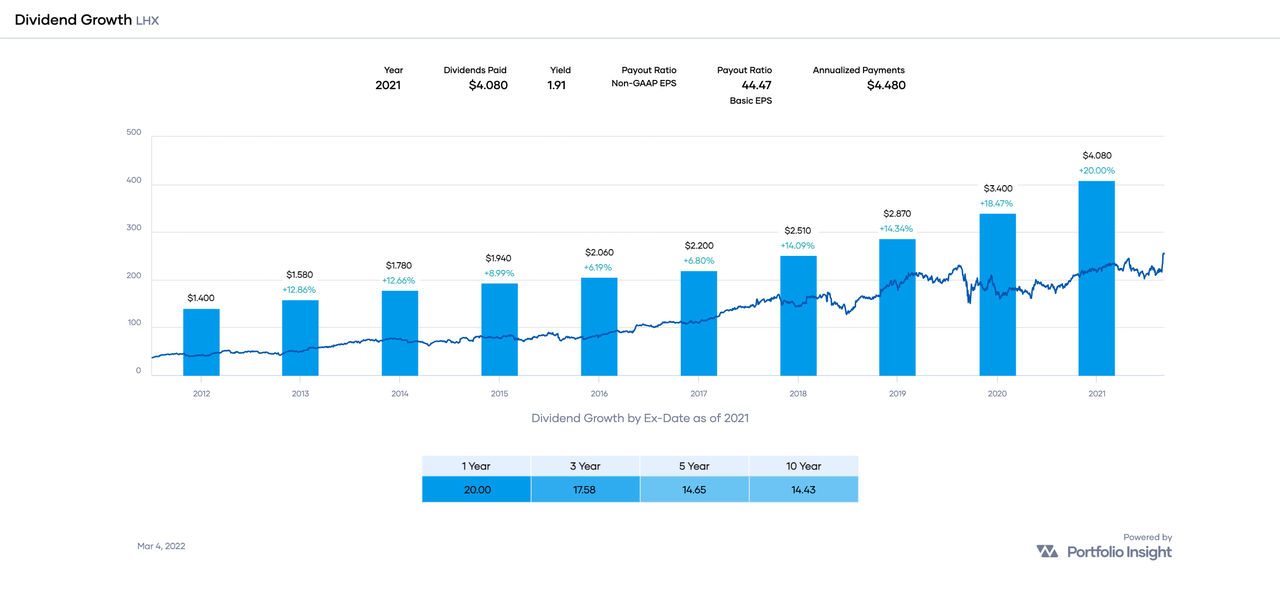 LHX's dividend growth rate is accelerating, as can be seen by dividing the 5-year DGR by the 10-year DGR: 14.65 ÷ 14.43 = 1.02. A ratio above 1.00 means the DGR is accelerating.
LHX's earnings are generally growing, too, though we have missing data in FY 2018 and no earning estimates: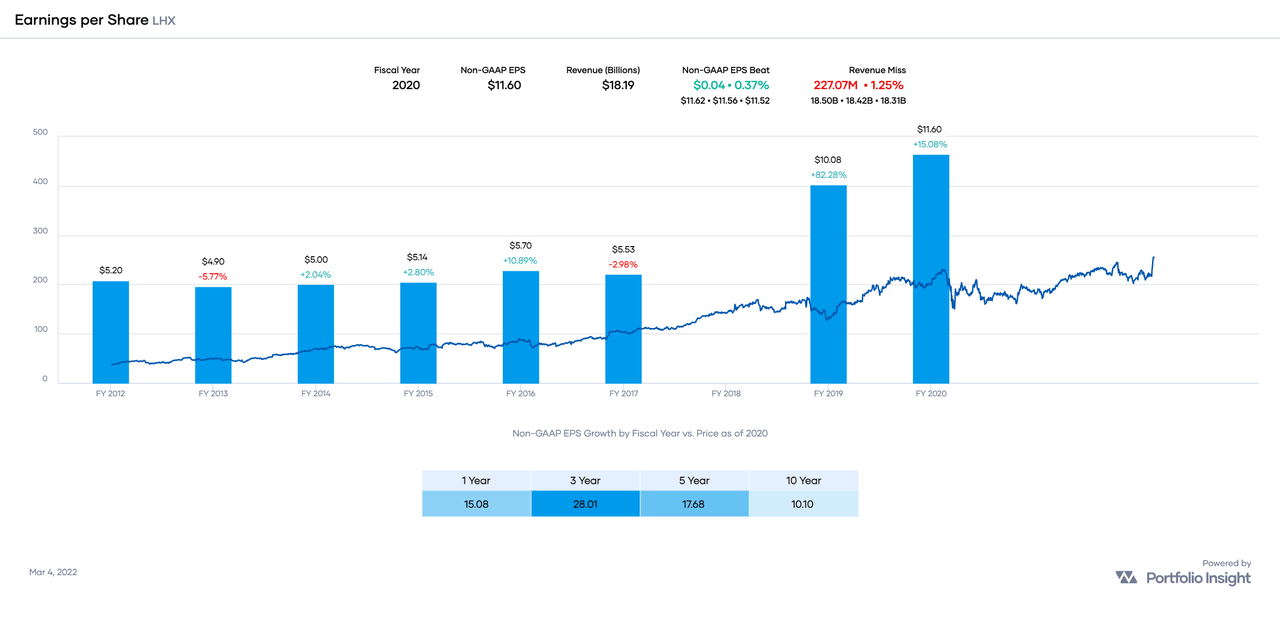 At 32%, LHX's earnings payout ratio is "low for most companies", according to Simply Safe Dividends: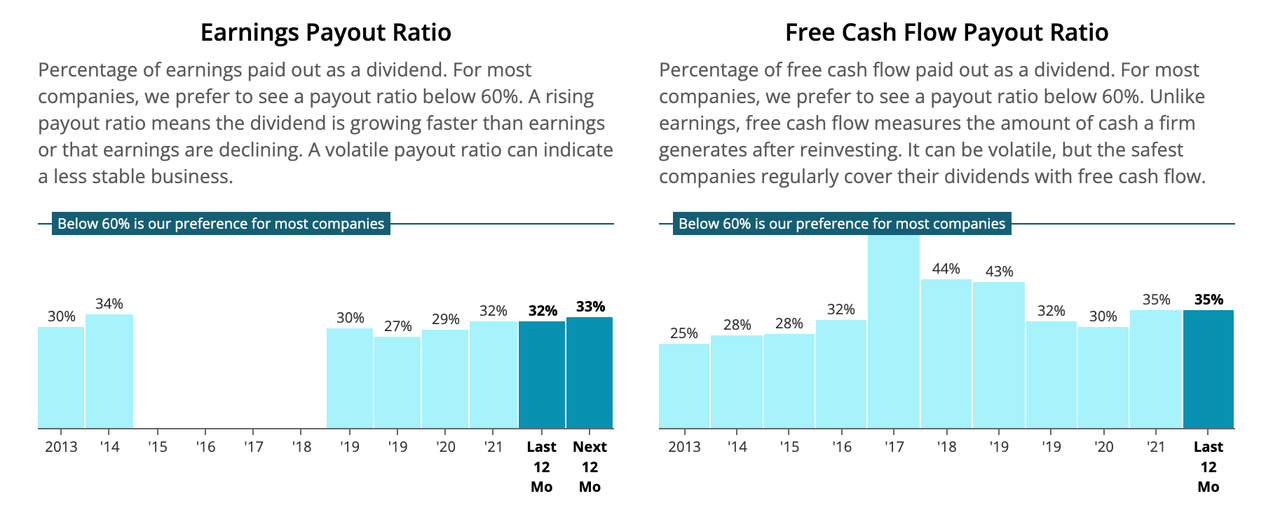 LHX's dividend is considered Safe, with a Dividend Safety Score of 80. LHX has room to continue growing its dividend for the foreseeable future.
Next, let's now consider LHX's valuation.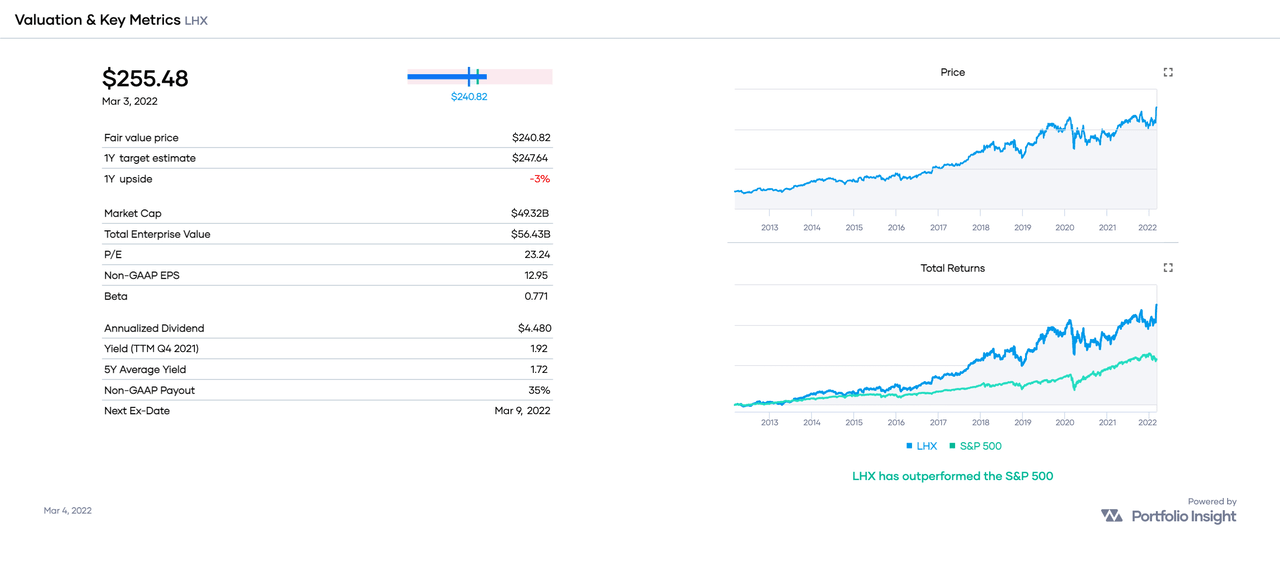 We could estimate fair value by dividing the stock's annualized dividend ($4.48) by its 5-year average yield (1.72%). This results in a fair value [FV] estimate of $260. Given LHX's current price of $255.48, the stock is trading at a small discount relative to its past dividend yield history.
For reference, Morningstar's FV is $216, Portfolio Insight's FV is $241, CFRA's FV is $245, and Finbox.com's FV is $285. The average of these fair value estimates is $247, indicating that LHX may be overvalued.
My own FV estimate of LHX is $257, so I believe the stock is fairly valued.
Here are the most recent Seeking Alpha articles covering LHX:
Strong Buy: T. Rowe Price – The Price Is Right, by Flying Cloud Ventures
Strong Buy: L3Harris: Inflation-Proof Dividend Growth, by Leo Nelissen
Conclusion
LHX is a high-quality DG stock rated Fine. For stocks rated Fine, I require a discounted valuation relative to my fair value estimate to buy shares. Therefore, my Buy Below price for LHX is $257. For conservative investors, look to buy below $231 per share.
Please note that I'm not recommending LHX or any of the stocks listed in this article. Readers should do their own research on these companies before buying shares.
Thanks for reading and happy investing!