Domino's Pizza Inc (NYSE:) became a victim of its own success. After a expectations were sky-high.
DPZ shares rallied heading into the Q3 earnings release, and then… Domino's missed.
Yes, that gap down came right after earnings.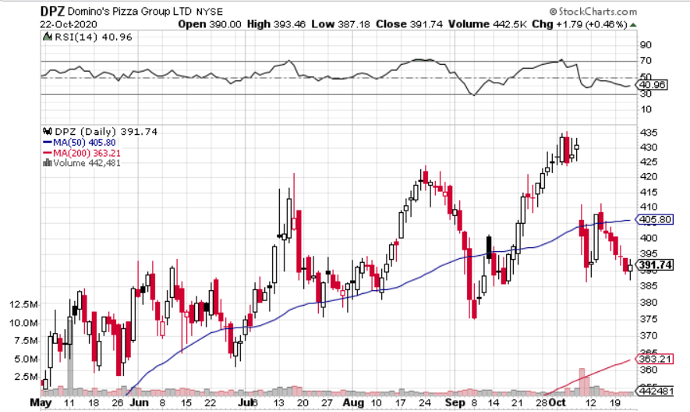 Revenue Beat Overshadowed by Earnings Miss and Cautious Global Growth Outlook
Q3 revenue came in better than expected at $967.7 million, beating estimates of $953 million. Comps rose by 17.5% in the US and 6.2% internationally. This marked the 38th straight quarter of US comp growth and 107th consecutive quarter of higher international comps. But with such a long track record of comp growth and pandemic-related tailwinds, the revenue growth was almost certainly baked into the share price.
What came as a shock was the earnings miss; adjusted earnings of $2.49 per share were well below estimates of $2.79. Labor, supply, and food costs were all elevated, and were all attributed to COVID-19.
Domino's also struck a cautious tone on its global growth prospects. The pizza powerhouse, which currently has 17,000+ global locations, said it may not be able to achieve its previously stated goal of 25,000 stores by 2025. CFO Stu Levy said, "We believe the pandemic has had a net negative impact on store openings globally in part due to government restrictions as well as general permitting and construction delays."
This is Temporary
The good news is that none of this changes the long-term thesis on Domino's.
Earnings are still solid, and post-pandemic, there is every reason to believe that margins will go back up.
As for the global expansion, Domino's made it clear on the Q3 call that "this is a timing as opposed to a capacity matter."
The important thing is that Domino's growth drivers remain in place.
It's easy to look at Domino's Q3 release and the subsequent reactions, and miss the forest for the trees.
But Domino's online operations and menu updates have been growth drivers, and Q3 showed that they will continue to be.
Domino's is a Digital Leader
Digital capability has been the biggest difference between the haves and the have-nots of 2020. Domino's is certainly in the haves category, as prior the pandemic, Domino's had spent years cultivating its digital presence. Now, 75% of US sales are digital.
Domino's hasn't had much difficulty satisfying customers' desires for a contactless experience, and its "carside delivery has been overwhelmingly embraced by our franchisees and is available today in over 95% of our US stores."
Most restaurants have gotten whacked in 2020, but companies like Domino's and Chipotle (NYSE:) have bucked the trend by increasingly turning to digital.
Domino's is Updating Its Menu
Domino's understands that competition is fierce in the restaurant's industry, and stays ahead of competitors by constantly updating its menu.
Over the summer, Domino's launched chicken wings with improved sauces, cheeseburger pizza, and chicken taco pizza. On the Q3 call, CEO Ritch Allison noted, "Customer feedback thus far has been very positive on these new products."
Pizza is what Domino's is most famous for, but sandwiches, pasta, and desserts are also responsible for a good piece of the revenue pie.
The Valuation is Reasonable
Domino's shares are trading at a forward P/E of 31.6, which is on the high side, but reasonable when you consider the company's growth prospects.
The company is projected to see mid-single-digit sales growth for at least the next few years, and quite possibly well into the 2020s.
The current dividend, at less than 1%, is nothing to get excited about. But Domino's has been aggressively increasing its dividend over the past seven years and its payout ratio remains very low. Of course, Domino's should use its retained earnings to fund business growth at this stage, first and foremost. But the company seems to be balancing these objectives quite well.
The Final Word
I've spent a lot of time spelling out the thesis for a long-term play on Domino's, but here's a reason to get in sooner than later:
As coronavirus cases increase in many parts of the country, and winter approaches, consumers are going to be even more hesitant to eat out. Domino's competitive advantages in digital will become even more pronounced in that climate.
With both Q4 and the company's long-term future looking bright, Domino's post-earnings dip is a great opportunity to get into a long-term winner.