Yesterday pulled back and closed the gap on the monthly chart, but not the gap on the daily chart. Yesterday closed on its high, and it is a High 1 buy signal bar for today, just below Tuesday's all-time high. Today will probably trade above yesterday's high to trigger the buy signal.
However, with most days for over a month having intraday reversals, traders will look for at least one reversal today. Therefore, the odds are against a big bull day today, despite a High 1 buy signal on the daily chart.
Can today be a bear day? Yesterday was a bull channel on the 5-minute chart and a bull channel is a bear flag. But even if the bears get a break below the channel, traders will expect a lot of trading range trading, like most days for over a month.
If there is an early series of strong trend bars up or down, traders will look for a trend. However, they know the odds are that it will not last all day.
Overnight E-mini Globex trading
The is down a couple points in the Globex session. If the day session opens around here, traders will expect that today will go above yesterday's high. That would trigger the High 1 bull flag buy signal on the daily chart.
But because yesterday was in a bull channel, there should be a swing down at some point today. Bull channels can sometimes last 2 to 3-days, but most do not. A bull channel usually evolves into a trading range, and that requires a break below the bull trend line. Therefore, there will probably be at least a couple hours of sideways to down trading today.
However, remember that most days for over a month have had swings up and down. Therefore, traders will expect that again today, even if there is a trend up or down on the open.
Yesterday's setups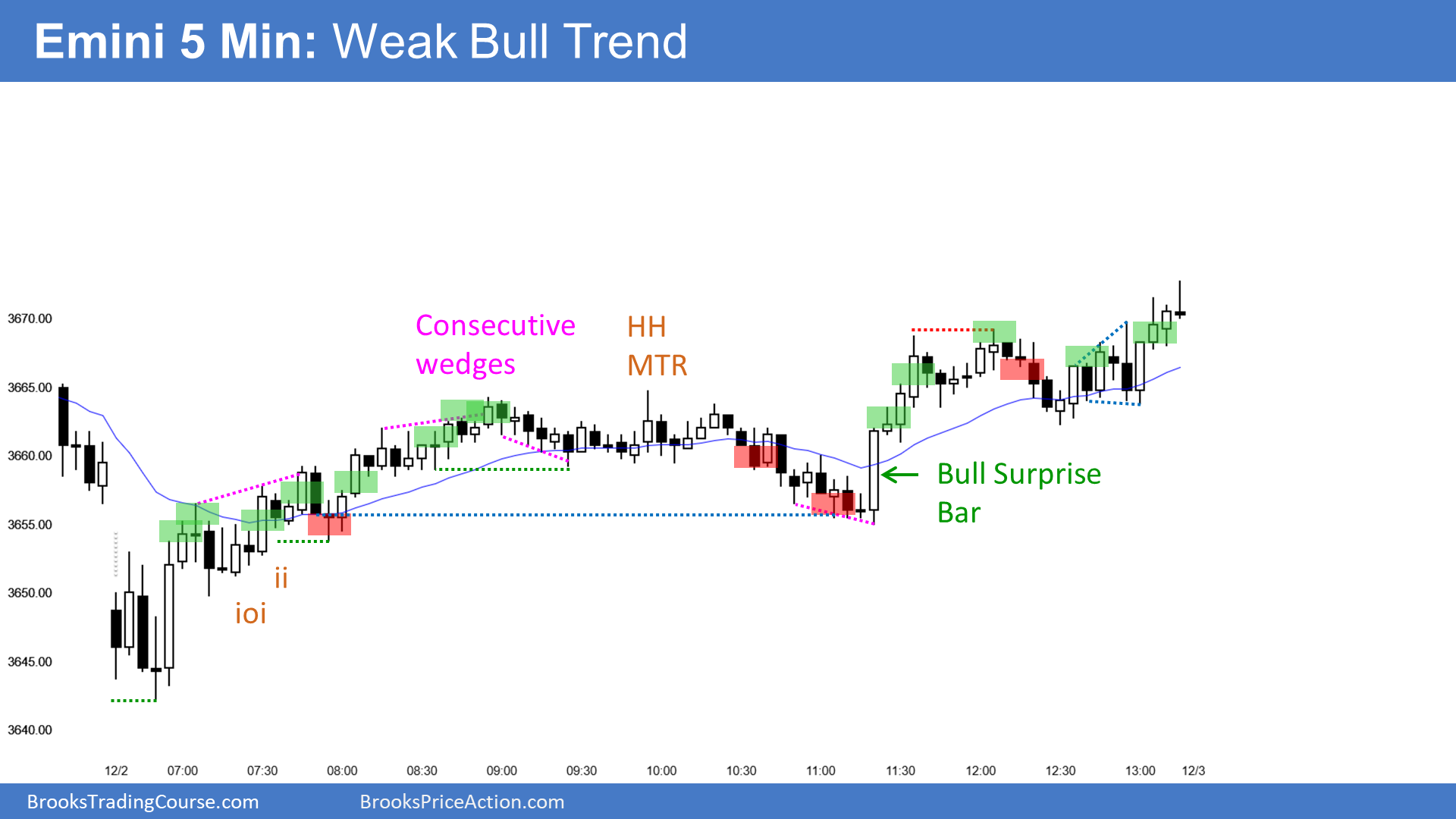 Here are several reasonable stop entry setups from yesterday. I show each buy entry with a green rectangle and each sell entry with a red rectangle. Buyers of both the Brooks Trading Course and Encyclopedia of Chart Patterns have access to a much more detailed explanation of the swing trades for each day (see Online Course/BTC Daily Setups).
My goal with these charts is to present an Always In perspective. If a trader was trying to be Always In or nearly Always In a position all day, and he was not currently in the market, these entries would be logical times for him to enter.
If the risk is too big for your account, you should wait for trades with less risk or trade an alternative market like the Micro Emini.