The has been sideways for 5 days. Traders are deciding if the selloff has gone far enough or it the cash index has to fall a little more to its February high before the buyers will return. Less likely, the E-mini has begun a bear trend from a double top.
If there was a reversal up from below Tuesday's low, there would be a micro wedge bottom on the daily chart. Also, the cash index might be down at its February high. That would attract buyers.
A market has inertia. It tends to continue what it has been doing. Therefore, traders today will expect a lot of trading range price action on the 5-minute chart. That means at least one leg up and one leg down.
The E-mini is in Breakout Mode on the daily chart. While traders expect this selloff to end within a few days and for the rally of 2 weeks ago to resume,
they know that there could instead be a bear breakout below the micro wedge bull flag. They therefore will be willing to swing trade up or down if there is a strong breakout with follow-through. Remember, the cash index might have to fall another 50 points to test its February high. If it does, the E-mini will also fall about 50 points.
Overnight E-mini Globex Trading
The E-mini overnight sold off to below Tuesday's low. If it reverses up from here, there would be a micro wedge on the Globex chart.
The bulls would have a stronger buy setup if the day session dips below Tuesday's low and then reverses up. That would create a micro wedge on the day session chart as well.
The past 2 days were doji bars on the daily chart. A doji is neutral. It means that the Emini went up and down, but closed where it started.
With traders wondering if there will be a stimulus package before the election and with the uncertainty about tonight's US presidential debate, there are fundamental reasons why the E-mini might have a lot of trading range trading again today. Coming into the day, day traders expect trading range price action. But if there is a strong, sustained move up or down, they will change to trend trading.
Yesterday's Setups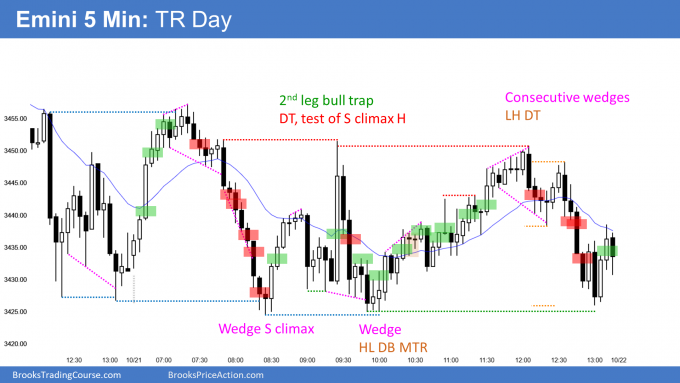 Here are several reasonable stop entry setups from yesterday. I show each buy entry with a green rectangle and each sell entry with a red rectangle. I rarely also show limit order entries and entries on the close of bars. I do not want the lines to be distracting. If they are longer, I make them dotted. But, they have to be visible, so I make the shorter ones solid. Buyers of both the Brooks Trading Course and Encyclopedia of Chart Patterns have access to a much more detailed explanation of the swing trades for each day (see Online Course/BTC Daily Setups).
My goal with these charts is to present an Always In perspective. If a trader was trying to be Always In or nearly Always In a position all day, and he was not currently in the market, these entries would be logical times for him to enter.
If the risk is too big for your account, you should wait for trades with less risk or trade an alternative market like the Micro Emini.