The reversed up yesterday from below Wednesday's low to above its high. Yesterday was therefore an outside up day near the bottom of its 3-month range. It is a minor buy signal bar for today. But because it had a big tail on top, it is a weak buy setup. This makes sideways more likely than a big bull day.
Even if the bulls get a rally today, it would be coming after a strong 4-day selloff. The bears will probably sell a 1 to 2-day bounce.
Final trading day of the month
This week has been all about the monthly chart. Today is the last trading day of the month. October is an inside bar on the monthly chart, and it followed an outside bar in September. There is now an ioi Breakout Mode pattern.
The bulls want a big bull day today so that the month closes above the open. There would then be a bull body for October. That would increase the chance that November might trade above the October high. But with the E-mini down 30 points in the Globex session, the open of the month is 100 points higher. Today will probably not get there. October should end up with a bear body.
Since the ioi is forming at the top of a 3-year trading range, the odds are slightly greater for a reversal down than a resumption up. The more bearish October is, the more likely November will trade below the October.
But even if the E-mini does trade down, the best the bears will probably get is a 1 to 2-month pullback to the middle of the yearlong range. This is not a major top formation, given how strong the summer rally was.
What about the US election?
Who cares? The president is not important when it comes to the stock market. Conventional wisdom is that republicans are better. But look at the huge rallies during Clinton and Obama and compare them to the sideways trading under Bush and Trump. It's the Fed, not the president.
Overnight E-mini Globex trading
The E-mini is down 31 points in the Globex session. But it will still open within yesterday's range. Yesterday was a big outside day. The day after a big outside day tends to be a 3rd mostly sideways day. There should therefore be buyers around yesterday's low. That includes below yesterday's low, if today breaks below it. But there will also be sellers around yesterday's high, which is now the top of a 2-day trading range.
While today is likely to mostly overlap yesterday, yesterday was huge. Therefore, the legs up and down today should be big enough for swing trading. But because of the increased chance of a trading range day, traders should look for reversals after every 1 to 3-hour leg up or down.
Any day can become a trend day. Therefore, a leg up or down can last all day. As I said, the legs should be big enough for swing trades. If a swing lasts all day, day traders will swing trade in that direction all day.
Yesterday's setups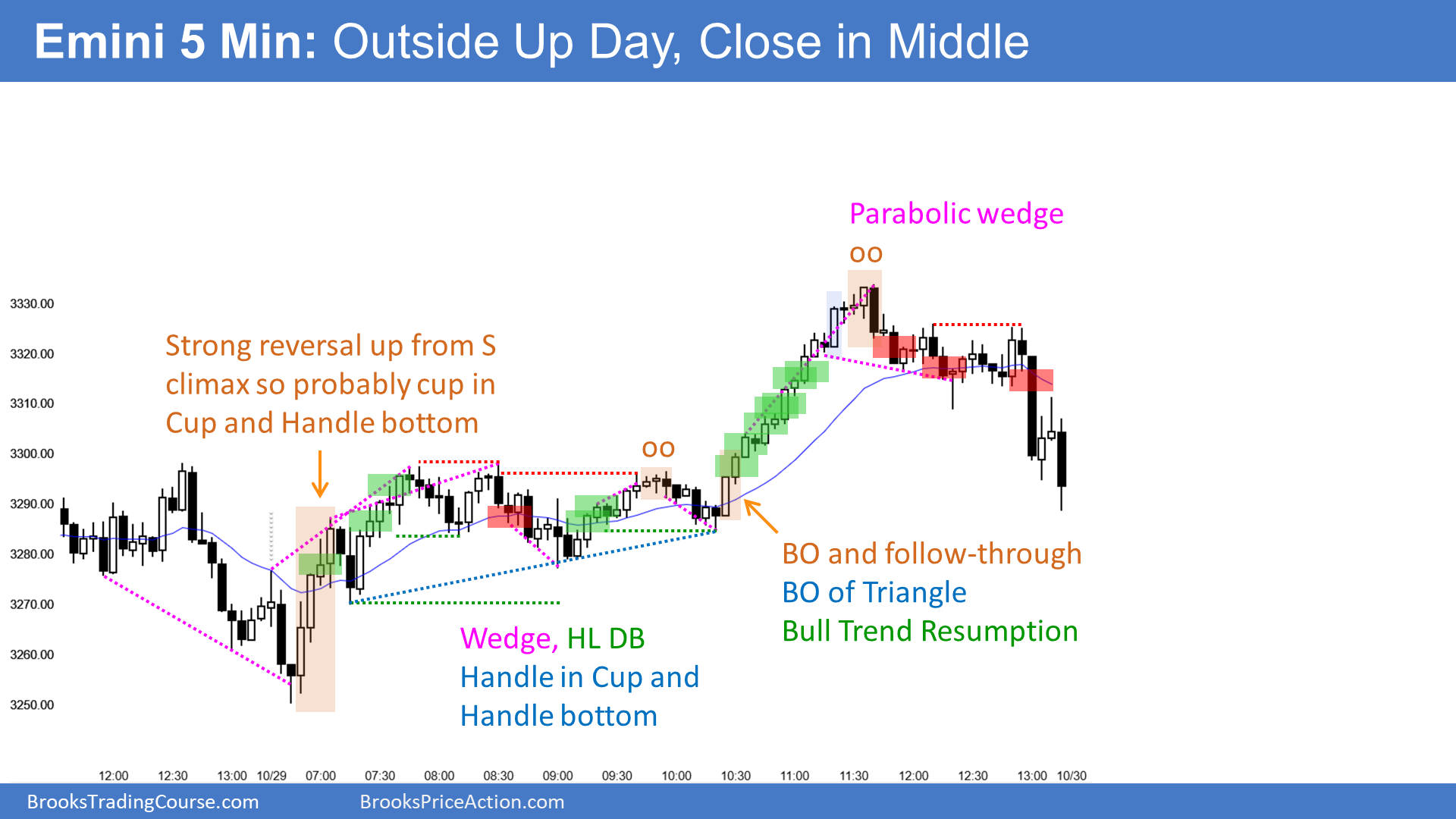 Here are several reasonable stop entry setups from yesterday. I show each buy entry with a green rectangle and each sell entry with a red rectangle. I rarely also show limit order entries and entries on the close of bars. I do not want the lines to be distracting. If they are longer, I make them dotted. But, they have to be visible, so I make the shorter ones solid. Buyers of both the Brooks Trading Course and Encyclopedia of Chart Patterns have access to a much more detailed explanation of the swing trades for each day (see Online Course/BTC Daily Setups).
My goal with these charts is to present an Always In perspective. If a trader was trying to be Always In or nearly Always In a position all day, and he was not currently in the market, these entries would be logical times for him to enter.
If the risk is too big for your account, you should wait for trades with less risk or trade an alternative market like the Micro Emini.