11-bar bull micro channel (every low at or above low of prior day).
60-minute chart has 69 bars above EMA so buy climax.
Both are unusual and therefore unsustainable and buy climaxes.
Should get a pullback this week.
Since strong bull trend, bulls will buy the first pullback.
But, resumption up from first pullback in buy climax usually does not get far before the market enters a trading range.
Therefore, higher prices likely, but will probably convert into a trading range at some point in July.
E-mini 5-minute chart and what to expect today
is down 2 points in the overnight Globex session.
Because of the streaks on the daily and 60-minute charts, should get pullback today or tomorrow.
The pullback could be a big bear trend day, or the E-mini might just go slightly down for a couple days. However, the odds are against a third consecutive big bull trend day.
5-minute and daily charts might contain Monday's trading for the first couple hours today. However, if you then refresh your data, those bars usually will disappear.
Last Friday's E-mini setups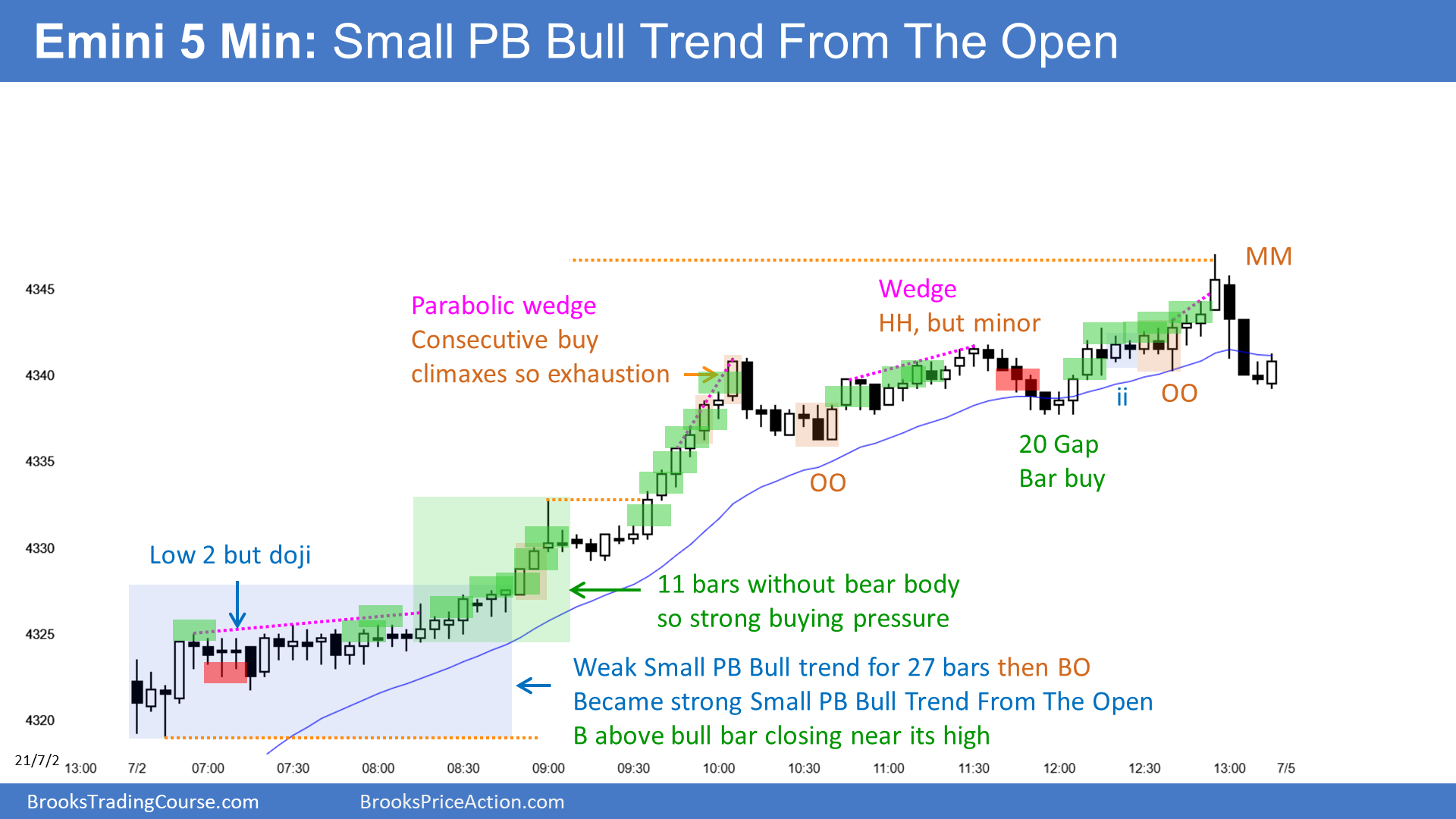 Above is the version that I post every day. Because I often get questions about what subscribers to Daily Setups see, today I am including the example below of that version.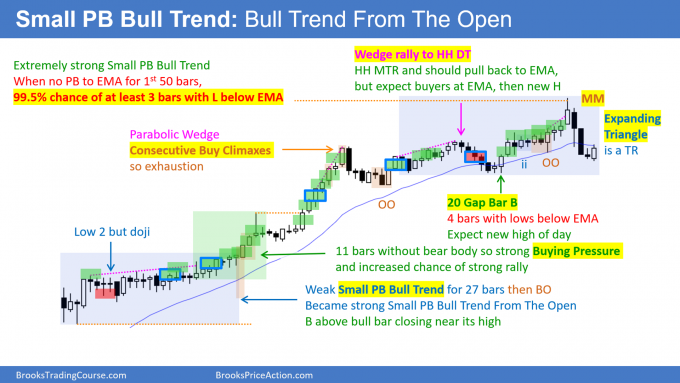 –
Here are several reasonable stop entry setups from Friday (before US holiday weekend). I show each buy entry with a green rectangle and each sell entry with a red rectangle. Buyers of both the Brooks Trading Course and Encyclopedia of Chart Patterns have access to a much more detailed explanation of the swing trades for each day (see Online Course/BTC Daily Setups).
My goal with these charts is to present an Always In perspective. If a trader was trying to be Always In or nearly Always In a position all day, and he was not currently in the market, these entries would be logical times for him to enter. These therefore are swing entries. 
It is important to understand that most swing setups do not lead to swing trades. As soon as traders are disappointed, many exit. Those who exit prefer to get out with a small profit (scalp), but often have to exit with a small loss. 
If the risk is too big for your account, you should wait for trades with less risk or trade an alternative market like the Micro E-mini.