The number of unique users has tripled since December 2020.
DeFi adoption is showing no sign of slowing down, as the total number of unique addresses hits 3 million.
DeFi Continues to See Exponential Growth
According to data from Dune Analytics, the total number of unique addresses interacting with DeFi has passed 3 million. As of Jul. 13, the analytics tool found 3,004,620 addresses using at least one of the 24 applications tracked by the platform.
A dashboard compiled by crypto enthusiast Richard Chen tracks a range of -native protocols to find the total number of unique wallets interacting with the ecosystem. Established favorites like , , , , and Balancer (BAL) are tracked on the dashboard.
Ethereum's top decentralized exchange, Uniswap, came in as the most popular DeFi protocol by far, with over 2.3 million unique addresses. Compound, a decentralized money market, is currently placed second, racking up 325,000 addresses since launch.
Despite a market-wide drawdown in May, DeFi use has continued to see exponential growth. It took approximately 11 months for the number of unique addresses to grow from 100,000 to one million, yet subsequent growth is happening at faster intervals. As Messari Research Analyst Mason Nystrom pointed out on Twitter, the move from 1 to 2 million took 142 days, whereas the jump from 2 to 3 million clocked in at only 78 days.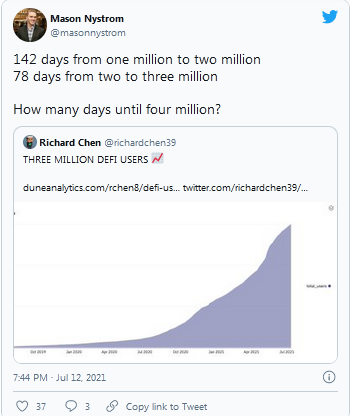 Mason Nystrom Tweet
While 3 million unique addresses is a significant milestone, it's important to note that many users operate multiple addresses. Therefore, the real number of unique users is likely lower than the number of active addresses.
Over the last month, several so-called DeFi "blue chips" such as Synthetix and Compound have surged in value following faster adoption and new product launches. As the space heats up, many will be hoping for a repeat of last year's DeFi summer.