EUR/USD is showing limited movement on Thursday. Currently, is trading at 1.1904, down 0.07% on the day. With U.S. markets closed for the Thanksgiving holiday, we can expect a quiet North American session.
Euro Closing In On 1.20 Level
Unlike some of the other major currencies, the euro hasn't posted sharp gains this week against the struggling U.S. dollar. Slowly but surely, however, the pesky euro has moved within striking distance of the 1.20 level, which has psychological importance.
The euro hasn't been this strong since early September, but it should be noted that this upswing is more a case of U.S. dollar weakness, rather than euro robustness. The eurozone economy remains in slow gear as the COVID pandemic continues to wreak havoc on the bloc. The German locomotive, which was usually the go-to to boost the eurozone, is suffering from worsening economic conditions. There was another reminder of Germany's woes on Thursday, as slipped to -6.7 in November, down from 3.1 beforehand. The index has been mired in negative territory, which indicates pessimism, since April, when the COVID pandemic began to spread in Europe.
The European Central Bank minutes presented a rather glum picture of the economy, noting that headline inflation would likely remain negative into early 2021, which was more pessimistic than the September forecast. The minutes acknowledged that growth had rebounded in the third quarter, but added that the most recent data supported the view that the recovery was losing steam and there were clear risks to GDP in Q4, such as plans for further lockdowns. The ECB holds its next policy meeting in two weeks and is widely expected to implement further easing, which could weigh on the euro.
EUR/USD Technical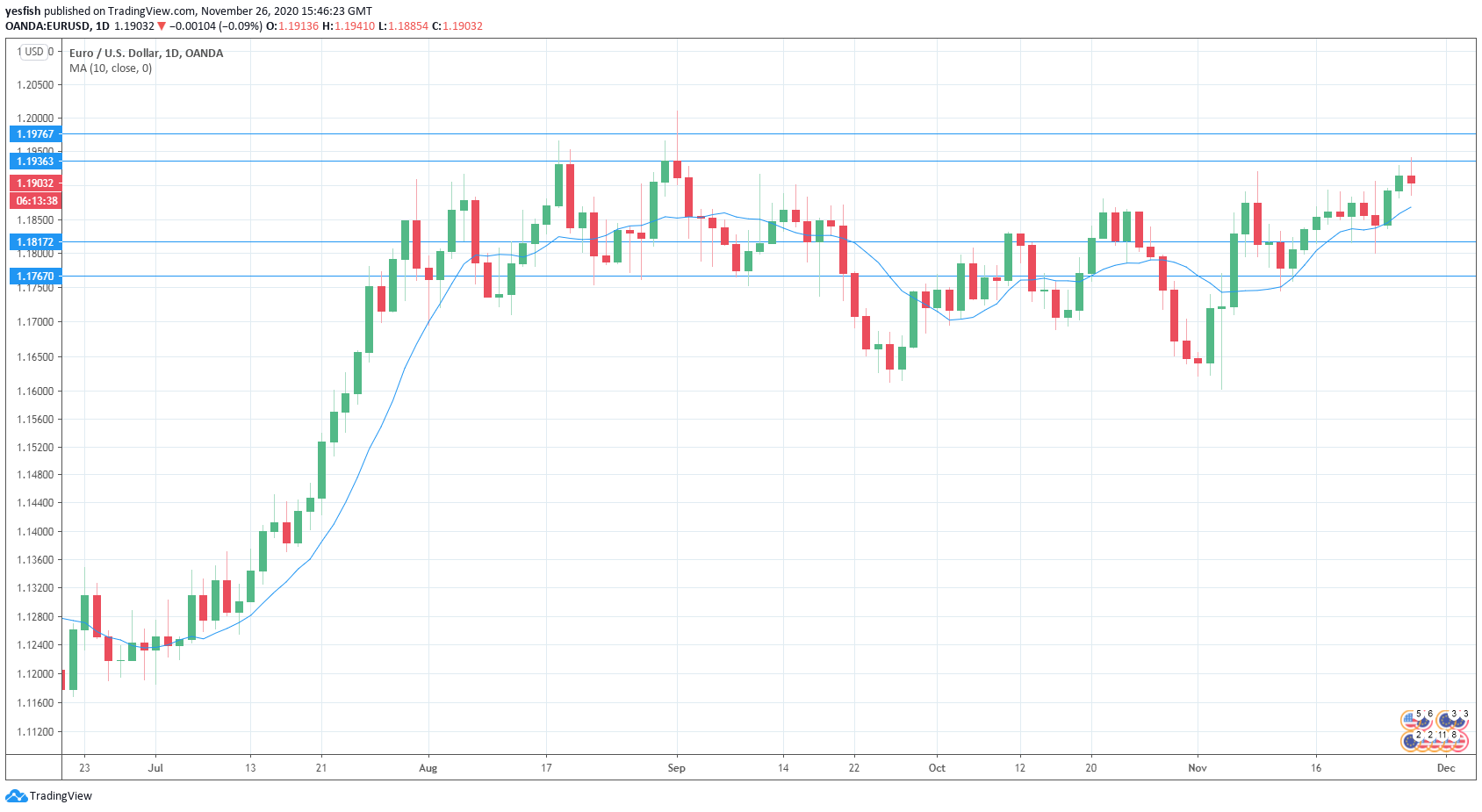 There is resistance at 1.1936. Above, the next resistance line is at 1.1977
There is support for the pair at 1.1817, followed by a support line at 1.1776
EUR/USD easily broke above the 10-day MA line earlier in the week, which is a signal of an uptrend
This article is for general information purposes only. It is not investment advice or a solution to buy or sell securities. Opinions are the authors; not necessarily that of OANDA Corporation or any of its affiliates, subsidiaries, officers or directors. Leveraged trading is high risk and not suitable for all. You could lose all of your deposited funds.