The Forex market on the daily chart pulled back yesterday from a test of the Sept. 21 sell climax high. By going below yesterday's low, EUR/USD triggered a sell signal overnight. However, it reversed up sharply.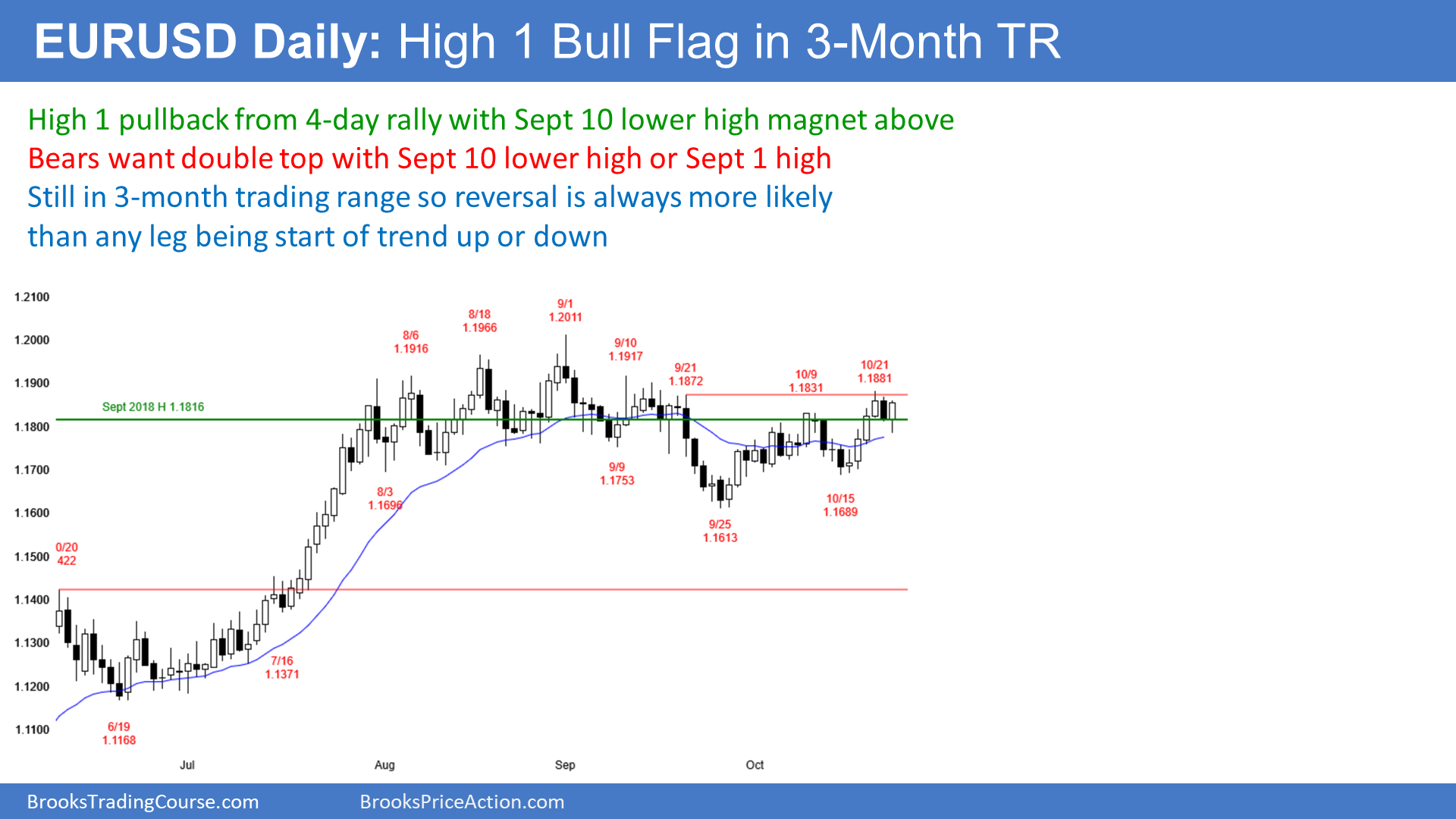 The Sept. 10 lower high is a magnet above. Traders expect the EUR/USD to get there today or early next week. But as strong as the month-long rally has been, traders know that you have to look at all of the bars on the chart. Unless the rally breaks strongly above the Sept. 1 high, the EUR/USD is still in a three-month trading range.
In a trading range, there are many strong legs up and down. But traders know that reversals are more likely than a successful breakout.
Consequently, next week will be important. Will the bulls be able to break above the September 1 top of the range? The odds favor a reversal down, but if the bulls get a couple closes above the September high, traders will look for the rally to continue to the February 2018 high around 1.25.
Overnight EURUSD Forex trading
The 5-minute chart of the EUR/USD Forex market reversed up strongly overnight from below yesterday's low. It is now near yesterday's high. The rally has been strong enough to continue to above yesterday's high. Today, would then be an outside up day on the daily chart. That would increase the chance of at least slightly higher prices next week.
The overnight rally has been strong. Day traders have only been buying. However, the EUR/USD is now just below yesterday's high and the Sept. 21 high, which are resistance. Also, there have been several small pullbacks in the past few hours.
The 5-minute chart might transition into a trading range around yesterday's high. But day traders will not buy until there is a 20- to 30-pip pullback. At that point, they will also begin to sell reversals down from the top of the developing range.
Can the EUR/USD continue up much higher today? Probably not. It raced up to resistance and it has been stalling. Also, the day's range is already about as big as most recent days. It is therefore more likely that it will be sideways to up for the remainder of the day.