is showing little movement in the Tuesday session. Currently, the pair is trading at 1.1360, up 0.04% on the day. In economic news, German GfK Consumer Confidence remained steady, with a second straight gain of 10.8 points. It's a busy day in the United States. We'll get a look at construction and manufacturing data, as well as CB Consumer Confidence. All eyes will be on Fed Chair Jerome Powell, who will testify before the Senate Banking Committee. On Wednesday, Powell speaks before the House Financial Services Committee.
The markets are full of optimism that trade tensions between the U.S. and China are easing. The parties concluded a fourth round of talks last week and President Trump has said that the U.S. will not impose new tariffs on China on March 1, crediting "substantial progress" in the negotiations. There is even talk of a meeting between Trump and Chinese President Xi at the end of March, if an agreement is reached. However, investors may want to keep the champagne bottles on ice for a while longer. With almost no news about the substance of the talks, it remains unclear if China will agree to substantial structural changes in trade, as demanded by the United States. Another question mark is whether the current set of tariffs will be completely removed if a deal is reached. If not, market enthusiasm could evaporate, as the tariffs have caused enormous turmoil in international trade and dampened global growth. Still, if the sides reach a deal, it would be positive news for the hard-hit eurozone manufacturing sector and could trigger gains for the
The Federal Reserve will be back in the spotlight this week, as Fed Chair Jerome testifies before congressional committees on Tuesday and Wednesday. The Fed has been decidedly dovish early in 2019, in sharp contrast to 2018, when the Fed raised four times in order to keep the red-hot U.S. economy from overheating. However, the global trade war has taken a bite out of global growth, and the U.S. economy is unlikely to repeat last year's performance. The markets will be listening closely for hints regarding future interest rate policy.
EUR/USD Fundamentals
Tuesday (February 26)
2:00 German GfK Consumer Climate. Estimate 10.8. Actual 10.8
9:45 Fed Chair Powell Testifies
10:00 US CB Consumer Confidence. Estimate 124.8
Wednesday (February 27)
10:00 Fed Chair Powell Testifies
*All release times are EST
*Key events are in bold
EUR/USD for Tuesday, February 26, 2019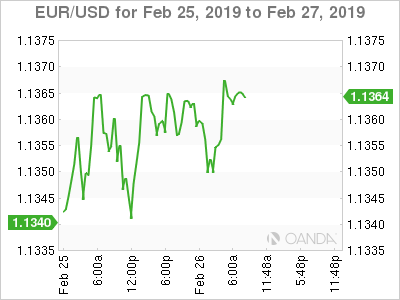 EUR/USD for February 26 at 5:40 EST
Open: 1.1357 High: 1.1368 Low: 1.1346 Close: 1.1360
EUR/USD Technical
| | | | | | |
| --- | --- | --- | --- | --- | --- |
| S1 | S2 | S1 | R1 | R2 | R3 |
| 1.1120 | 1.1212 | 1.1300 | 1.1434 | 1.1553 | 1.1685 |
EUR/USD posted limited movement in the Asian session. The pair ticked lower in European trade but has recovered
1.1300 is providing support
1.1434 is the next resistance line
Current range: 1.1300 to 1.1434
Further levels in both directions:
Below: 1.1300, 1.1212, 1.1120 and 1.1046
Above: 1.1434, 1.1553 and 1.1685