The on the daily chart formed a big bull trend bar yesterday, and it closed far above the top of the 4-month trading range. The bulls hope that it will lead to a 400-pip measured move up and a test of the February 2018 high at around 1.25.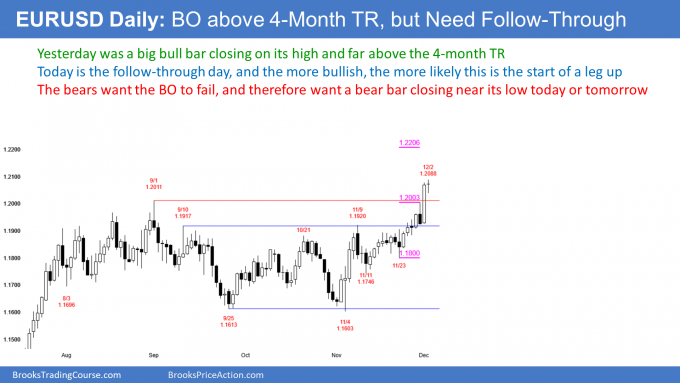 The day after a breakout is important since all strong breakouts fail at least 40% of the time. If today is a 2nd consecutive big bull day closing on its high, traders will expect the rally to reach that February 2018 high. So far, today is a small day that is trading around the open. It is therefore a doji bar on the daily chart. The odds of higher prices will continue to be better than 50% if today does not have a bear body. If today is a big bear day closing on its low, this breakout will probably fail.
What happens most often is a follow-through bar that is somewhat neutral. That means a bar that is not strongly bullish or bearish. If that is the case, it will favor higher prices. But it will be less certain than if today is a big bull trend day.
Overnight EUR/USD Forex trading
The 5-minute chart of the EUR/USD Forex market overnight rallied a little, sold off a little, and is now back around the open. So far, it is a trading range day. Day traders are scalping in both directions.
While it is still possible that today could be a big trend day up or down, it probably will not be. But with yesterday as bullish as it was, day traders, will probably have an easier time making money by buying. Unless the bears get a strong, sustained selloff, traders expect higher prices over the next several days.