Federal Reserve policymakers were forced to tread water in their last week, which came in the awkward interval between Americans casting their ballots in the presidential and congressional and the results being tabulated as pandemic-related mail-in voting delayed the count.
The consensus statement was little changed and Fed Chairman Jerome Powell could only say the economic outlook is "extraordinarily uncertain" while the rise in is "particularly concerning."
Falling Yields, Rising Stocks
Major media eventually called the election for Democratic challenger Joe Biden against President Donald Trump, but it seemed likely that Republicans would retain control of the Senate, making relief aid in the trillions of dollars less probable.
Republicans were also in line to narrow the Democratic majority in the House of Representatives anywhere from five to 10 seats, further limiting the Democrats' margin for maneuver even with Biden in the White House.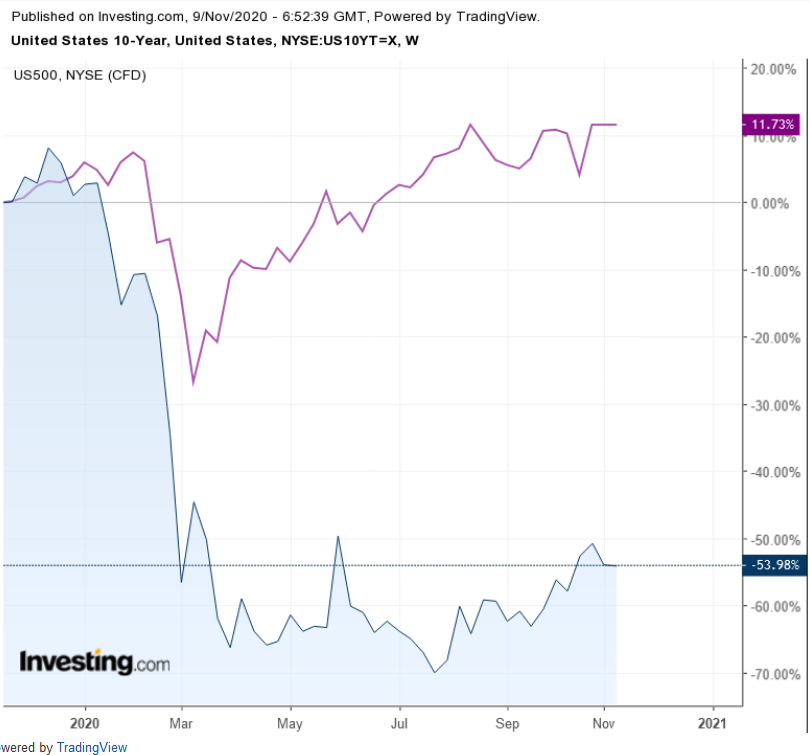 The failure of a "blue wave" to materialize in the form of a Democratic sweep on while in anticipation that a Biden administration would not get its planned tax increases through Congress.
There were no dissents from the voting members of the Federal Open Market Committee, with San Franciso Fed chief Mary Daly voting as an alternate for Minneapolis Fed President Neel Kashkari, whose second child was born on Tuesday. It was the first time an alternate has voted since 2018 and perhaps the first time ever a voting member missed a meeting for paternity leave.
Not that he missed much. Senate control will not be determined until Georgia has two runoff Senate votes Jan. 5, as the state was in the unusual position of electing two senators in the same year after Johnny Isakson resigned last year for health reasons. The state is also atypical in that it requires a runoff vote for the top two finishers when a candidate fails to win 50%, as happened both for the regular election and the simultaneous special election.
In the meantime, Fed policymakers meeting Dec. 15-16 will be feeling pressure to take up the slack from a fiscal stimulus that will be less than anticipated, even if the current Congress manages to pass something this year in its lame-duck session.
Journalists peppered Powell with questions in the following the FOMC meeting about further monetary accommodation, though the chairman fell back on his standard answer that the current policy is appropriate for the moment. He acknowledged that Fed asset purchases are fulfilling the dual function of keeping markets stable and supporting economic activity.
Powell also reiterated under questioning that the recovery so far has exceeded the Fed's gloomier scenarios, but he added, "We are a long way from our goals."
Fed officials have been badgering the administration and lawmakers to mount further relief, especially as the original payments to households have expired. "I don't know how we could be much more vocal than we have been," Powell said Thursday.
The chairman declined to be pinned down on a shift of asset purchases to longer-term securities, though that is widely expected by market participants, nor on the other parameters of the asset purchase program, such as size. He did concede, however, that "we may reach a view at some point that we need to do more on that front."