Shares of Hexo (NYSE:) (TSX:) continued to slide last week, even after the company released positive financial results for the privately held company, Redecan Pharm, which the cannabis grower announced it was buying earlier this year.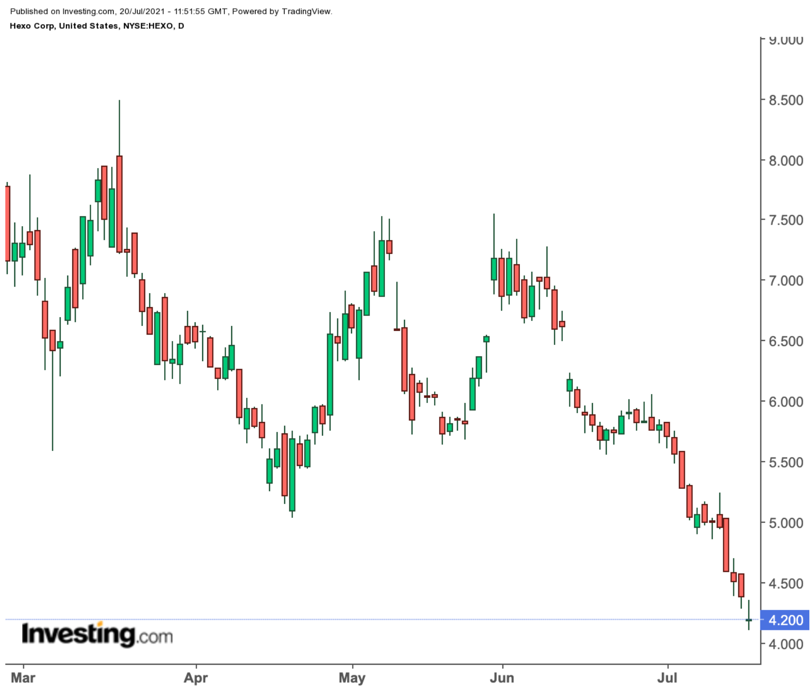 In May, Hexo announced it would buy Redecan, a Canadian-based cannabis producer, for C$925 million (US$725 million). The move was touted as another indication of the resurging consolidation in the cannabis sector in an effort to gain market share. It is also estimated the deal would make Hexo the third largest cannabis operator in Canada.
According to the figures released last week, Redecan posted C$73.6 million (US$57.8 million) in revenue in 2020. In the first quarter of 2021, the company generated C$24.7 million (US$19.4 million) in revenue, a jump of 146% compared with the same period the previous year. Net earnings for 2020 came in at $22.6 million.
But shares of Hexo, which opened at $4.94 on July 14, the day the figures were released, steadily marched downward for the rest of the week, closing yesterday in New York at $4.20, losing another 4% on the day. Shares of Hexo are up almost 51% in the last year, but have lost more than 40% since the beginning of 2021.
US Cannabis Legislation Underwhelms Markets
The long awaited US legislation that will pave the way to federal legalization of marijuana did very little to bolster cannabis stocks after it was finally unveiled last week.
A draft of the Cannabis Administration and Opportunity Act was introduced in the US Senate, but the stock market barely took notice.
The legislation is viewed as a comprehensive push to end federal prohibition of marijuana and allow regulated cannabis companies access to financial services.
At its base, the law would no longer list cannabis as a controlled substance and regulate the industry.
Now, the bill will be open to receive comments from the public until September.
But despite its much vaunted anticipation and being heralded as a game-changer for the cannabis sector, the main sponsor of the legislation, Senator Chuck Schumer, admitted last week that he doubts whether he has enough votes to get the bill through the Senate. But that did not dampen enthusiasm for the bill from industry executives on both sides of the Canada-US border.
Global Cannabis Index Regaining Momentum
The Global Cannabis Stock Index is showing a little momentum of late, gaining 14% so far in 2021.
In the early years of the legal cannabis industry, the index saw huge upswings, gaining almost 90% in 2016 and topping 90% in 2017. The next two years it registered heavy losses, dropping almost 55% in 2018 and just over 34% in 2019.
Last year, it reversed course, gaining a modest 5.2% in 2020. Now, the gains are accelerating.
The index includes 44 cannabis stocks.