The Home Depot (NYSE:) and HD Supply (NASDAQ:), which is one of the largest distributors of maintenance, repair and operations products in North America, have a relationship dating back to the late 1990s.
In 1997, Home Depot acquired Maintenance Warehouse, which went on to change its name to HD Supply in 2004. After spending $3.2 billion to acquire Hughes Supply and roll the company into HD Supply, Home Depot decided to part ways with HD Supply so it could raise capital to repurchase shares of Home Depot.
Home Depot sold HD Supply to a handful of private equity firms in 2007 who went on to take the company public in 2013.
Home Depot announced yesterday it would once again acquire HD Supply in a deal valued at approximately $8 billion. The $56 per share cash offer for HD Supply represents a premium of about 25% from Friday's closing price.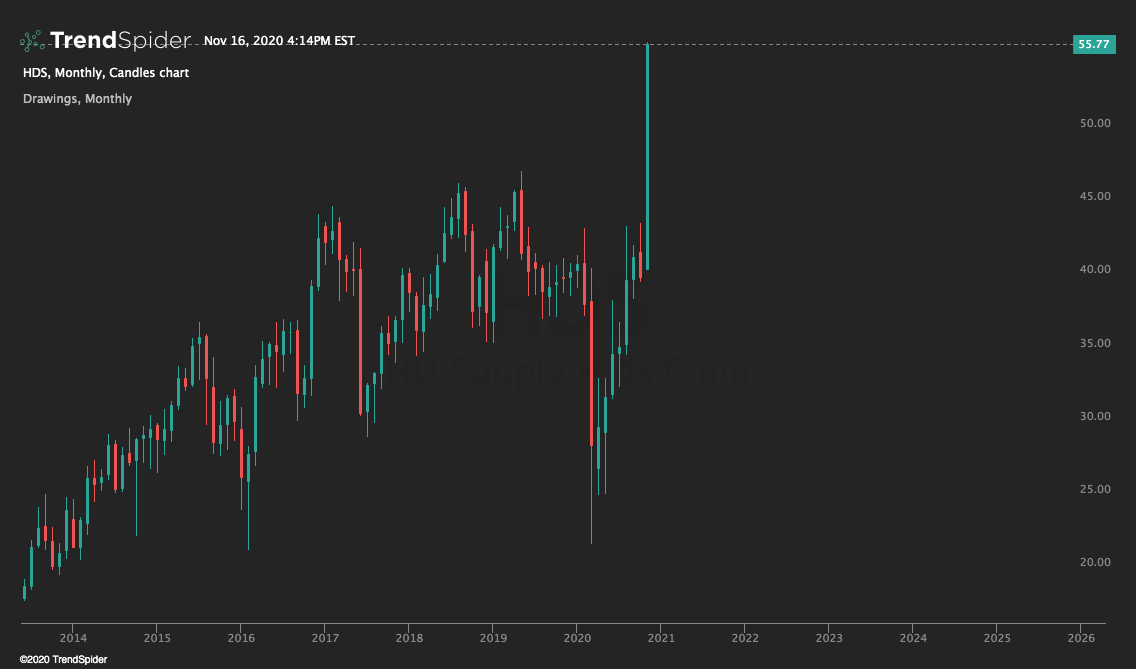 "The MRO customer is highly valued by The Home Depot, and this acquisition will position the company to accelerate sales growth by better serving both existing and new customers in a highly fragmented $55 billion marketplace," Home Depot chairman and CEO Craig Menear said.
"HD Supply complements our existing MRO business with a robust product offering and value-added service capabilities, an experienced salesforce that enhances the strong team we have in place, as well as an extensive, MRO-specific distribution network throughout the U.S. and Canada."
The deal will give Home Depot approximately 300,000 customers with leadership positions in the living space MRO sector as well as 44 distribution centers across 25 states and two Canadian provinces.
"We are confident that this will position both The Home Depot and HD Supply for continued growth and success in the MRO distribution space," HD Supply chairman and CEO Joe DeAngelo said.
The deal comes just a week after Home Depot's rival Lowe's had to deny reports that it was interested in acquiring HD Supply.
"Lowe's (NYSE:) is not in discussions with HD Supply and we have no plans to pursue a transaction with them," Lowe's said last week.
The move by Home Depot to acquire HD Supply should nonetheless help it remain competitive with Lowe's.