Welcome to October, a month that has a scary reputation among investors. Indeed, several of the biggest equity market crashes occurred in October.
For example, Black Monday, which happened on Oct. 19, 1987 is still talked about by veteran investors; a decade later, the economic crisis in Asia triggered the global crash of October 1997. In October 2007, markets reached historic highs at that time, only to be followed by the Great Recession of 2008-09.
Many also likely remember the down days of September 2008 and the crash of Sept. 29, when the  fell close to 800 points during intraday trading.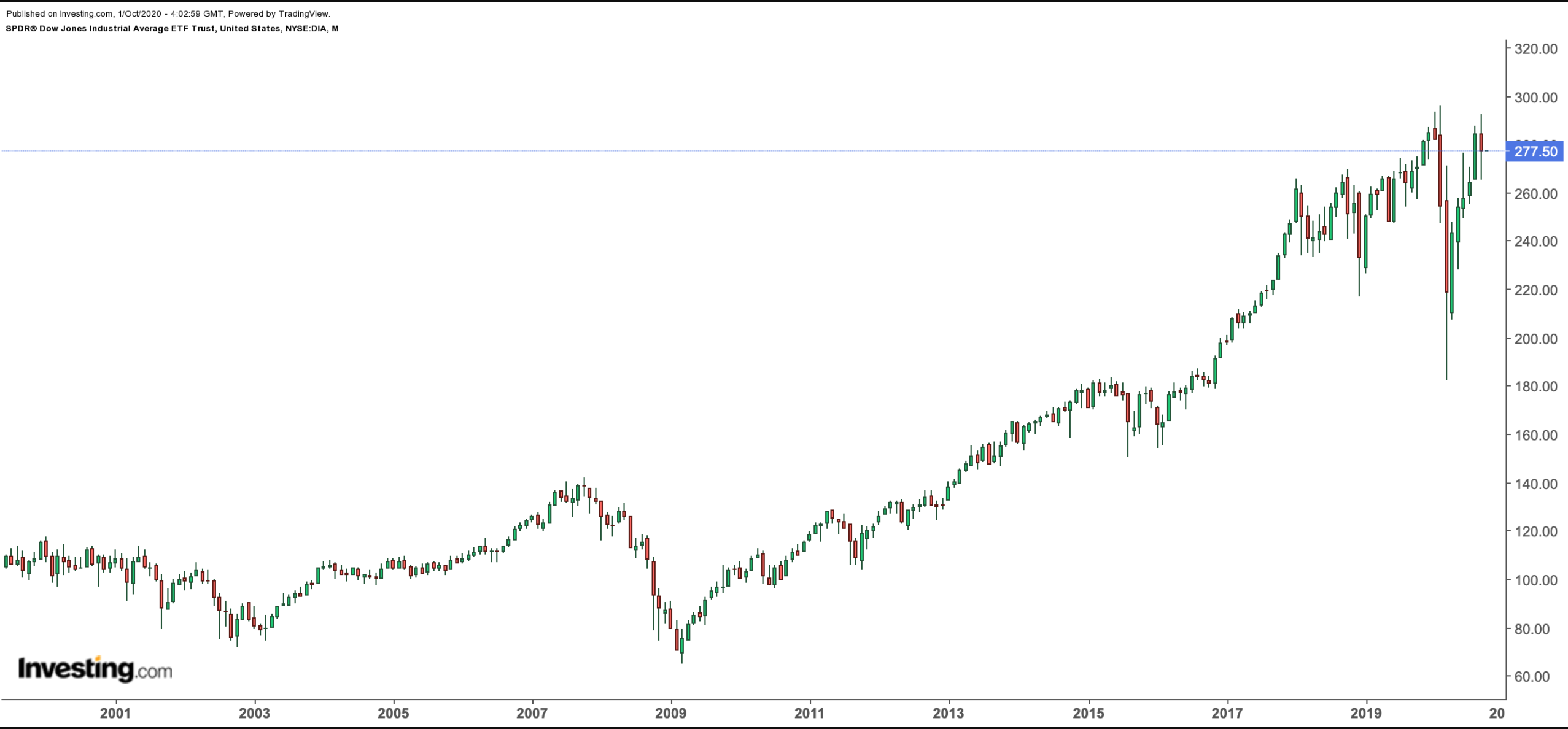 Afterward, in a matter of days, soared more than $900 an ounce, and went below $100.
The Great Recession was followed by a historic, decade-long bull market run, though 2018 became a year fraught with . Between October and December 2018, broader markets declined by double digits, only to recover by May 2019. Of course, we all know what a choppy year 2020 has been so far.
Could there be another momentous crash this month? Quite possible. There's a reason market participants refer to such calendar anamolies as the 'October Effect."
Should retail investors be nervous about an upcoming crash? Not if they are well diversified. Recently, we discussed ways to protect one's holdings in a .  We also looked at how to achieve diversification both in the  and if you're a investor.
Against this background, here are some ETFs that may pique investors' interest:
iShares Global Utilities ETF
Current Price: $56.13
52-Week Range: $41.43 – $64.27
Dividend Yield: 4.64%
Expense Ratio: 0.46%
The iShares Global Utilities ETF (NYSE:) provides exposure to global utility companies that supply electricity, gas and water.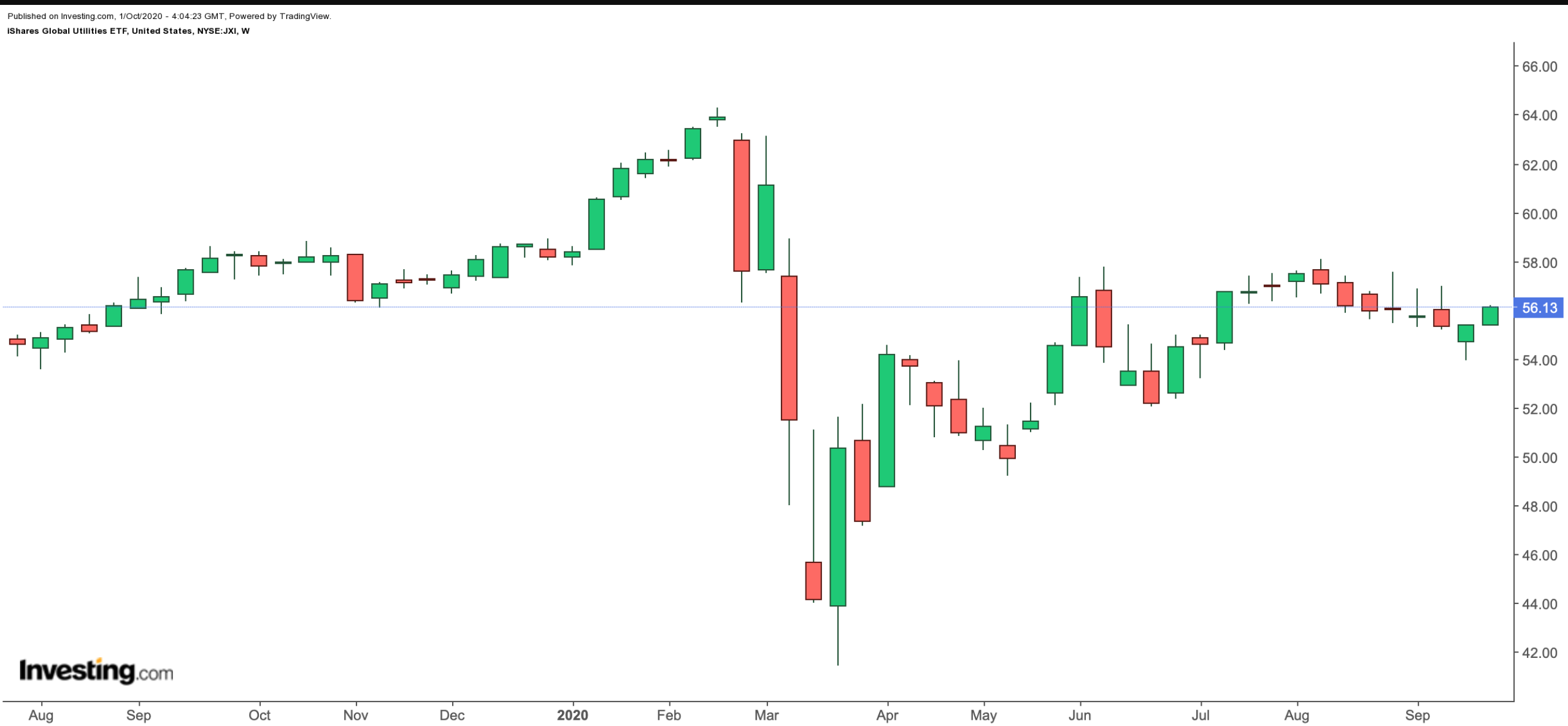 JXI, which has 66 holdings, tracks the S&P Global 1200 Utilities Sector index. Sector allocation (by weighting) is Electric Utilities (58.87%), Multi-Utilities (30.87%), Gas Utilities (5.96%), Water Utilities (2.86%) and Independent Power Producers & Energy Traders (0.73%). Cash and Derivatives comprise the rest of the fund whose net assets stand shy of $140 million.
The top 10 holdings constitute close to 45% of JXI. NextEra Energy (NYSE:), Iberdrola (OTC:) and Dominion Energy (NYSE:) top the list of companies in the fund. Around 60% of the companies come from the U.S., followed by Spain, Italy and the UK.
So far this year, JXI is down about 4.5%. Its trailing P/E and P/B ratios stand at 17.09 and 1.89, respectively.
We would look to buy the dips, especially if the price goes below $55. The defensive nature of the utility sector, coupled with the juicy dividend yield, makes it an attractive choice for the last quarter of the year. The fund's global nature would also enable U.S.-based investors to diversify internationally while volatility during the Presidential election season continues.
Bottom Line
Several factors in October could add to the current negative market mood. For starters, the increase in the number of global COVID-19 cases continues to make headlines. Secondly, the new earnings season, which is unlikely to offer much to cheer about, begins in a couple of days. Finally, the debates leading up to the U.S. Presidential election of Nov. 3 are likely to increase market choppiness.
No one truly knows what direction the economy or stocks will take in the coming weeks. We are mostly being driven by the conflicting emotions of greed and fear. However, portfolio diversification is a powerful tool long-term investors can utilize to avoid stomach-churning days in the financial markets.
In addition to the ETF discussed above, short-term traders who have experience with and/or ETFs might benefit from a fund such as the ProShares Short Dow30 ETF (NYSE:), which seeks to provide daily investment results that correspond to the inverse (-1x) of the daily performance of the DJIA. To achieve the desired inverse effect daily, fund managers hold derivative products—mostly futures and swap agreements.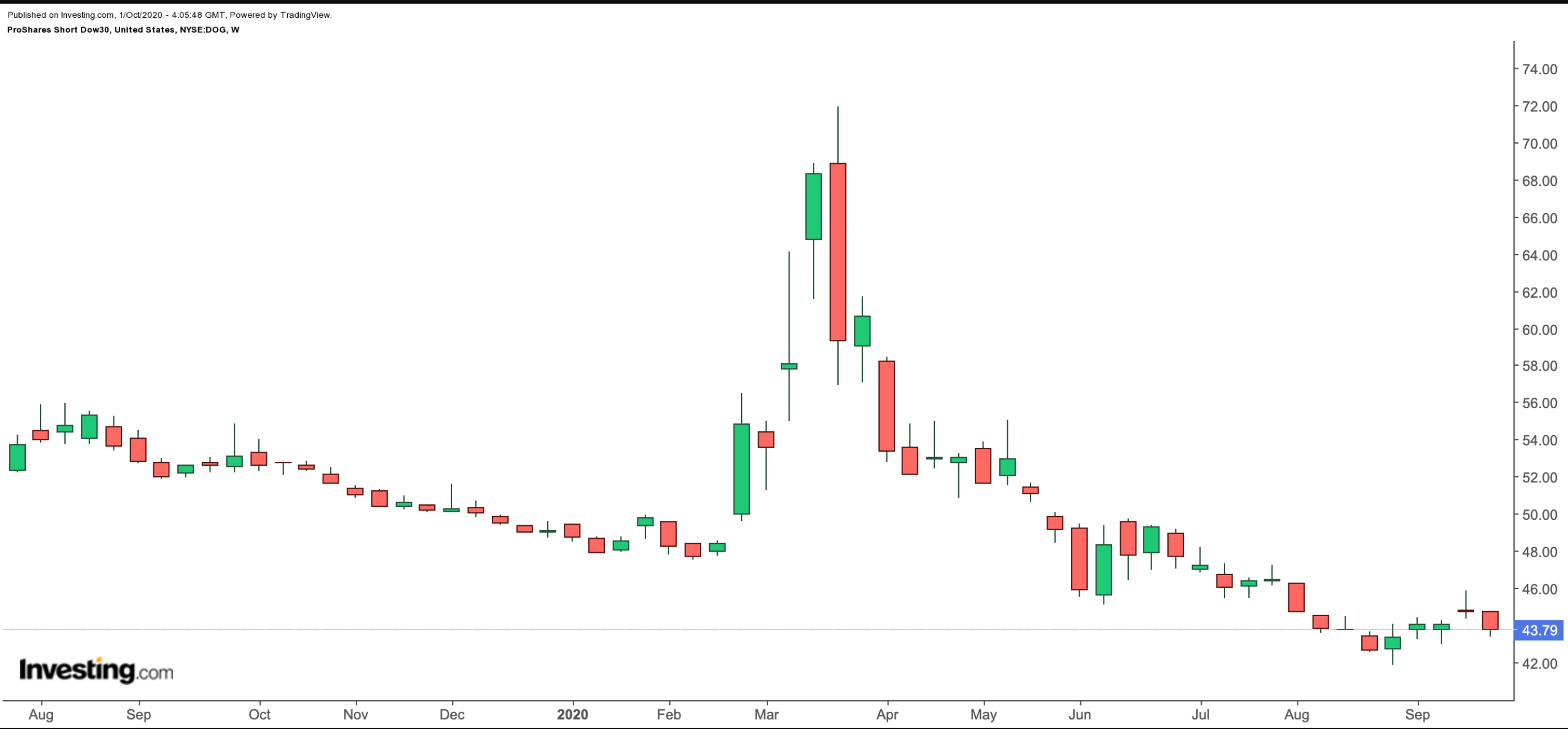 Like other inverse or leveraged funds, DOG can be an effective hedging product. However, it is not appropriate for long-term hedging.
Traders whose goal is to have a daily return equal to the inverse of the Dow's return may consider researching this ETF further. Traders would have to monitor portfolios and possibly rebalance positions to maintain the hedge appropriate for their portfolios.