Two weeks ago, I wondered if it was time to buy () via the Gray Scale Bitcoin Trust (OTC:).
I concluded, "odds are starting to increase a more significant low is forming for GBTC (and BTC). … As long as the instrument can stay above its 50-week Simple Moving Average (SMA, $10.22), it has a good chance of moving higher."
It was then trading at $11.01. It dipped to as low as $10.00 on Sept. 30, but it held the 50w SMA on a daily and weekly closing basis. Now, it is trading at $11.95. That is an 8% gain since I posted my article. So yes, I think it was an excellent time to buy, as odds were good, and on my private twitter trading feed, we rebought GBTC on Sept 30.
Figure 1: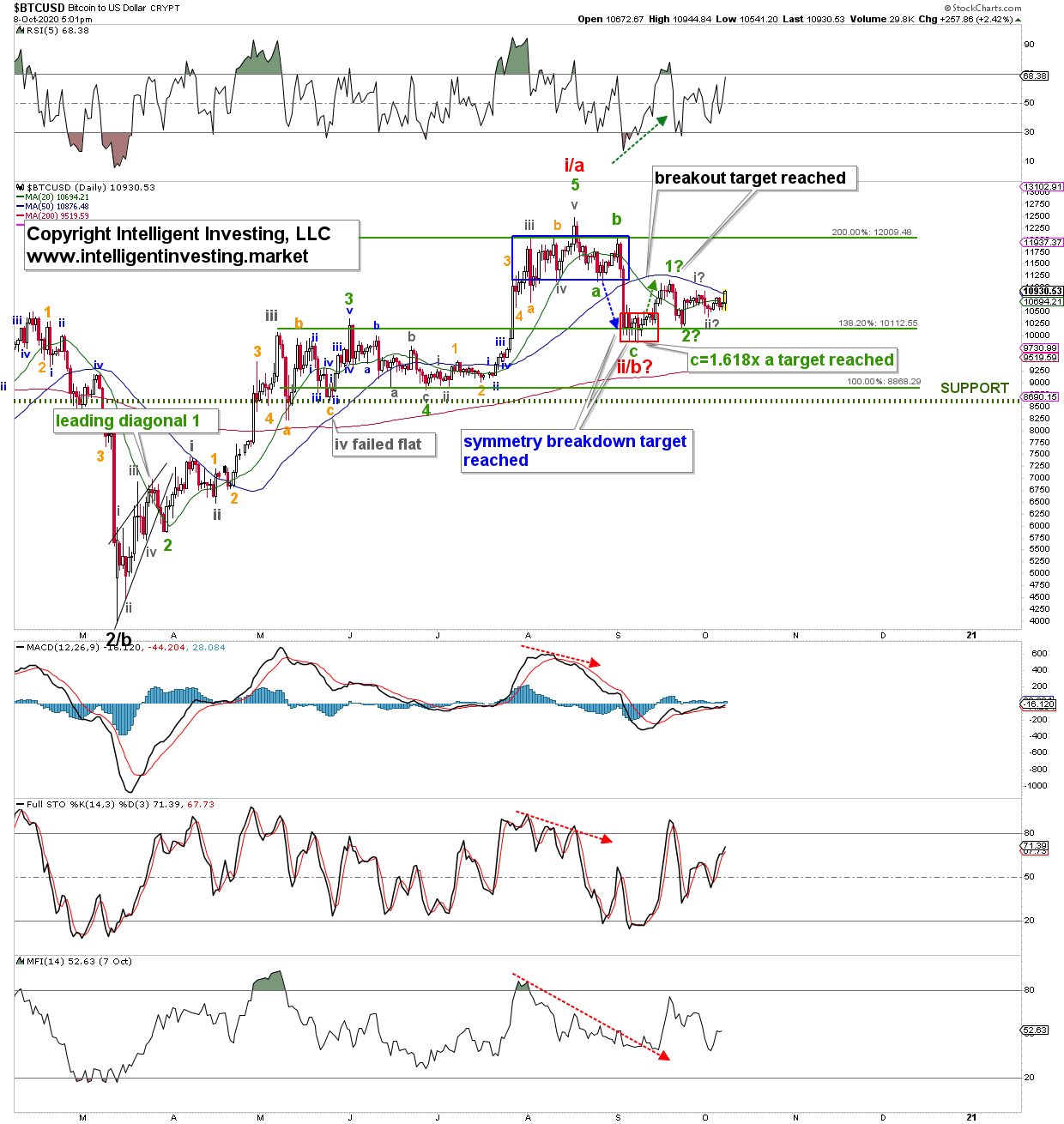 With that in mind, I would like to assess the actual cryptocurrency BTC in this update as I do daily for my premium BTC, GBTC members. The above chart shows my bullish Elliott Wave Principle (EWP) count. There was, and still is, also a bearish option, but since BTC is currently back above its 20-day and 50-day SMA, while all the technical indicators (TIs, like RSI5, MACD, FSTO, MFI14) are pointing up, and are on a buy, I (must) prefer the bullish option.
In the above chart, you can see my detailed EWP count has a major 2/b low in March and a (red) intermediate wave-i/a top in August. Note how green -minor- wave-3 and -5 of red a/i tagged the classic 138.20% and 200.00% Fib-extensions of wave-1, measured from wave-2. See the link on why that is classic: https://intelligentinvesting.market/elliott-wave-theory/ And note how wave-4 found support at the 100% extension, allowing for a classic 5=1 relationship. This is Elliott Wave combined at its finest.
BTC then bottomed in September for a classic (green) c=1.618x a relationship and a perfect symmetry breakdown (blue arrow = width of the blue box) to form ideally intermediate wave-ii/b. As you can see, symmetry is always essential, and why I use it to augment my EWP analyses with it. Since that low, the price action has been sideways up. A bit messy on the smaller time frame as it gyrated around the 20d SMA, while unable to reclaim the 50d SMA. Thus, for some time, I kept my premium BTC, GBTC members abreast of both the bullish and bearish EWP option, continuously stating, "Bulls need to reclaim the 20d and 50d SMA". Now that these two are being reclaimed, it is time to strap the bullish hat we were already wearing tighter.
The detailed EWP count shows BTC could be in the starting gates of wave-3 of iii of 3. One of the most powerful moves. The money maker. All as long as for starters today's low holds, and BTC cannot drop below last week's low (grey wave "ii?"). As then, the bullish setup, as shown, is off the table. Thus, as usual, thanks to the EWP, we have our options on the table, with the bullish path preferred, and clear cut off levels to tell us where our preference will be proven wrong. If I am right, BTC should now be on its way to, ideally, $21,500-$23,500. For now, baby steps: let's see if the 50d SMA can hold, if BTC can close above $11,000, and then above $12,000. If it can do that, then the bulls are in good shape, and we can start moving up our stops on our GBTC position.