Chipotle Mexican Grill (NYSE:) (CMG) shares have skyrocketed 250% in the last three years, as its new CEO, who took over in 2018, prepares for the future while remaining true to the fast-casual burrito chain's simple, fresh menu. CMG has already returned to new highs following a significant pullback in 2021 ahead of its Q2 FY21 earnings released on July 20.
Fast-Casual Champion
Brian Niccol took over as CEO in March of 2018, after he came over from Yum Brands' YUM Taco Bell. The new boss didn't do anything crazy or come up with a new menu item every week, to help CMG fight back from some foodborne illness setbacks. Instead, Chipotle focused on regaining its crown as the standard-bearer of the growing fast-casual industry through a rather consistent menu of fresh and quality ingredients.
Chipotle's sales jumped 9% in 2018, 15% in 2019, and 7% in a pandemic-hit 2020. The company closed Q1 with over 2,800 restaurants in the U.S., Canada, and several other countries. Despite its size, the company hasn't gone to the franchise model and it boasts that it's the "only restaurant company of its size that owns and operates all its restaurants."
Wall Street has cheered Chipotle's huge digital and mobile ordering push, which allows people to order ahead and pick up in store, as well as its delivery efforts. CMG has adapted to the modern retail age where many customers crave online ordering and convenience, everywhere from Amazon AMZN to Starbucks SBUX.
Chipotle's focus on digital ordering has paid off and it's committed to customer retention, through rewards programs and more. Most importantly, CMG hasn't changed its menu much over the years, as it remains focused on the staples that turned it into a titan.
That said, CMG announced in March its first ever on-menu quesadilla, after years of off-menu ordering was spurred by social media. The company is also leaning into its digital explosion by offering the quesadilla as a digital-only menu item available for pick-up or delivery.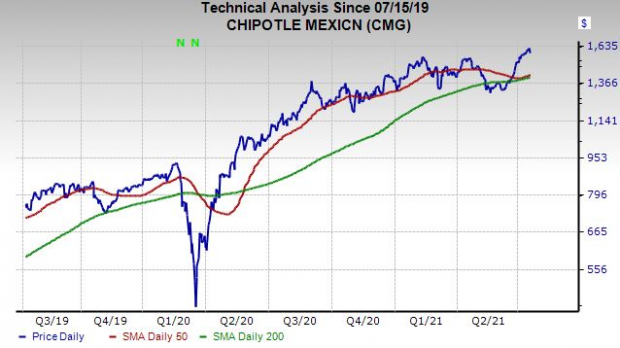 Zacks Investment Research
Image Source: Zacks Investment Research
What Else
CMG's 2020 revenue popped 7% to $6 billion, while digital sales soared 174% to account for 46% of total sales. The growth came as it faced covid setbacks and the disruption of its business lunch crowd for much of the past year. The company then topped Q1 FY21 estimates, with revenue up 23% and comps 17% higher.
Chipotle's digital sales growth continued, with the segment up 134% to make up 50% of first quarter revenue. "A little more than half of the digital sales were from order ahead transactions as guests increasingly appreciate both the value and convenience offered by this channel, as well as the added convenience of more Chipotlanes," the firm wrote in its Q1 release.
CMG did say it raised prices by roughly 4% across its menu, citing higher labor costs. Many others in the restaurant industry including McDonald's (NYSE:) MCD are raising pay, as well as dealing with inflation. But analysts remain largely unconcerned about higher prices at Chipotle, especially since a chicken burrito remains under $8 throughout much of the country.
Zacks estimates call for CMG's fiscal 2021 sales to surge 23% to $7.35 billion, with FY22 set to climb another 13%. Plus, CMG's fiscal 2021 comparable sales are projected to pop 16.2%. Meanwhile, its adjusted earnings are projected to soar 128% and 32%, respectively over this stretch.
Investors should note that 23% sales growth would be Chipotle's best since 2014 and 13% expansion would come in not too far below FY19's jump.
As we mentioned up top, CMG stock is up 250% in the last three years to crush the market and its industry. The stock has cooled down a bit, up 40% in the past 12 months to roughly match the Retail – Restaurants space. Chipotle stock has also gone on a somewhat wild ride in 2021, which includes a 20% climb since May 19.
CMG closed regular hours Thursday at $1,582 a share, down slightly from the records it hit earlier this week. The stock is trading at 56X forward 12-month earnings, which might be rich for many to pay for a burrito chain. But Wall Street has been willing to pay up for CMG and its current levels mark a 33% discount to its own year-long highs and come in below its median, even as its shares are right at new highs.
Bottom Line
Chipotle currently lands a Zacks Rank #3 (Hold), alongside an "A" grade for Growth in our Style Scores system. And 16 of the 23 brokerage recommendations Zacks has for CMG are "Strong Buys," with none below a "Hold."
Some investors might want to hold off CMG heading into earnings, as it could be used as a chance to take profits even if it posts strong results and offers great guidance. Nonetheless, those with long-term horizons should consider keeping their eye on the fast-casual powerhouse that's prepared to thrive in the digital future, while offering tasty, fresh food.
, Like the Internet Itself, Could Change Everything
Blockchain and cryptocurrency has sparked one of the most exciting discussion topics of a generation. Some call it the "Internet of Money" and predict it could change the way money works forever. If true, it could do to banks what Netflix (NASDAQ:) did to Blockbuster and Amazon did to Sears. Experts agree we're still in the early stages of this technology, and as it grows, it will create several investing opportunities.
Zacks' has just revealed 3 companies that can help investors capitalize on the explosive profit potential of Bitcoin and the other cryptocurrencies with significantly less volatility than buying them directly.
See 3 crypto-related stocks now >>
Want the latest recommendations from Zacks Investment Research? Today, you can download 7 Best Stocks for the Next 30 Days. Click to get this free report
Amazon.com, Inc. (NASDAQ:): Free Stock Analysis Report
Starbucks Corporation (NASDAQ:): Free Stock Analysis Report
McDonalds Corporation (MCD): Free Stock Analysis Report
Yum Brands, Inc. (YUM): Free Stock Analysis Report
Chipotle Mexican Grill, Inc. (CMG): Free Stock Analysis Report
To read this article on Zacks.com click here.